Jan. 11, 2009
By John Stremlau
This op-ed by John Stremlau, vice president of the Carter Center's Peace Programs, was published on CNN.com on Jan. 12, 2009.
ATLANTA, Georgia (CNN) -- Supporters of democracy around the world can celebrate the January 7 inauguration of Ghana's new president, professor John Evans Atta Mills, who defeated the leader of the incumbent party in a Dec. 28 runoff election by a mere 41,566 votes out of 9,001,478.
Ghana is not a country that grabs headlines at a time when the big stories out of Africa are crises in Sudan, Somalia, Congo and Zimbabwe. Yet after surviving a post-colonial period of instability and military rule, Ghana has had five successful national democratic elections since 1992.
It is an enviable record that challenges the persistence of misrule in nearby Ivory Coast, Togo and Guinea, and inspires those committed to democratic recovery in nearby Liberia, Sierra Leone and Nigeria. Click here to read the commentary in its entirety >>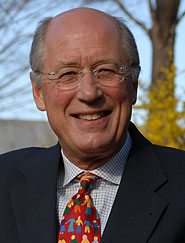 Carter Center Photo: D. Hakes
John Stremlau, Ph.D., vice president, Peace Programs
View The Slideshow





Delegates Observe Election Day in Ghana, Dec. 7, 2008 >>
Read Press Release: Carter Center Finds Ghana's Presidential Run-off Elections Credible and Peaceful >>
Read the Ghana Run-off Election Observation Mission Preliminary Statement >>
Read Carter Center Delegation Observes Ghana's Peaceful, Historic Elections >>