The Carter Center is hosting its 2009 health program reviews March 23-31, 2010, with experts from around the world –including representatives from partner organizations including the Bill & Melinda Gates Foundation, Lions Clubs International, the World Health Organization, UNICEF, and the Centers for Disease Control and Prevention – gathered in Atlanta to assess program status and adopt recommendations for the coming year.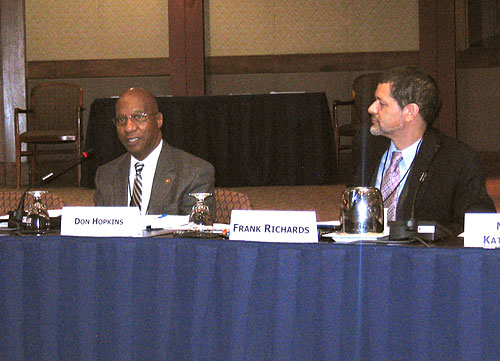 Dr. Donald R. Hopkins (left) opens the 2010 Carter Center health program reviews on March 23.  Also pictured is Dr. Frank Richards, director, Carter Center River Blindness Program, Lymphatic Filariasis Elimination Program, Schistosomiasis Control Program, and Malaria Control Program.
Country representatives from Africa and South America, including Carter Center field staff and government health program officials, will present updates—including disease totals and health education successes during 2009—for Carter Center-assisted trachoma, river blindness, lymphatic filariasis elimination, schistosomiasis, and malaria control programs in more than 10 countries.
The innovative review model was first used in 1988 by the national Guinea Worm Eradication Programs, starting in Pakistan, and were pioneered by The Carter Center and the Centers for Disease Control and Prevention.  Action-focused health program reviews are unique, according to Carter Center Health Programs Vice President Dr. Donald Hopkins, and yield tangible results.
"These reviews are important to the overall implementation of  health programs year to year," he said.  "By bringing together country representatives at work on the ground to analyze the previous year's efforts, and to learn from and challenge each other, they are able to refine control measures for fighting various diseases."
This will be the first formal review of the Carter Center-assisted Malaria Control Program, the 11th for the Trachoma Control Program, and the 14th for the River Blindness Program.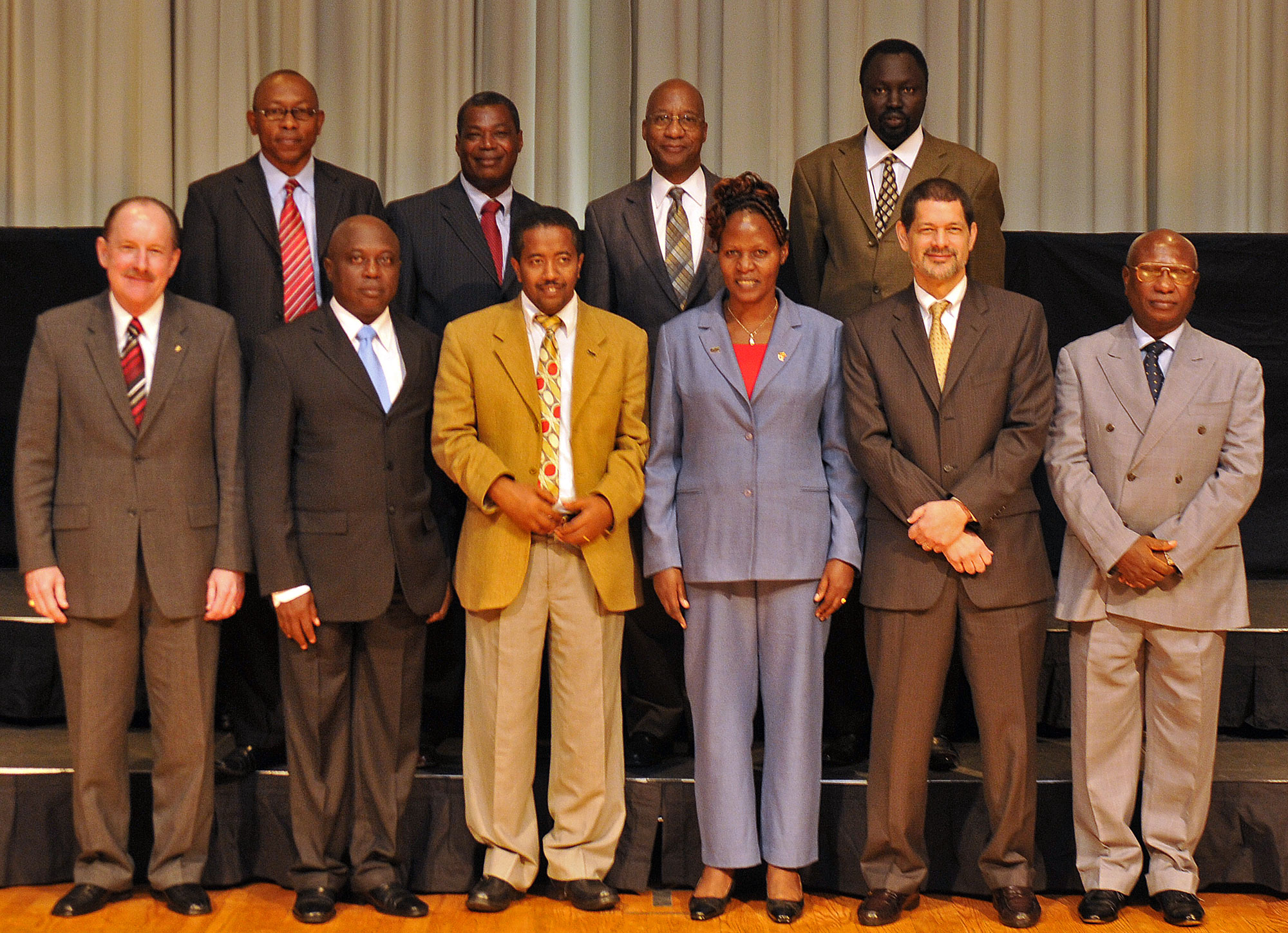 Presenters during the March 23 River Blindness Program Review include (back row, l to r) Dr. Emmanuel Emukah, Nigeria; Dr. Abel Eigege, Nigeria; Dr. Donald Hopkins, vice president, Carter Center Health Programs; Dr. Tong Chor Malek, Sudan; (front row, l to r) Dr. Mauricio Sauerbrey, director, Onchocerciasis Elimination Program of the Americas; Dr. Emmanuel Miri, resident technical adviser, Nigeria; Dr. Zerihun Tadesse, Ethiopia; Peace Habomugisha, Uganda; Dr. Frank Richards, director, Carter Center River Blindness Program; and Dr. Albert Eyamba, Cameroon.
The Carter Center works to build hope in some of the world's most impoverished and forgotten communities. Our health programs, including those under review this week, prevent the suffering of millions of people around the world from diseases often ignored by others. Many of the most severe afflictions are entirely preventable. Yet people living in developing nations die or are disabled because they do not have access to the services they need to treat their illness or avoid infection entirely. Every day, Carter Center experts and community health workers show people how they can take steps to transform their own lives.
Learn more about the Carter Center Health Programs >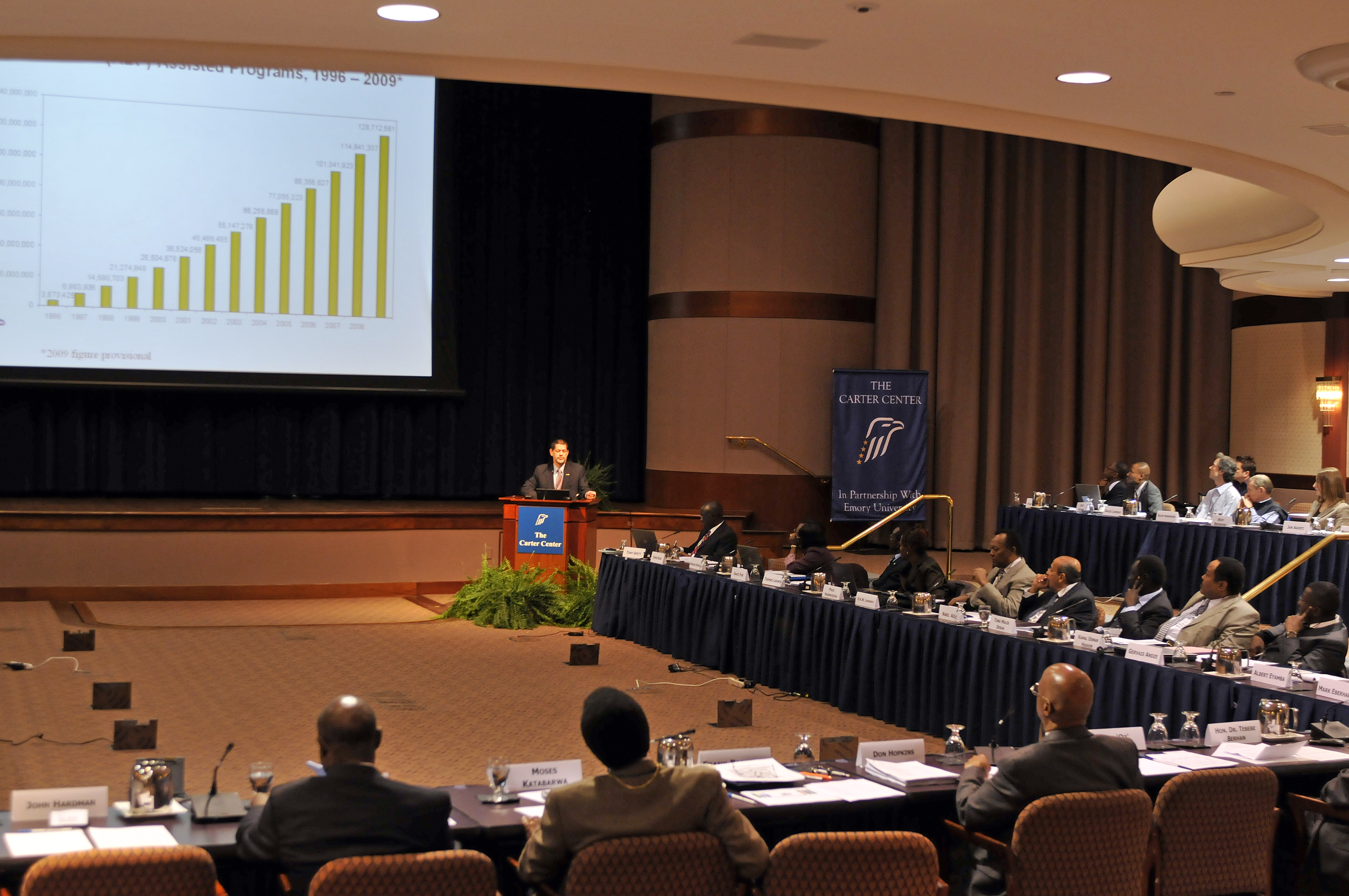 Dr. Frank Richards makes opening remarks during the 2010 Carter Center River Blindness Program review.  Country representatives and global health experts are meeting March 23-31 to examine program successes during 2009 and focus on continued efforts in five Carter Center health programs.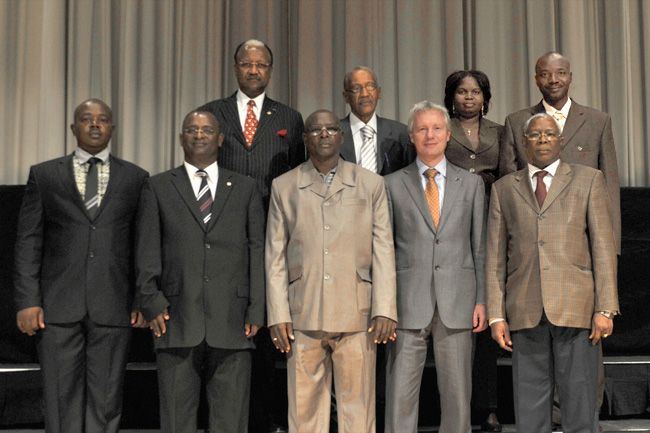 Trachoma Control Program review presenters include (front row, left to right) Dr. Maduka Onwusoro, Nigeria; Dr. Asrat Genet, Ethiopia;  Dr. Kadri Boubacar, Niger;  Dr. Paul Emerson, director, Carter Center Trachoma Control Program;  Dr. Bamani Sanoussi, Sudan; (back row, left to right) The Honorable Dr. Tebebe Y. Berhan, Lions Clubs International Foundation; Dr. Awad Hassan, Government of Sudan;  Dr. Lucia Kur, Government of Southern Sudan;  and Mr. Yaya Kamissoko, Mali.  In 2009, for the first time, Carter Center staff and partners expanded the program review to two days to discuss the successes and challenges of battling the blinding bacterial infection trachoma.