Aug. 20, 2010
| | |
| --- | --- |
| | Many Liberians suffer from trauma, depression, and other mental health issues following more than a decade of civil conflict. With only one psychiatrist in the entire country, and just a handful of nurses with mental health training, treating those who suffer from mental illnesses has been almost impossible. Jane Bigham, assistant program coordinator for the Carter Center's Mental Health Program, recently traveled to the West African country. Below, she reflects on her journey and what a new Carter Center mental health initiative will mean for the people of Liberia. |
I recently traveled to Monrovia, Liberia, to work on the Carter Center's Liberia Mental Health Initiative—our first international project to improve access to mental health care. The initiative will assist the Liberia Ministry of Health and Social Welfare to implement the national mental health plan, a set of priorities and goals established by the Liberian government to improve access to mental health services in the country. Among other activities, The Carter Center will help create training systems for mental health professionals, such as nurses; develop support systems for family caregivers; and work to reduce stigma and discrimination against people with mental illnesses.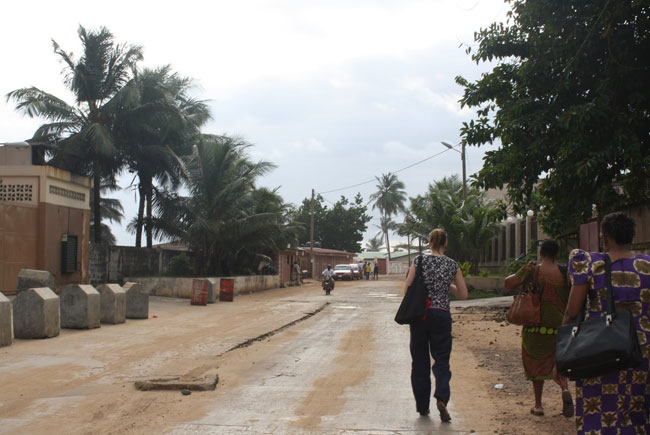 Photo credit: The Carter Center/M. Benckert
Jane Bigham and the team depart the Carter Center offices on U.N. Drive in Monrovia.
This was my first visit to Africa, and I was somewhat nervous, but very excited. During my flight from the United States, I had my first encounter with the impact of the Liberian civil war. I sat next to Nathan, an older gentleman and self-described "military man," who served in Liberia in 1996 as a member of the Ghanaian peacekeeping force. He described his time there as the hardest peace-keeping mission of his service; he encountered many child and adolescent soldiers who had experienced severe cuts and scrapes, amputations, and scars. Recalling his experience brought tears to Nathan's eyes.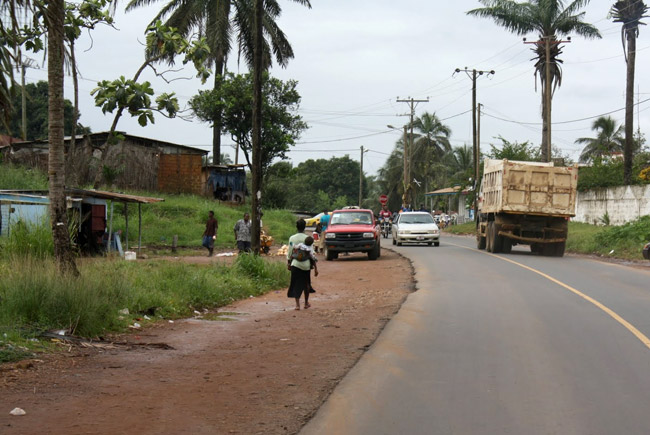 Photo credit: The Carter Center/M. Benckert
Liberia is rebuilding its roads and infrastructure, but must also improve its collective mental health.
I couldn't fathom the level of anguish and emotional turmoil that the people in Liberia experienced because of the war. And once I arrived, I saw firsthand the immense challenges facing the country. After 14 years of brutal civil conflict, the physical wounds remain visible and the emotional trauma lies close to the surface for many.
During my stay in Monrovia, I heard many accounts of how people with mental illnesses often are feared and discriminated against, underscoring the importance of the mental health work we were preparing to do.

A young man named Guzt, from Bong County, told me about a woman in her early 40s who suddenly started hearing voices and went to her church to seek help. She was assumed to have a mental health problem and was held against her will in the church, chained at the ankle. Two days later, she died. Guzt suspected the woman did not have a mental illness, but rather cerebral malaria—a common health problem in Liberia that might have been treatable if she had been given access to adequate medical care. Unfortunately, people with severe psychological disorders often are "treated" through starvation, neglect, or restraint with chains, due to myths about the causes and treatments for mental illnesses and the desperate lack of mental health services.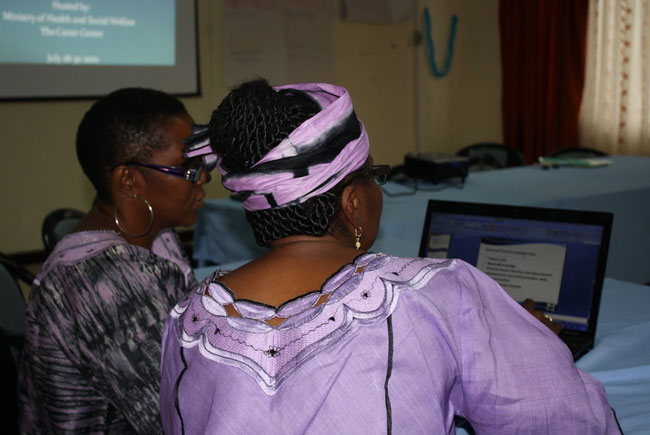 Photo credit: The Carter Center/M. Benckert
Dr. Janice Cooper (left), with The Carter Center, and Marion Subah, with Rebuilding Basic Health Services, participate in a mental health workshop co-hosted by The Carter Center and Liberia's Ministry of Health and Social Welfare.
Although many such challenges exist, mental health is a high priority for the Liberian government and its Ministry of Health and Social Welfare. The government's National Mental Health Policy and Strategic Plan for Implementation will address the need for mental health care professionals as well as challenge negative attitudes and misconceptions associated with mental illness.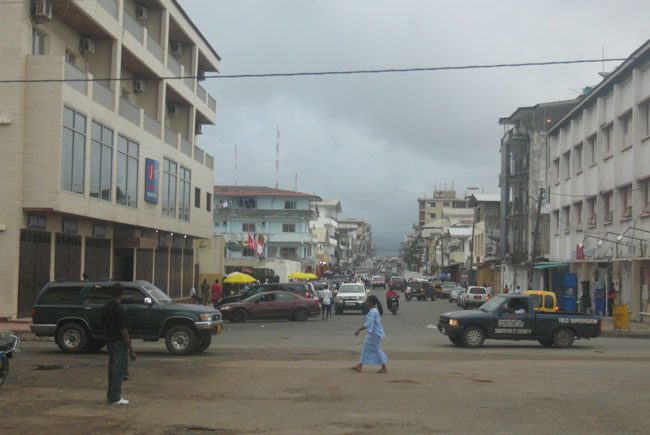 Photo credit: The Carter Center/ J. Bigham
Many Liberians suffer from trauma, depression, and other mental health issues following more than a decade of civil conflict. Through its first international project, The Carter Center's Mental Health Program will assist the Liberia Ministry of Health and Social Welfare to improve access to mental health services in the country.
Despite all the suffering I saw or heard about, I believe the people of Liberia are a testament to human resilience and resolve. I left Monrovia hopeful about what Liberia and The Carter Center can accomplish together to address mental health issues associated with the recent conflict as well as create ongoing mental health services.
The country can and has, in part, rebuilt its roads and infrastructure. But to fully recover from the horrors and devastation of war, it also must heal its collective mind and improve its mental health.