Nov. 12, 2010
One-third of people living in onchocerciasis-endemic communities in Latin America are no longer at risk for the debilitating disease also known as river blindness, thanks to the hard work and long-term commitment of six endemic countries—and with the support of The Carter Center and other partners—officials announced today during the 20th Inter-American Conference on Onchocerciasis (IACO). Read the press release (PDF)>
Through regular access to health education and community-directed, semi-annual distribution of the drug Mectizan® (ivermectin, donated by Merck & Co., Inc.), more than 180,000 people—many of them farmers living in isolated regions of Latin America—will no longer have to fear the painful skin lesions and vision damage caused by the parasitic disease. Learn more about river blindness >
The Carter Center is the sponsoring agency for the Onchocerciasis Elimination Program for the Americas (OEPA), which works to end illness and transmission of onchocerciasis in Brazil, Colombia, Ecuador, Guatemala, Mexico, and Venezuela by 2012.
"Our continued progress toward eliminating river blindness is bringing improved health to hundreds of thousands of people in the Americas and the preservation of vision for future generations," said former U.S. President and Carter Center founder Jimmy Carter. "With continued focus, we can ensure that river blindness will no longer be a threat to people in the Western Hemisphere."
During the past three years, Columbia and Ecuador have become the first two countries in the world to halt river blindness transmission, and other endemic nations are expected to follow soon.
Guatemala, where OEPA is headquartered and where the IACO conference was held this week, may be among those next in line to wipe out river blindness forever.
According to Dr. Arturo Sanchez, director of the Vectorborne Diseases Program of the Guatemalan Ministry of Health, "Guatemala expects to interrupt onchocerciasis transmission in the last of its four affected areas very soon, thereby becoming one of the next countries in the region to achieve interruption of transmission."
The Carter Center and its partners will continue their hard work to make this goal a reality as soon as possible.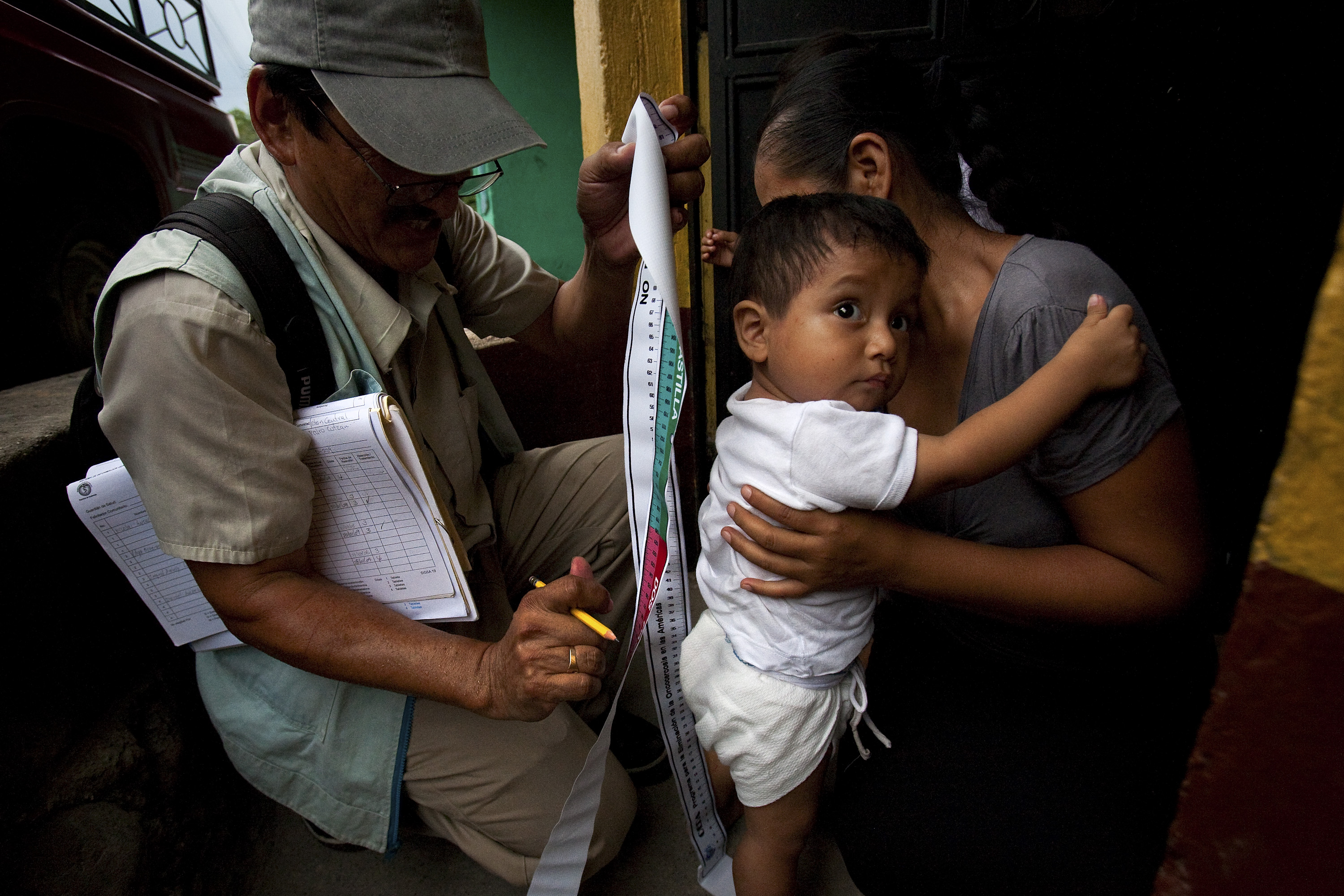 Carter Center Photo: P. DiCampo
A mother helps a Carter Center-supported community health worker measure her child's height at her home in Chicacao District, Guatemala.  A person's height determines how many tablets of Mectizan will help prevent and treat a river blindness infection.