Oct. 29, 2010
Dr. Bornemann is director of the Carter Center's Mental Health Program.
The wars in Iraq and Afghanistan have posed a unique set of psychological challenges to troops due to multiple tours of duty and a significantly greater prevalence of brain injury, among other factors.
As a result, members of the military deployed in these wars have the highest rates of post-traumatic stress disorder on record, and one in seven veterans from Iraq and Afghanistan suffers from major depression.
In fact, in 2009, mental illnesses were responsible for more hospitalizations among service members than any other illness, costing the Pentagon 488 years in lost duty.
According to national reports, 18 veterans complete suicide every day, and they comprise 20 percent of all suicides in the United States. We know there are many more soldiers in crisis who could use our help. The Veterans Affairs' suicide hotlines receive about 10,000 calls per month from current or former service members, and there are untold numbers of veterans suffering too much to reach out.
This issue is personally meaningful to me, as I started my career counseling veterans at Fort McPherson while in the Army during the Vietnam War.
This year's Rosalynn Carter Symposium on Mental Health Policy, set for Nov. 3-4, will be devoted to the mental health needs of members of the National Guard and military reserve. These veterans, along with their families, do not have the same access to health care services as active duty personnel and instead must rely more on providers in the communities in which they live. The symposium will focus on enhancing community-based mental health delivery systems for these returning service members and their families.
Attendees at the November symposium will hear firsthand from veterans and those providing them with treatment services. Participants will leave the Center with practical strategies for helping veterans in their own communities.
If families and loved ones learn about and discuss the mental health risks facing soldiers, it reduces stigma and helps ensure that veterans will seek professional treatment if they need it.
Our heroes deserve greater access to the resources, support, and health services they need for a healthy journey home.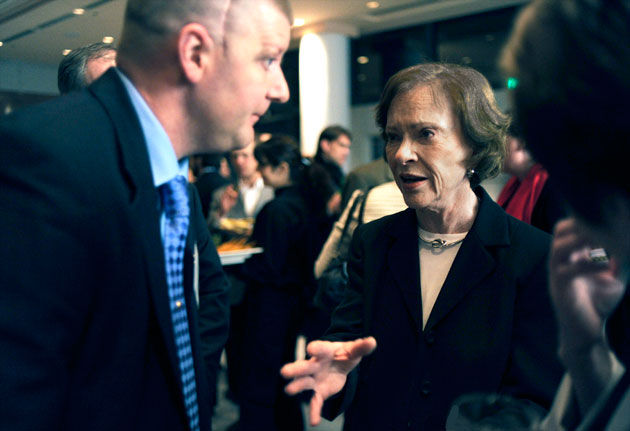 Photo credit: Carter Center Photo/ C. Mosteller

At a journalists' workshop, former First Lady Rosalynn Carter meets with Iraq veteran Michael Jernigan, who was severely injured and blinded by a roadside bomb. Veterans of Iraq and Afghanistan are in desperate need of mental health services.
The Rosalynn Carter Fellowships For Mental Health Journalism >