Oct. 12, 2010
Today, during a special ceremony in Atlanta, former U.S. President and Carter Center Founder Jimmy Carter received on behalf of The Carter Center two new pledges—$500,000 toward the Guinea Worm Eradication Program and $500,000 toward the Onchocerciasis Elimination Program for the Americas (OEPA)—from the OPEC Fund for International Development (OFID), represented by His Excellency Director General Suleiman Jasir Al-Herbish. The new funding is in acknowledgement of the remarkable success and critical turning points in the Carter Center's efforts to wipe out two debilitating parasites—Guinea worm disease and river blindness. Read the press release>
Read the Associated Press coverage of the donation: "Carter's Work to Eradicate Diseases Nearly Complete"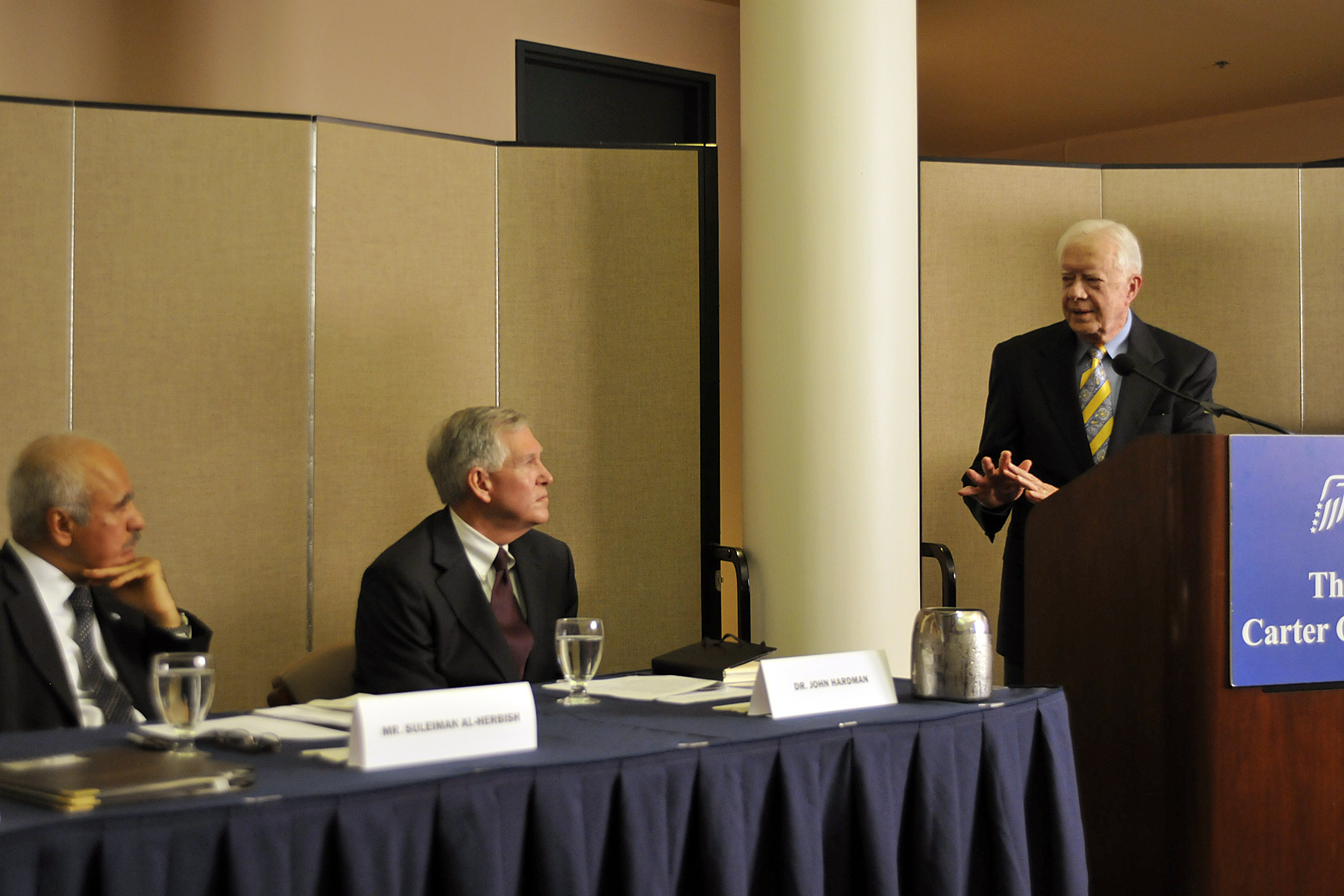 Carter Center Photos: D. Hakes
"The last cases of a disease in an eradication or elimination effort are always the most difficult and expensive to address, and this is why The Carter Center is grateful to have the support of OFID as we rid the Americas of river blindness and the world of Guinea worm disease," President Carter said during the grant agreement signing ceremony held today at The Carter Center in Atlanta.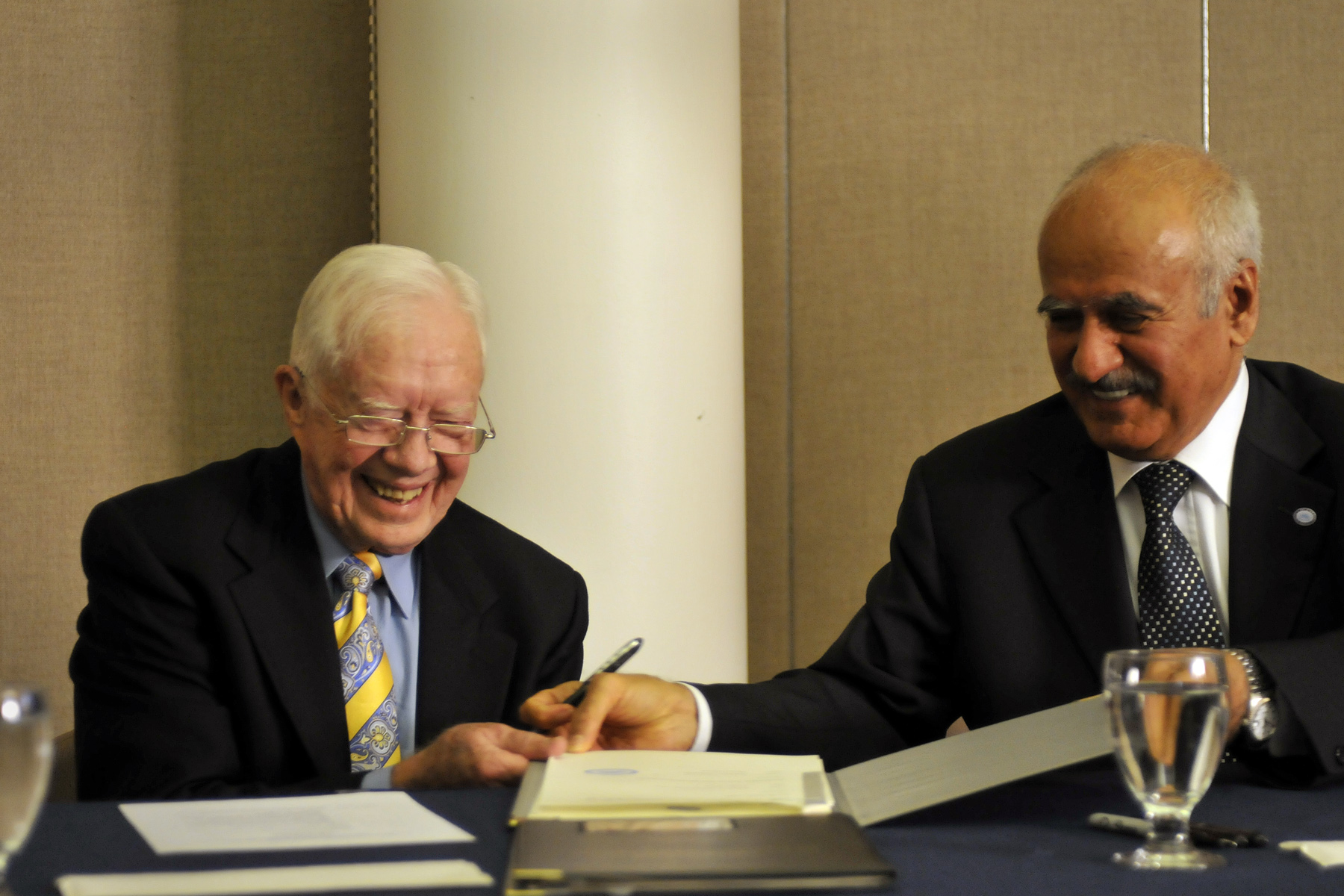 OFID Director General His Excellency Suleiman Jasir Al-Herbish (right) and President Carter signed grant agreements totaling $1 million—$500,000 each to support the Carter Center's global efforts to eradicate Guinea worm disease and eliminate river blindness from the Americas.  The funds for Guinea worm disease eradication will be matched dollar-for-dollar through a challenge grant from the Bill & Melinda Gates Foundation.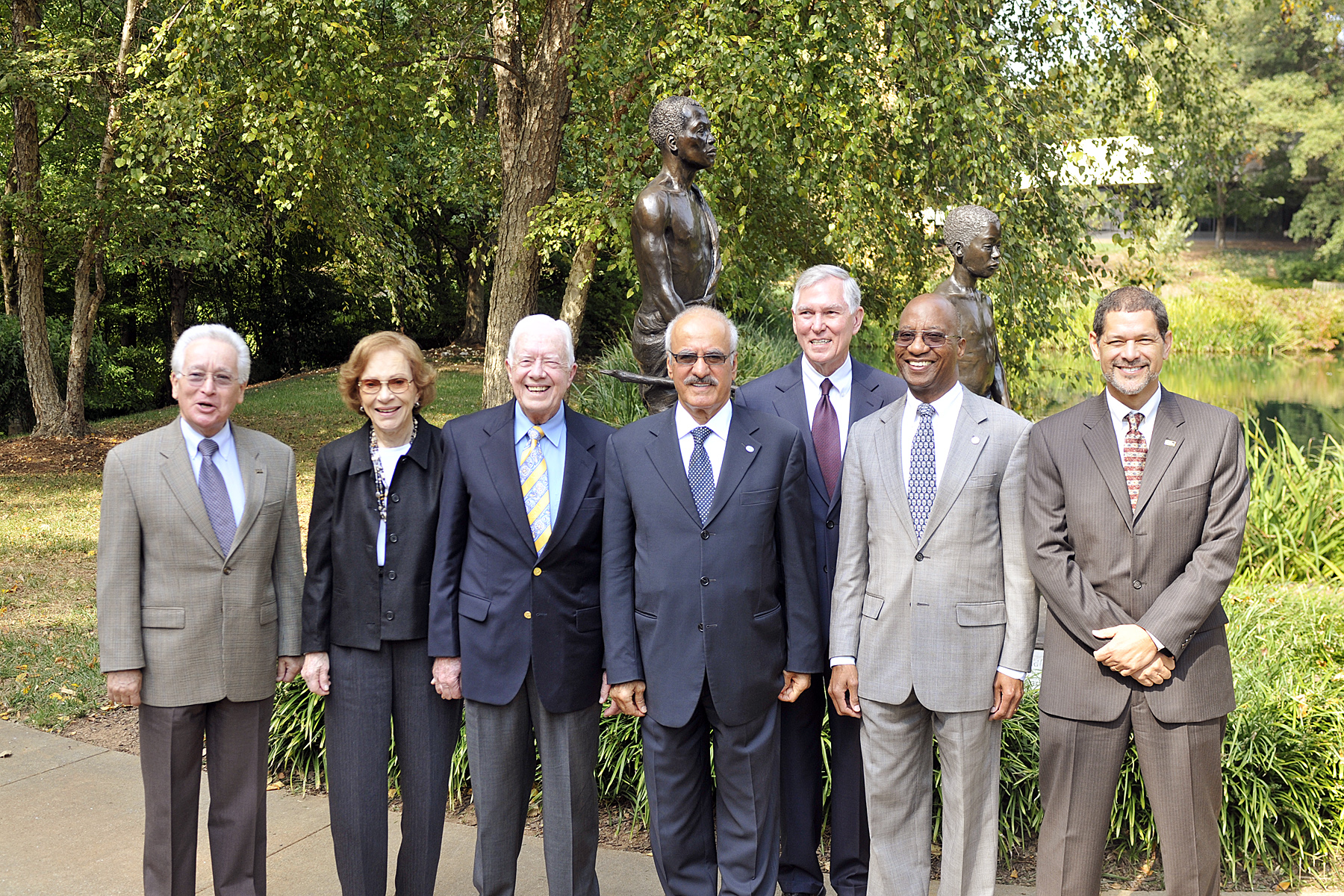 (Right to left) Carter Center Guinea Worm Eradication Program Director Ernesto Ruiz-Tiben, former Carter Center Co-Founder and U.S. First Lady Rosalynn Carter, President Carter, OFID Director General Suleiman Jasir Al-Herbish, Carter Center CEO and President Dr. John Hardman, Carter Center Vice President for Health Programs Dr. Donald Hopkins, and Carter Center River Blindness Program Director Dr. Frank Richards.
The Carter Center is a leader in the eradication, elimination, and control of neglected diseases, working with partner countries' ministries of health to help some of the world's poorest and most isolated people build better health from the grassroots up using simple, cost-effective strategies.
Since 1986, a Carter Center-led coalition has reduced Guinea worm disease worldwide by more than 99 percent from an estimated 3.5 million reported cases in 20 countries in Africa and Asia to 3,190 reported cases in pockets of four remaining endemic countries in 2009—Sudan, Ghana, Mali, and Ethiopia.
In the Americas, as the sponsoring agency for the Onchocerciasis Elimination Program of the Americas, The Carter Center has spearheaded the effort that already has halted river blindness transmission in seven of the original 13 endemic areas in Latin America. The Center is pushing for full elimination of the disease in the Western Hemisphere by 2015.
OFID has been a partner of the Carter Center-led Guinea Worm Eradication Program since 1997. OFID also supported the Center's Ethiopia Public Health Training Initiative in 1998.