Nov. 7, 2011

By Max Lockie
Carter Center long-term observer Max Lockie is based in Matadi, Democratic Republic of the Congo.  The Center established an office in Kinshasa in August and deployed 10 long-term observers to seven  provinces: Kinshasa, Bas-Congo, Oriental Province, North Kivu, South Kivu, Katanga, and Kasai Oriental. In September, the Center deployed another 10 long-term observers to the remaining provinces.  They will be joined by an additional 40 observers to monitor events in the days before the Nov. 28 presidential and legislative elections and the entire vote tabulation process.
Despite having studied French for six years in school, spending another year living in France, and taking six previous trips to Francophone Africa, my French vocabulary still can come up short.  In this instance, it was the word sourd-muet that left me smiling and nodding.  I overheard it in a meeting with officials in charge of voter education and civic engagement at the provincial office of the electoral commission.  Later in the car, I had to ask my perfectly trilingual colleague what our most recent interlocutors were talking about.  When she told me that we would be visiting a voter education seminar for the deaf, I didn't know quite what to expect.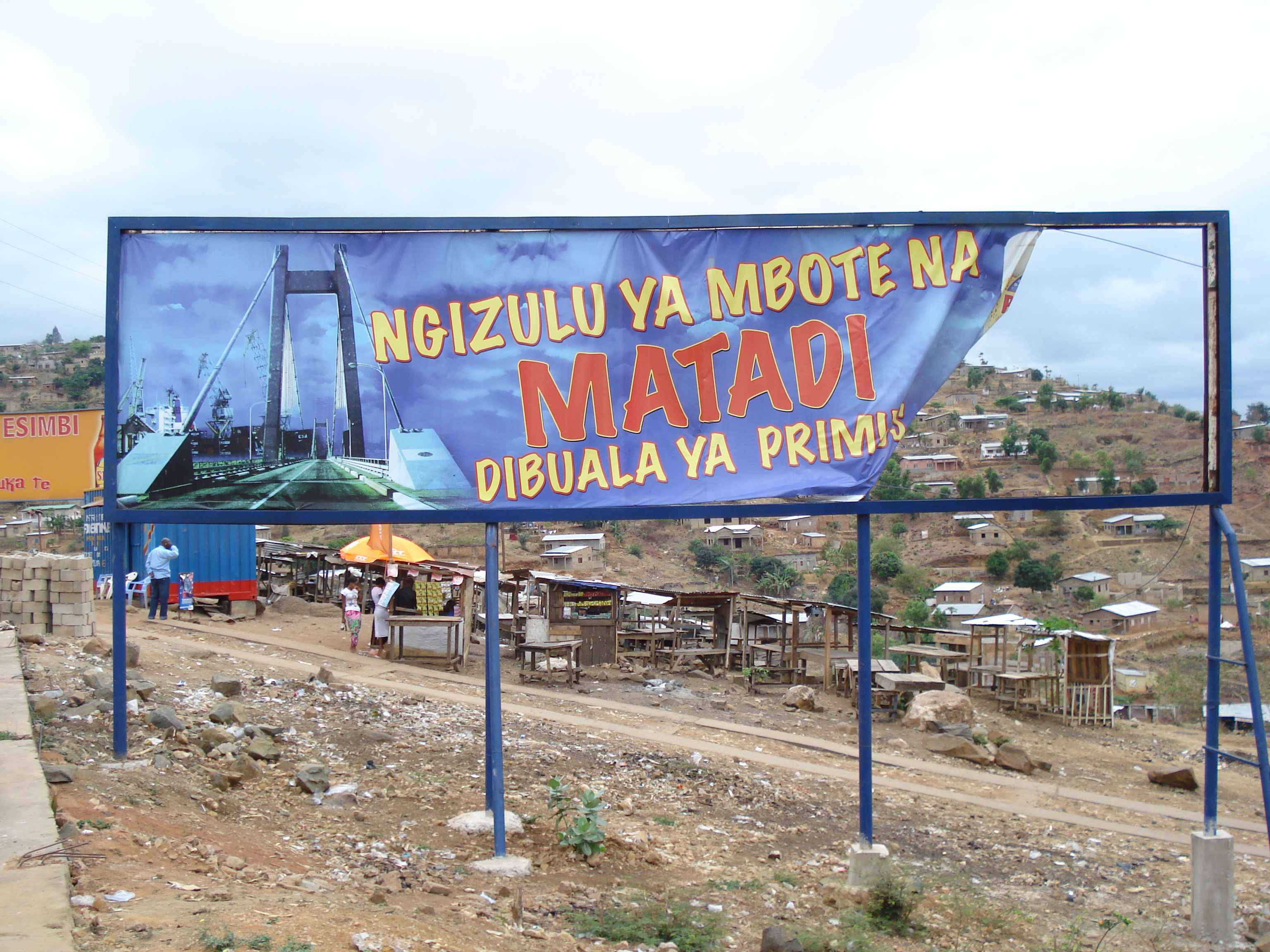 ALL PHOTOS:  M. Lockie/The Carter Center
Matadi, a hilly riverside town 350km west of Kinshasa, that serves as a provincial capital.  This billboard contains an image of the Pont Maréchal, which–with a length of 722 meters–is the longest suspension bridge on the African Continent.
There are a great many muggy Saturday afternoons in Matadi, the hilly riverside town 350km west of Kinshasa that serves as a provincial capital, but few that I will remember as clearly. We arrived in the general area that the elections official told us about and with the aid of our driver, made our way through a hilltop neighborhood away from the central downtown.  A dusty path led us to a basement classroom where the training was being held.  Upon entering the dark and narrow room, we could feel the eyes of the room fix on us–this is normal.  Matadi, and much of the Bas-Congo region, has an alarmingly low level of international partners working on the ground, and our presence almost always turns heads. What was different this time was that we didn't hear the usual cries of "Mundele!" the Kikongo word for a white person, which follows us wherever we go.  Instead we simply waved, and 30 pairs of hands instantly popped up to greet us.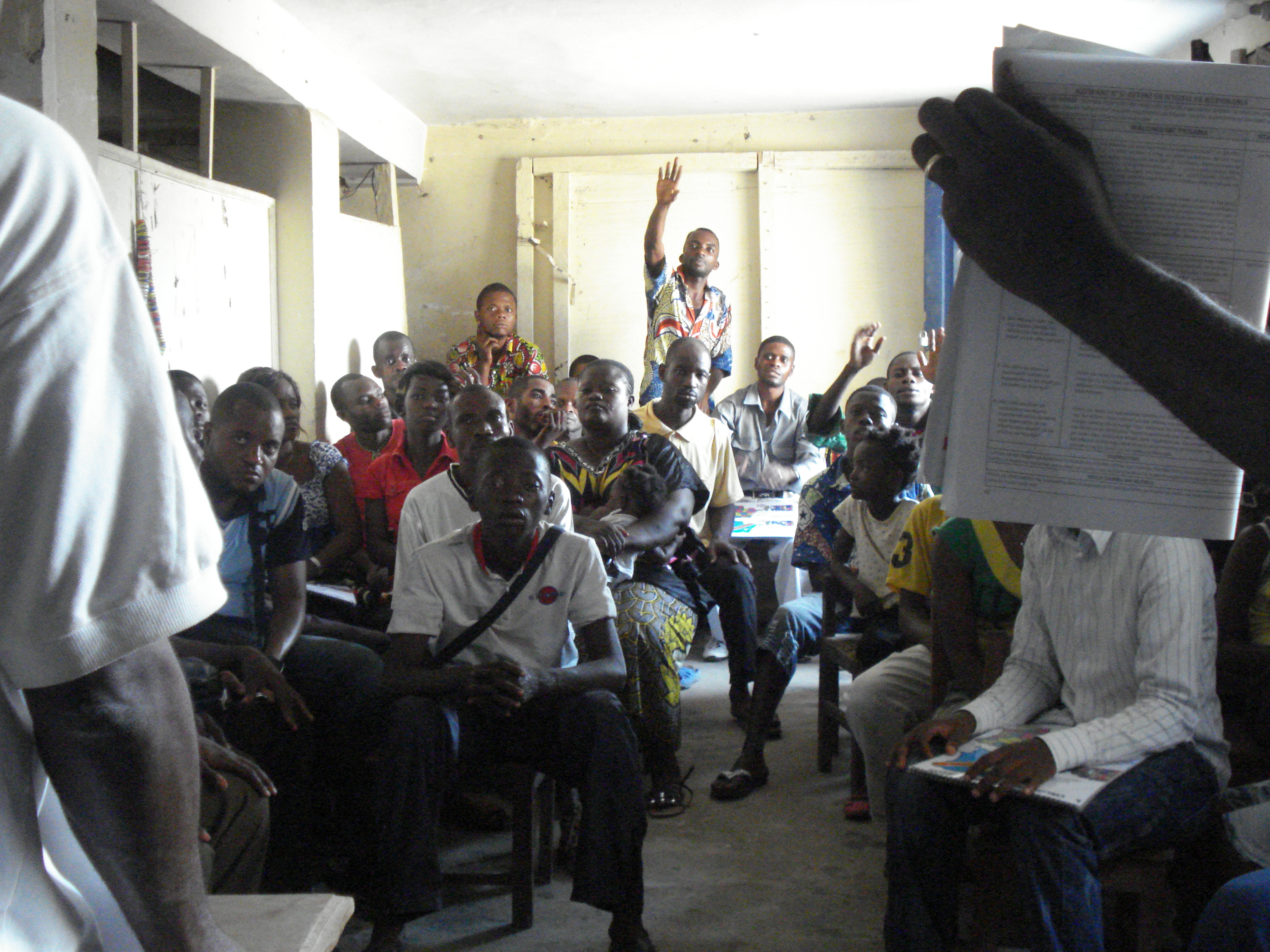 A deaf voter–one of 30 who participated–raises his hand to ask a question during a voter education seminar in October 2011. Trainers used flipbooks of illustrative animations to explain electoral elements such as voter eligibility, legal contentions after the vote, and how to mark a ballot.
In the Democratic Republic of the Congo (DRC), voter education is at once a crucial and enormous task. The country occupies a landmass approximately the size of Western Europe, with much of the population not easily accessible due to a lack of good roads. This means most projects require cooperation at all levels, and today was no exception. The voter education session itself was organized by the electoral commission but conducted by Antenne de Formation a Distance (AFAD), a local group funded by the International Foundation for Electoral Systems (IFES), an international body that funds electoral activities worldwide.
IFES had furnished AFAD with a flipbook of illustrative animations that covered the whole range of electoral elements  from voter eligibility to profiles of good candidates to legal contentions after the vote. A good while was also spent on the more technical aspects such as how one moves through the different desks in the polling station and the mechanics of marking a ballot.  There have been only three previous democratic exercises in recent years after 40 years of authoritarian rule in DRC, so no aspects of the democratic process can be omitted or taken for granted.
The voters were engaged every step of the way; asking questions, clarifying points, and often speaking amongst themselves to ensure mutual understanding of the material…all without saying a word.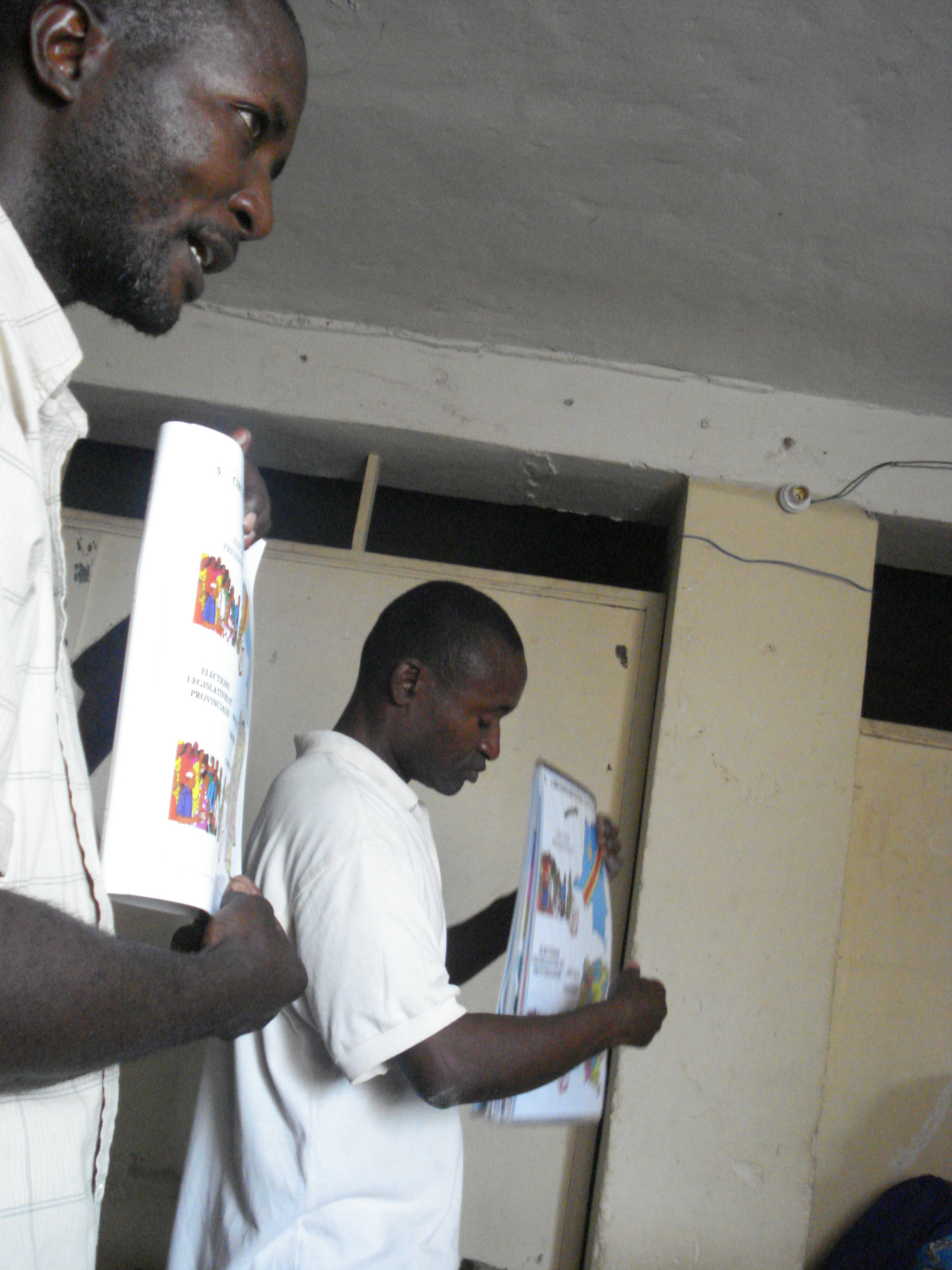 An AFAD trainer presents IFES-developed voter education material with the aid of a sign language interpreter to his left.
As an international elections observer I meet with individuals, officials, and organizations focused on voter education every day.  Without fail they tell me about the low level of education of the general public, that many are illiterate, and voters are susceptible to charismatic politicians with big promises and trucks full of sugar, beer, and bread.  But on this day, my partner and I couldn't help but feel that something was going right in the DRC as we watched those who literally have no voice gain the capacity to express themselves on election day.