Oct. 17, 2011
By Paige Rohe
Ms. Rohe is assistant director, news and information, of the Carter Center's Office of Public Information.
A torrential rain began in Monrovia, Liberia, causing the power to flicker and the Internet to shut down, but Georgia Institute of Technology professor Dr. Ellen Zegura didn't let the disruption stop the computer and software training session she was holding with Liberia's first class of mental health clinicians.
Overcoming challenges is one of the foundations of Georgia Tech's Computing for Good (C4G) initiative, through which students and faculty explore computing solutions for the world's most urgent social problems.
"We're all familiar with the impact of computing on things like business productivity in the developed world, but I think we are just starting to see the ways that technology can have impact on the developing world," says Dr. Zegura, professor and chair of Georgia Tech's School of Computer Science. "Our C4G work with The Carter Center in Liberia is a fantastic opportunity for us to take some theories of what might work in an extremely technologically limited setting and actually apply them on the ground."
Since 2010, Georgia Tech has collaborated with the Carter Center's Mental Health Program Liberia to provide the software and support that the Center and the Liberian government need to monitor the nation's progress in building a sustainable mental health care system. The Carter Center's five-year project in Liberia is training a cadre of local mental health clinicians and working to reduce stigma and discrimination against mental illnesses.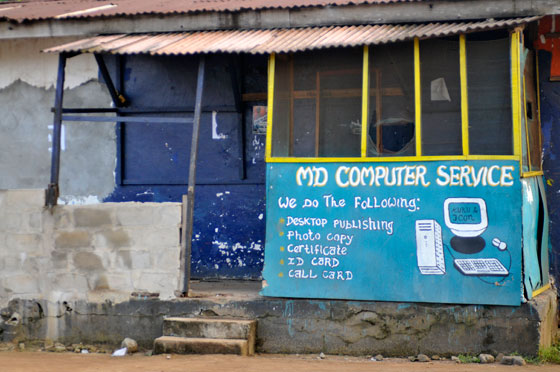 All photos credit: P. Rohe
A computer services business in Monrovia, Liberia.
One of the world's poorest nations, Liberia still is recovering from a brutal 14-year civil war that ended in 2003. Because millions of Liberians suffer from mental illnesses but have virtually nowhere to turn to receive cost-effective treatments, the Liberian government has made improving access to mental health services a priority. However, one of the major challenges of this effort has been for the Ministry of Health and Social Welfare to identify where the greatest areas of need are and how to most effectively use resources to address those needs.
"Georgia Tech really has helped The Carter Center and Liberia to leapfrog over technological challenges that would have delayed our ability to achieve our goals or diverted our limited funding from other important activities," says Shelly Terrazas, assistant director for the Carter Center's mental health project in Liberia, who is herself an alumnus of Georgia Tech. "Georgia Tech's support has been invaluable as we seek to prevent unnecessary suffering among some of the world's most vulnerable people."
Dr. Zegura and her C4G team of undergraduate and graduate students spent months designing software that allows the Center and the Liberian government to anonymously track patient outcomes to evaluate the clinician training program and conduct health surveillance and monitoring. Her team also extensively researched computers, smartphones, and other devices to see which would be most appropriate for the country's uncertain electricity supply and extremely humid and hot tropical climate.
Careful consideration was taken in how to design these computer-based patient evaluation tools so they could be used easily by the new mental health clinicians, many of whom had limited or no previous experience working with computers. In addition, understanding that many of the clinicians will work in very isolated and rural areas, Georgia Tech created an online tool for the clinicians to stay connected with one another, remotely support each other, and brainstorm options for difficult patient cases.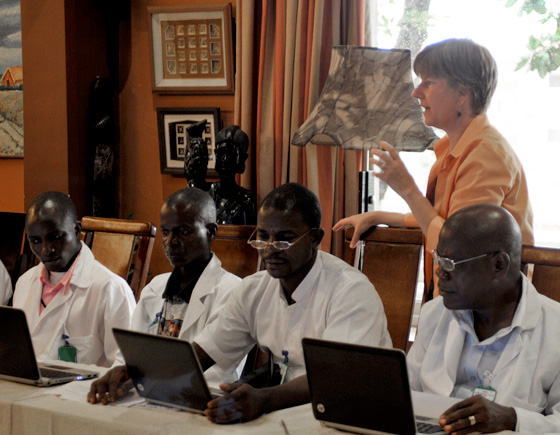 Georgia Institute of Technology School of Computer Science Chair Dr. Ellen Zegura spent hours training Liberia's first class of 21 mental health clinicians to use specially designed software and custom Hewlett-Packard laptops to help The Carter Center and the Liberian government track progress in their efforts to build a sustainable mental health care system.
Not one to rest on her laurels, Dr. Zegura is busy planning the next step of the project now that the clinicians are deployed to the field and using the technology she and her team worked so hard to provide.
"I am excited about the next four years of this project and how Computing for Good can help The Carter Center and its partners not only do good, but also how we can contribute to a greater understanding of how these technologies can be used around the world," says Dr. Zegura.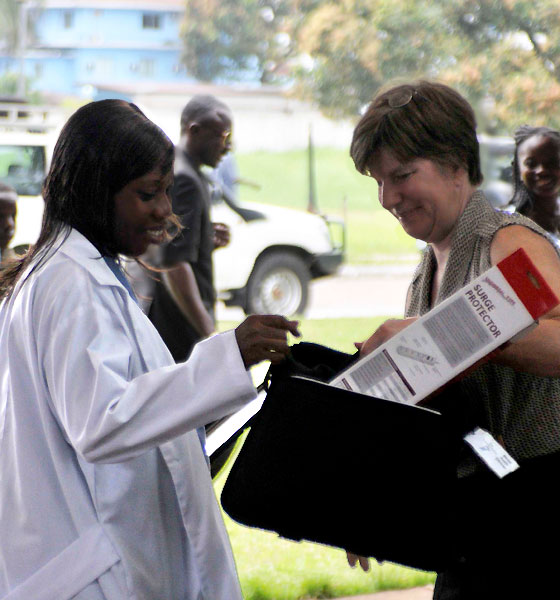 In August 2011, Dr. Zegura participated in the graduation ceremonies of the first class of Carter Center-trained Liberian mental health clinicians, handing each of the new graduates custom laptops provided by The Carter Center. Dr. Zegura plans to continue to work with The Carter Center to evaluate the use of these tools as the Center completes its mental health work in Liberia over the next four years.