By Dr. Janice Cooper, a native Liberian, is the Carter Center's project lead for a new mental health initiative that, in partnership with the Liberia Ministry of Health and Social Welfare, is helping the nation build a sustainable mental health care system. This spring, Dr. Cooper began training Liberia's first cadre of qualified, home-grown mental health clinicians.
My early morning walks serve as vivid reminders of why I am here. Along my route, children in freshly starched uniforms make their way to school signaling the hope of a recovering nation. Near the nightspots on Carey Street, daylight reveals young men languishing, many lacking jobs, and nearly all having some residue of trauma resulting from the civil war. It's a trauma that lingers close to the surface and is sparked by the smallest of disagreements.
Today, as the country struggles to heal and reconcile, memories of the war haunt Liberians daily: a woman may get in a taxi in Monrovia driven by a man who raped her; a teenager in Bong County may live next door to a family he harmed as a conscripted child soldier.
Compounding this problem, there are few places for people in Liberia to go to receive counseling or other services to help them deal with the deep and unresolved trauma, anger, or grief they feel.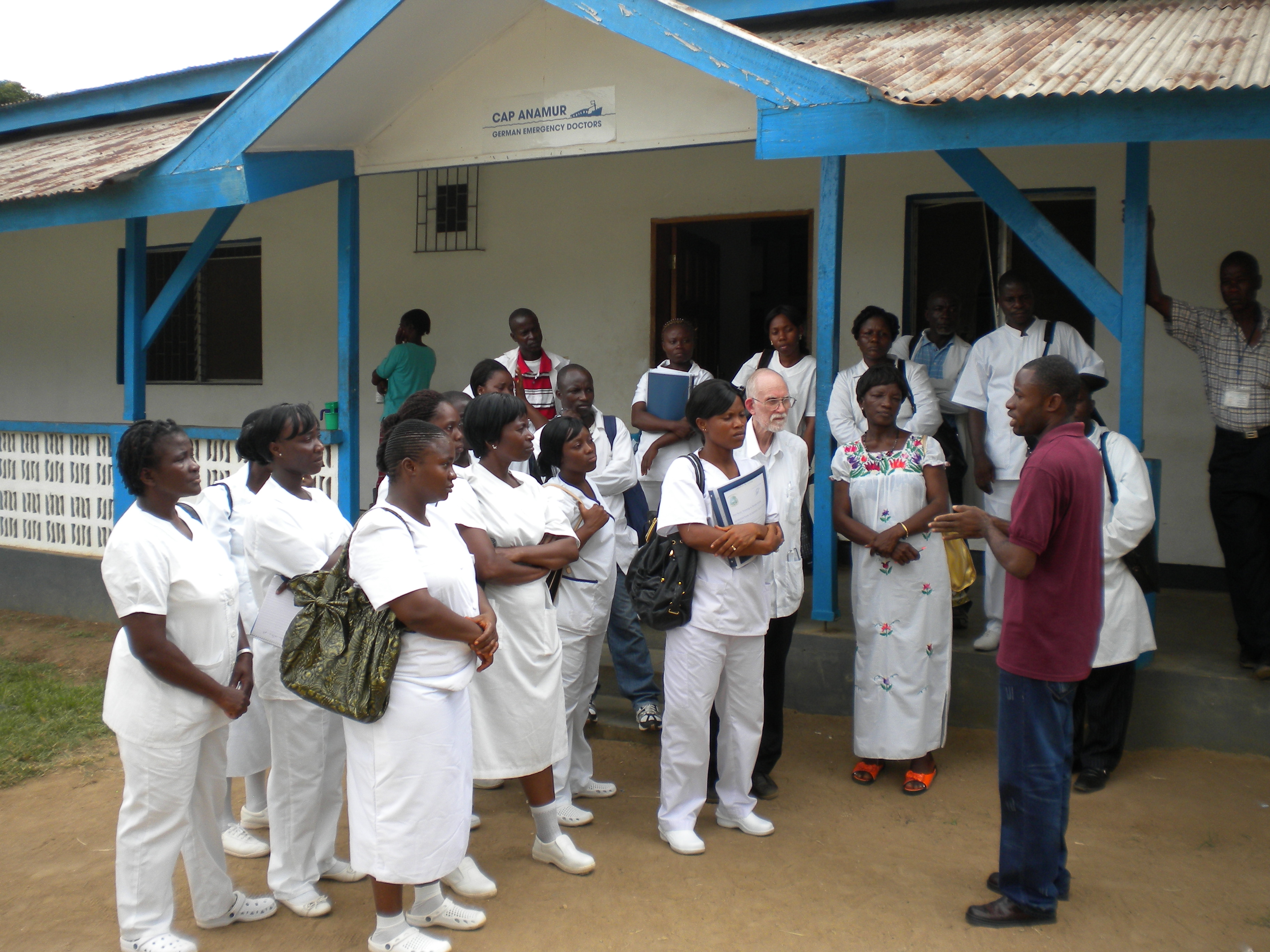 Carter Center Photo: J. Cooper
The first class of mental health clinicians visits Grant Hospital, the nation's only psychiatric hospital, and meets with the nursing supervisor.
After my walk, I joined the Carter Center's first class of 21 Liberian health care professionals. When I arrived, they were all busy taking last minute notes or discussing relevant case studies. The next day, they will go on clinical rotation at Liberia's sole psychiatric hospital, Grant Hospital, one of five clinical sites. The bags under their eyes and the flurry of activity led me to believe most had been up late studying, again.
Gathered from across the country, these men and women were selected from among dozens of physician assistants and nurses to receive free training to become the first cadre of qualified Liberian mental health clinicians. Their teachers are experts from Liberia and around the world, and their curriculum was developed specifically for the Liberian context, modeled after lessons learned from the Center's Ethiopia Public Health Training Initiative.
Many of these students have years—even decades—of experience working in villages and cities in Liberia, and after they graduate in August, they will participate in innovative work to integrate mental health care into basic primary care services in their local communities, sometimes in places where no primary care existed before. They are passionate about serving their country, but they also are sobered by the challenges.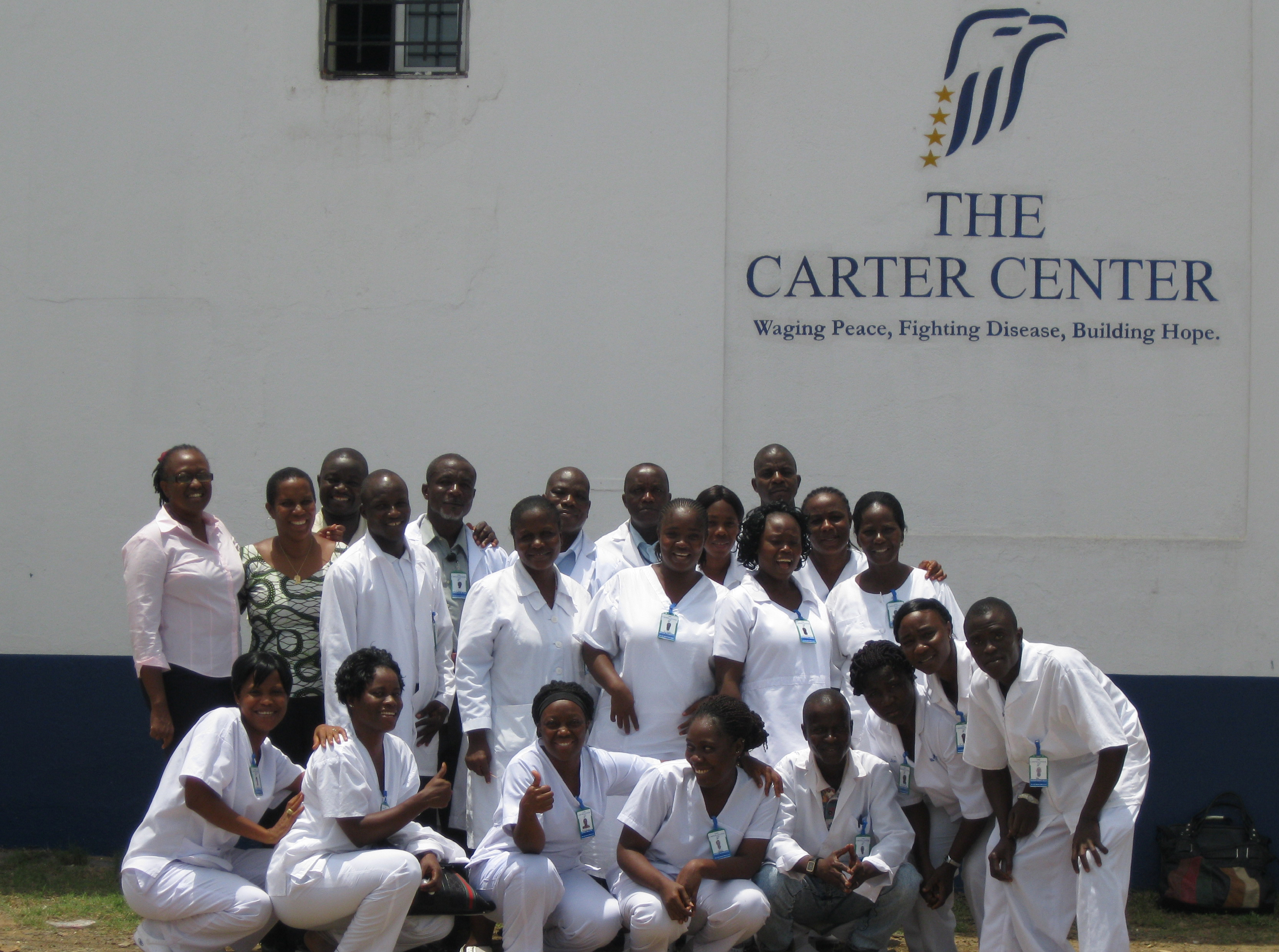 Carter Center Photo: J. Cooper
The Carter Center's first class of 21 Liberian health care professionals gather from across the country, selected from among dozens of physician assistants and nurses to receive this free training.
When training is complete, these professionals will return to communities where the lack of adequate psychotropic drugs, laboratory facilities, and even transportation pose significant challenges. However, these students are committed to overcoming these challenges. And in the coming months, their work will be bolstered by additional classes of professionals graduating and being deployed into the field, eventually expanding access to mental health care to 70 percent of the population.
So, as I set out each morning, traveling by many reminders of our nation's difficult past, I've come to think of my steps toward these students as steps toward Liberia's bright future.
Learn more about the Carter Center's efforts to help Liberia build a sustainable mental health care system >