Oct. 3, 2011
By Marwa Alkhairo, a Carter Center long-term election observer in northwest Tunisia and Bizerte.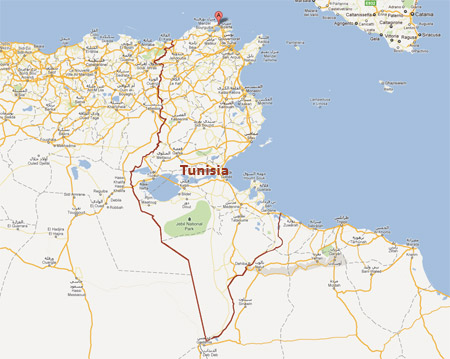 "La bas alaik" and "ca va," means "are you well," one phrase said in Arabic, and one in French.
These two greetings are indicative of the complexity that one immediately notices upon reaching northwest Tunisia. A largely rural area that is proud of its Arab and Islamic identities, the leftover influence of the French language has not yet escaped the mountains and valleys of Tunisia's agricultural wonderland. Traffic accidents could very much be caused by the cows and "aloosh" (sheep) that wander around as their herders sit nearby in the scorching sun. Driving through the countryside, one can only wonder what could possibly be found at the end of these rocky–and at times unpaved–roads.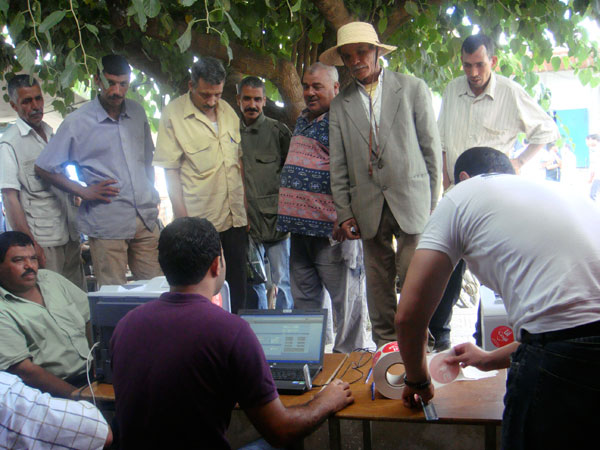 All photos: Carter Center/M. Alkhairo
Eager registrants waiting their turn to register at a mobile registration center in Bazina; a rural town in Bizerte governorate.

"I am 65 years old, and I have never voted in my life–this is the first time. I am so happy that I can vote before I die," says an older man–speaking in a heavy Tunisian dialect–who lives in Bazina, a small rural town, part of the Bizerte province that my colleague and I cover as long-term election observers. He looks over the registration official's shoulder as he scans the man's ID card, waiting for his name to load on the database system. The page takes some time to load, due to a poor Internet connection. While the young registration official becomes antsy, the old man stands silently and patiently, as he has never seen such a process in his life before. The page loads, and the official asks him where he wants to vote. He names a primary school close to him. Finally, the registration official prints his receipt and asks him to sign. The older man, worried about his pride, is too embarrassed to say that he is illiterate. Instead, he grabs the pen and draws a straight line to symbolize his signature.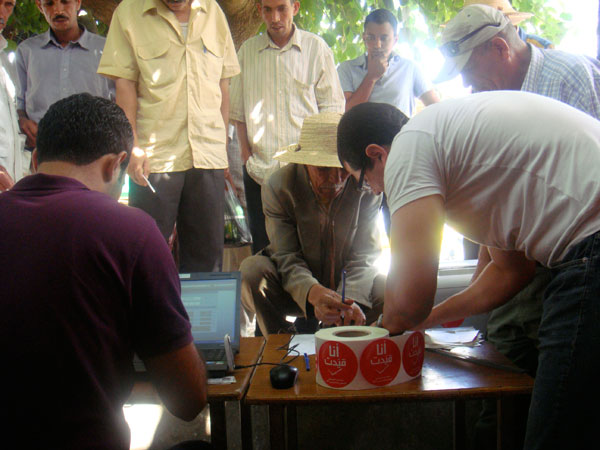 An elderly man leaning over to sign his registration receipt, confirming that he has indeed registered for the upcoming elections on 23 October. Registration center in Bazina, a rural town in Bizerte governorate.
Responding to rural conditions in the northwest, the regional electoral bodies (IRIEs) created a program for mobile registration caravans to encourage voter registration for the Oct. 23 constituent assembly elections. In the middle of stunning mountains and roaming donkeys and cows, IRIE supervisors traveled around with a popular local farmer, stopping at each house and farm area to loudly announce for women and men to bring their ID cards and come out to register. A manual registration post was set up at the top of the hill, and slowly the number of potential registrants grew. Eventually a large crowd formed, the majority being women, both adults and youth. These women confidently strolled in to the registration area in their colorful traditional clothing, saying "salam" (peace) to all around them.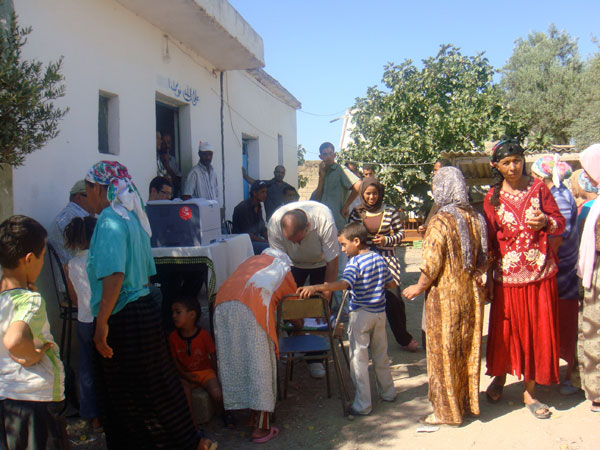 Eager registrants waiting their turn to register at a manual registration center in Bazina; a rural town in Bizerte governorate.
One of them, a young girl of 20 years old, Maryam, began to speak with me. "You do not look like you are from here," she said. I responded, "No, I am not. I am an international election observer with The Carter Center. I love your farmland–it is very nice." Maryam responded with a hesitant smile. "These elections are very important for us. You may think this land is beautiful, but we have an extremely difficult life, and we have struggled for many years. We do not have basic resources. We want these elections to change our economic and social conditions. That is why we are here. Your work as observers is very important; please make sure that everything will go right."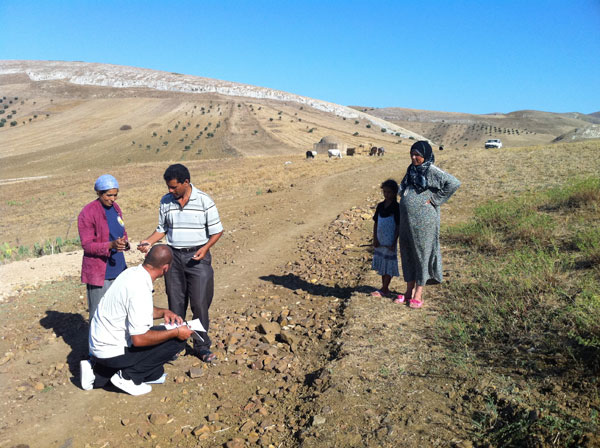 IRIE supervisor and local farmer traveled around the reef (countryside area) to register people who live too far out. Here, these women walked long distances to reach the registration vehicle. Both provided the IRIE supervisor with their IDs, who is registering them by hand, as the internet connection does not work near them. After writing their names down, the IRIE supervisor went down to the office and registered their names on the Ministry of Interior's database.
While we are here as observers, not as supervisors or election police, it is not within our international code of conduct to interfere with the Tunisian electoral process. We do hope, however, that Maryam's desire is fulfilled, and that these elections will run smoothly and increase the prospects of peaceful transition in Tunisia.