Nov. 11, 2011
The Carter Center and its Onchocerciasis Elimination Program for the Americas (OEPA) are pleased to congratulate three Latin American countries on their recent progress toward eliminating river blindness (onchocerciasis).
Today at the sixteenth annual InterAmerican Conference on Onchocerciasis – sponsored by The Carter Center, the Pan American Health Organization, the Lions Clubs International Foundation, and the Bill & Melinda Gates Foundation – three of the six countries in the Americas that have historically suffered from river blindness announced the good news.  In Colombia, thanks to the tireless work of the ministry of health, river blindness is believed to have been wiped out completely.  In November 2011, Colombia became the first country in the Americas to apply to the World Health Organization for certification of river blindness elimination.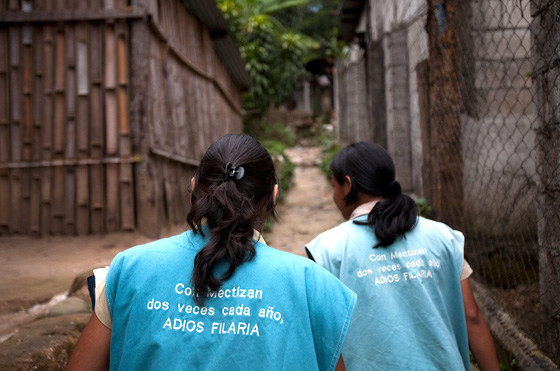 Photo credit: Carter Center/P. Dicampo
Karina Cabrera, left, and Emilse Ovellana, members of a community Mectizan distribution team, walk through a village in Chicacao District, Guatemala, July 16, 2009.
Also today, Guatemala and Mexico announced that they have broken the transmission cycle of river blindness and will halt their Mectizan® drug treatment programs for the disease in 2012, beginning the three-year post treatment monitoring process. (Mectizan is donated by Merck through its Mectizan® Donation Program.)  When the program began, Guatemala and Mexico represented 70 percent of the region's disease burden, making their success even more noteworthy.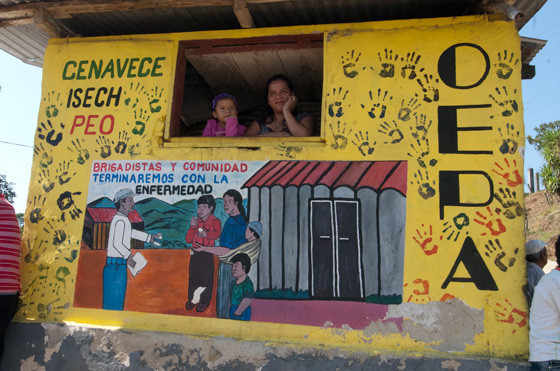 Photo credit: Carter Center/E. Staub
A woman and child look out of the window during a visit by the river blindness elimination brigade to Chiapas, Mexico. The brigade, with the support of the Carter Center's OEPA, distributes the Merck-donated anti-parasite drug Mectizan, and checks the community for signs of river blindness.
After Mectizan® treatments are stopped, a three-year post treatment monitoring (surveillance) period is required to ensure that the infection does not return.  Colombia is the first country to complete this three year process; Mexico and Guatemala now join Ecuador, which is already in the post treatment monitoring phase.
The two remaining affected countries in Latin America – Brazil and Venezuela – continue to battle river blindness by providing mass treatment with Mectizan® tablets in hopes of interrupting transmission next year.
It is my belief that Colombia's success will serve as inspiration not only for the other five Latin American countries impacted by this disease, but also for the 30 African countries where most river blindness occurs," said Frank O. Richards, Jr., M.D., director of the Carter Center's River Blindness Program. "It will show that elimination at a national scale can be done."
Read the Nov. 10, 2011, press release issued by Merck (PDF) >    En Español >
Onchocerciasis Elimination Program for the Americas (OEPA) >