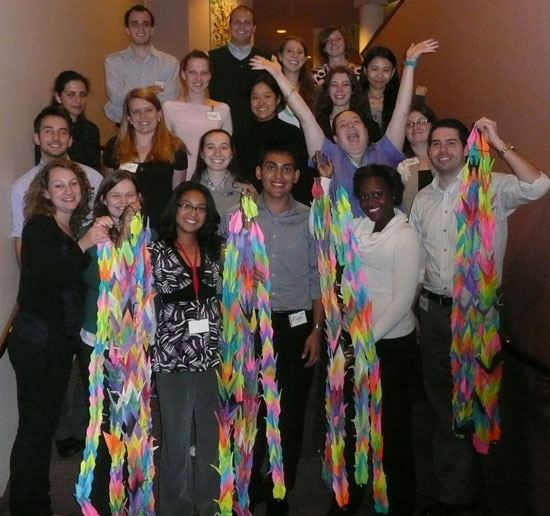 Photo: R. Nix/The Carter Center
A chain of 1,000 origami paper cranes, each painstakingly created by members of the Carter Center's fall 2011 intern class, was recently hung in the Children's Peace Memorial in Hiroshima, Japan, in honor of President and Mrs. Carter.
The brainchild of Hiroshima native Makiha Kimura, a 2011-2012 YKK (Yoshida Manufacturing Corporation) intern in the Conflict Resolution Program, the cranes — an end-of-semester gift to the Carters — reflected the class's appreciation of The Carter Center founders and their own commitment to shaping a more peaceful world.
The tradition of paper cranes as a symbol of global peace — based on an ancient Japanese legend promising that anyone who folds a thousand origami cranes will be granted a wish by the gods — was initiated by Sadako Sasaki, 2 years old at the time of the bombing of Hiroshima in 1945 and who became a symbol of innocent victims of war. She made a commitment to fold 1,000 paper cranes before her death. When she died at age 12, the cranes — Sadako completed more than 600 and the rest were completed by her friends — were buried with her, and her classmates raised funds to build a memorial. The Children's Peace Memorial, with Sadako's statue, has become a place of pilgrimage with garlands of paper cranes from around the world surrounding the plaza.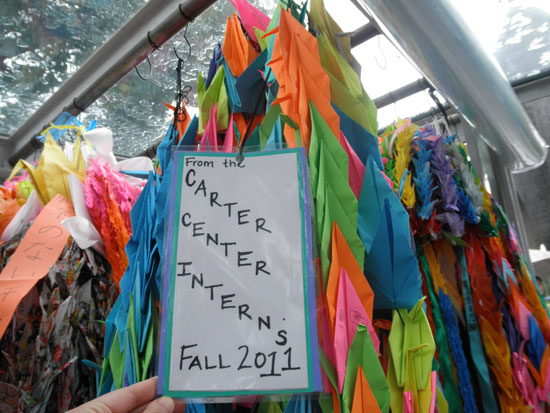 Photo: M. Kimura/The Carter Center
"We wanted an experience that would combine teamwork, dedication, and fun," according to Dave Beck, Conflict Resolution Program intern. "During workshops, after work, and on breaks during the workday, we learned how to make cranes (everyone seems to have their own approach), talked about their history, and became better friends," he said.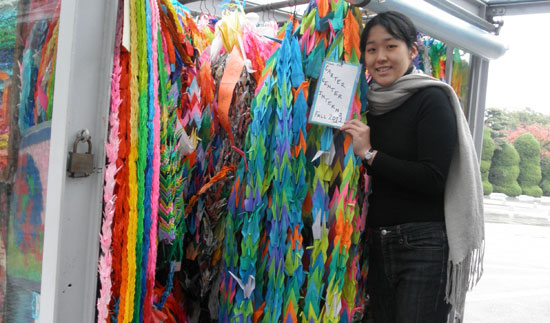 Photo: M. Kimura/The Carter Center
The initial 500 cranes were presented to President and Mrs. Carter while the class worked furiously to complete the chain by the close of the semester. Makiha traveled with the carefully boxed cranes — many with personalized messages from the interns — to Hiroshima in December and hung the chain at the peace memorial with a card that said, "From The Carter Center Interns, Fall 2011."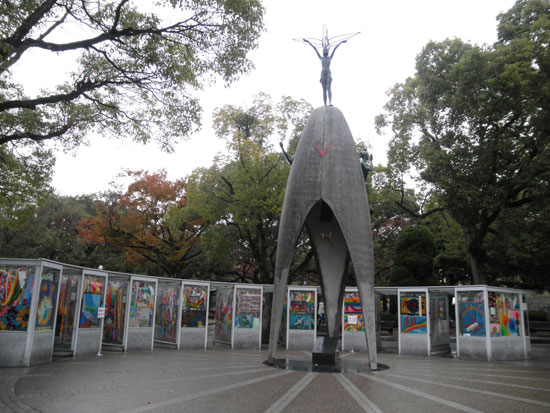 Photo: M. Kimura/The Carter Center
"It was a very impressive moment when I hung the cranes because I knew that the cranes were carrying interns' wishes for nuclear disarmament and peace all the way from Atlanta to my hometown," Makiha said. "For me, a student from Hiroshima, I felt that our cranes had a special meaning because interns — including Americans — made them for Hiroshima and learned about nuclear disarmament."