Dec. 17, 2012

The staff of Asclepius, an ancient symbol of medicine, is believed to be inspired by Guinea worm disease.
It's the horrific plague, the "fiery serpent" of the Bible, found in Egyptian mummies, and may be the inspiration of the modern symbol for medicine. Found today only in the most isolated and neglected communities of the world, Guinea worm disease once afflicted approximately 3.5 million people in Africa and Asia. But after a quarter-century of efforts by The Carter Center and its partners to eradicate Guinea worm disease, the clock is ticking against this dreaded affliction.
Also known as dracunculiasis, Guinea worm disease seems like something more from science fiction than history. Approximately one year after drinking stagnant water contaminated with the Guinea worm parasite, a worm up to three feet long (one meter) emerges from a painful, burning skin blister—from nearly anywhere on the body.
The only treatment was the same for the ancient Egyptians as it is for people today—inch by painful inch, the worm must be carefully extracted and wrapped around a piece of gauze or a stick over a period of weeks.
Guinea worm is so painful that many victims are incapacitated as the worm emerges, lending the disease the nickname of "the impoverisher" in some endemic communities. Adults cannot work. Children cannot attend school. Whole villages are crippled at the peak of harvesting or planting seasons.
Yet, with simple tools like health education and fine mesh water filters, The Carter Center and its partners have reduced cases by more than 99.9 percent. Once found in 21 countries, Guinea worm disease remains only in pockets of four countries – South Sudan, Ethiopia, Mali, and Chad. See the current Guinea worm disease case count >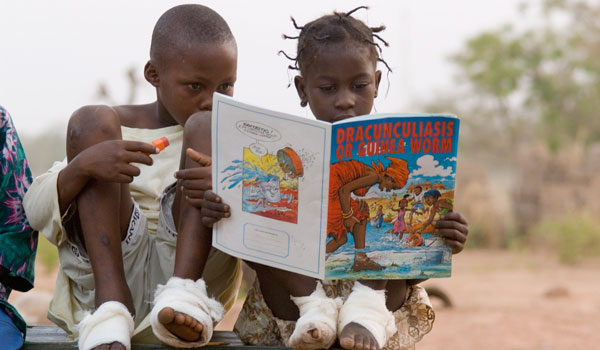 The Carter Center, in partnership with endemic countries and others, is leading an international campaign to eradicate Guinea worm disease, which has been reduced by more than 99.9 percent since 1986. (Photo: The Carter Center/L. Gubb)
Guinea worm now is poised to become only the second human disease in history to be eradicated after smallpox. Guinea worm also will be the first human parasitic infection eradicated from earth, and the first disease eradicated without the use of a vaccine or medical treatment.
Experts are hopeful that it is the end of the world for Guinea worm disease. Endemic communities, however, are welcoming the beginning of a healthier future.
Read more in the New York Times article "Slithery Medical Symbolism: Worm or Snake? One or Two?" >