Sept. 13, 2012
The Carter Center and BASF continue to work together to make medical history in Africa. The latest donation of nearly 6,000 liters of the BASF larvicide ABATE® will be used to combat Guinea worm and river blindness, two neglected tropical diseases that prey on some of the world's most disadvantaged communities. Both campaigns are on the verge of accomplishing public health goals previously thought to be impossible.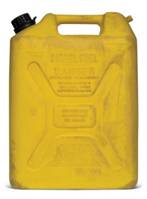 200,000 liters would fill 10,000 jerry cans like this one.
Uganda is one of the few African countries challenging the notion that river blindness cannot be eliminated on the continent.  Almost 4,700 liters of donated ABATE are earmarked to carry this effort through 2020. The World Health Organization has successfully used ABATE in West African river blindness control programs. In Uganda, larviciding with ABATE is government policy in accordance with WHO's recommendation, and vector control is done by Ministry of Health personnel as part of an effort to stop the spread of river blindness nationwide. To learn more about this unique, environmentally friendly application, please see the short film, "The Crab and the Fly."
The remaining liters of donated ABATE will be used to control  fresh water copepods (water fleas) that serve as intermediate hosts for Guinea worm larvae in their last hiding spots, stagnant ponds in extremely remote parts of Chad, Ethiopia, Mali, and South Sudan. When combined with health education and proper filter use, these ABATE treatments will help break the transmission cycle of Guinea worm disease once and for all, making it only the second human disease (after smallpox) to be eradicated.
ABATE is a mild larvicide based on the organophosphate temephos. When used as directed, it is safe for humans and is recommended by the World Health Organization for use in drinking water. After application, the residual activity of ABATE will prevent insects for a few weeks until it is applied again.
BASF has supported The Carter Center and its health programs since taking over the Cyanamid Crop Protection Division from American Home Products Corporation in 2000. Together, the two companies have donated more than 200,000 liters of ABATE (equivalent to 10,000 filled jerry cans) valued at more than $4.1 million, in support of these vital public health programs that provide hope and fight disease in some of the world's most neglected communities.