Jan. 22, 2013
Ellen Lust is a Carter Center political analyst in Jordan.
Jordan's Jan. 23 parliamentary elections are taking place in a climate of uncertainty, due to dissatisfaction with the pace of electoral reform and frustration with the state of the economy. In late-November there were demonstrations against the monarch, sparked by a sharp increase in gas prices. The upcoming parliamentary elections are the first after a series of limited electoral reforms were implemented. A small Carter Center study team is in Jordan to assess several key political and electoral reform issues.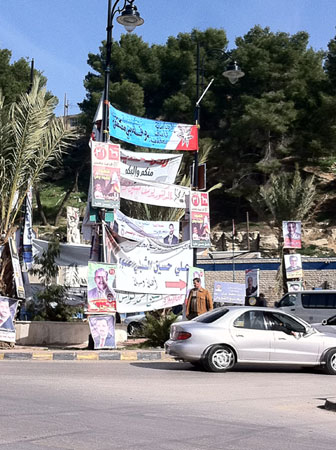 Campaign banners surround a traffic circle in Jerash, Jordan. (Photo: The Carter Center)
In the oversized Gallery Hall in downtown Amman, Jordan, hot debate warmed chilly winter air as candidates from five political party lists faced questions from a panel of experts. This was the second of two debates sponsored by Leaders of Tomorrow, a leading youth group in the country, and in many ways, the first time campaign debate has focused so closely on important issues of the day.
Candidates from the Islamic Centrist, Progressive Democratic, Nation, National Current, and Unified Front fielded a range of questions ranging from the minimum wage law, privatization, and corruption, to the elections law, political reform, and finally foreign policy. The field is truncated, with opposition parties boycotting elections and only a small sample of the 61 national lists represented. But, the thoughtful debate and range of answers was impressive, and the hundred plus audience fully engaged.
Of course, it is only a start. Jordanians will tell you that many lists continue to represent families and personalities, not platforms and policies, just as the relatively young, educated, middle class Ammanis who chose to spend their Tuesday night listening to such debates hardly represent the average Jordanian.
But, the demands they raised are heard a hundred-fold on the streets. The only difference may be their confidence that participation matters. When I told my driver how refreshing it was to hear real political debate during the campaigns, he told me what many had said before: we don't want talk, we want action. Therein lies the rub.
A Carter Center team will study several key issues during parliamentary elections in the context of recent political reforms, including the legal framework for elections, boundary delimitation, election administration, the role of gender, over and underrepresented groups, and the electoral dispute resolution process.
The Center will issue a report on its findings after the election.