Jan. 7, 2013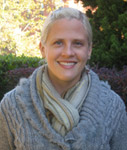 Lindsay Rakers is a senior program associate for The Carter Center.
Eight years ago, the urine of 12-year-old Jude Ogwu was consistently red from blood. His father, chief of Aboh, a village in southeast Nigeria, took him to the hospital for treatment but received none. The hospital lacked medicine and the resources needed to treat Ogwu, who was suffering from schistosomiasis, a parasitic disease that damages internal organs.
Ogwu and his friends are particularly susceptible to schistosomiasis because they swim and play in a nearby stream where disease transmission occurs via snails.
With assistance from The Carter Center, Ogwu took his first dose of praziquantel, the medicine that treats and prevents schistosomiasis, when he entered primary school in 2005. Seven years later, when I visited Aboh last summer, I saw Ogwu take his annual dose. He said he feels better and no longer has bloody urine.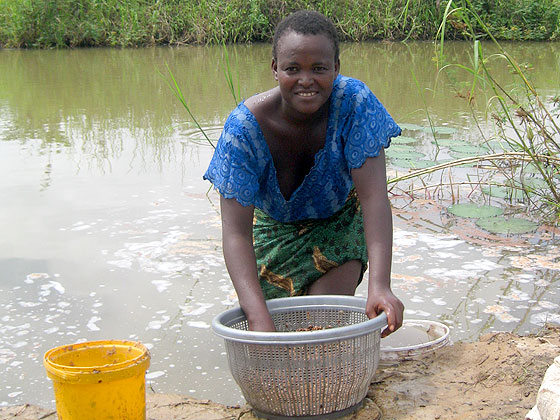 Patience Odogwu scrubs beans for her family using water from a muddy stream in central Nigeria that harbors the parasite that causes schistosomiasis. (Photos: The Carter Center/L. Rakers)
I have been traveling to Nigeria since 2005 and was there to witness schistosomiasis program implementation. Health education and drug distribution were to occur outside the local community center. As people gathered under tents, the police officers who had escorted us ran their sirens for several minutes. My Nigerian colleagues told me that this was to arouse curiosity and increase attendance. We keep careful records of who receives treatment; community members not attending the drug distribution would have to be visited in their homes or schools later.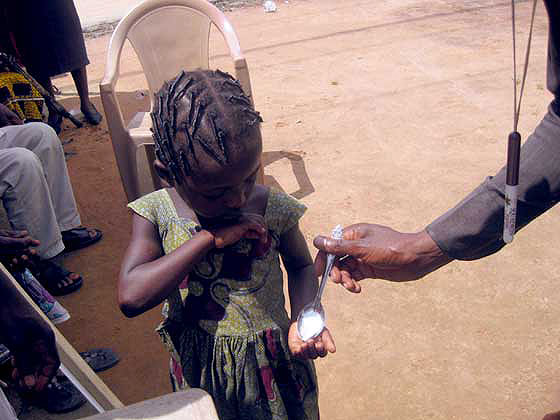 A child is measured to determine correct dosing and then provided with Mectizan® (ivermectin, donated by Merck) to prevent river blindness and praziquantel to prevent and treat schistosomiasis.
We walked to the slow-moving, muddy stream that harbors schistosomiasis year-round. Local resident Patience Odogwu was cleaning beans when we arrived, scrubbing them with sand, then swirling them in the water. Children like Jude Ogwu are not the only ones at risk — the stream plays a role in the daily chores of all villagers. Aboh is fortunate in that it has a water pump in town that delivers clean, safe water. While a valuable resource, the pump's capacity does not alleviate the need for people to go to the stream for chores like washing clothes, bathing, or scrubbing beans.
It was a privilege to watch the Aboh community take strides toward healthier lives during my visit. And I was reminded that we've accomplished much, but we still have more to do.