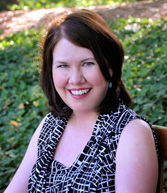 Rebecca Palpant Shimkets, assistant director in the Carter Center's Mental Health Program, describes the stigma facing people with mental illnesses and how the Carter Center's activities aim to help. (Photo: Carter Center/D. Hakes)
Q: How do stigma and discrimination affect people with mental illnesses?
Members of the general public often only encounter mental illnesses in their extreme forms, such as through sensa-tionalist news stories or by seeing severely ill homeless people. Unfortunately, there just isn't a lot of education out there about mental illnesses, what causes these disorders, and how they can be treated. As a result, many people who suffer from mental illnesses are afraid that if they seek medical help, they will be ostracized by their communities. The ramifications of untreated mental illness go beyond unnecessary suffering to include potentially life-threatening and preventable health risks like suicide.
In addition, stigma and misinformation breed the more serious problem of people facing discrimination when seeking jobs, housing, or transportation. On a larger scale, public funding, services, and supports often are considerably less available or robust than other kinds of medical care, even though mental illnesses affect one in four Americans each year.
The Carter Center's mental health policy symposium last November focused on moving beyond just fighting stigma to creating opportunities to improve the way society includes and supports people with mental illness.
Q: Has the stigma of mental illnesses lessened in recent years?
In some ways, we have made some progress. Recent data from the U.S. Centers for Disease Control and Prevention suggest that more Americans are aware of mental health treatments and believe that they work. Additionally, more people are openly discussing their experiences with mental illnesses, especially depression and anxiety disorders. But there is more to do.
Q: What role do the media play in shaping public perceptions?
Journalists play an important role in shaping how the public understands these issues. Reporters make a commitment to fair and accurate reporting, but in reality many of them do not have the resources and training to cover mental health in a balanced and sensitive way.
The Rosalynn Carter Fellowships for Mental Health Journalism are given to 10 professional journalists in the United States, Romania, and most recently Colombia, who use the stipends to investigate a wide range of mental health is-sues, producing articles, books, and documentaries. Because fellows are in the position of gaining public attention and awareness, we have seen positive change and government attention to important public health issues. Read Meet Nicolae Ciorogan: From Different Homelands, Finding Common Ground on Mental Health >