Jan. 6, 2014
By Dr. John Stremlau, vice president, peace programs.
The Carter Center was pleased to partner with the Electoral Institute for Sustainable Democracy in Africa for a joint election observation mission to Madagascar's Dec. 20 legislative and second-round presidential elections. Former Mauritius President Cassam Uteem, EISA Executive Director Dr. Denis Kadima, and I co-led the delegation.
One of the world's poorest countries, Madagascar has faced economic, social, and political
stagnation since 33-year-old former radio disk jockey Andry Rajoelina wrested power from President Ravalomanana after a 2009 coup d'etat. The international community did not recognize the new government, and economic activity and human development indicators fell severely amid the political crisis.
The Carter Center felt it could play an important role by providing a credible and impartial assessment of the troubled electoral process, the success of which was critical to moving Madagascar out of the nightfall of corrupt autocratic rule and into a dawn of democracy.
These critical elections were the culmination of an extraordinary and complex five-year concerted diplomatic campaign — led by the Southern African Development Community with substantial backing from Western democracies — to try to reverse the 2009 coup.
The Carter Center highlighted challenges to the electoral process, encouraged resolution of issues through transparent measures, and provided recommendations to improve future elections.
Our joint delegation congratulated the Malagasy people for a peaceful vote on Dec. 20, and on Jan. 3, Madagascar's electoral commission declared Hery Rajaonarimampianina the winner of the presidential runoff. The opposition is challenging the presidential election result, and The Carter Center will monitor the resolution of these claims by the High Electoral Court, a process we urge all to respect.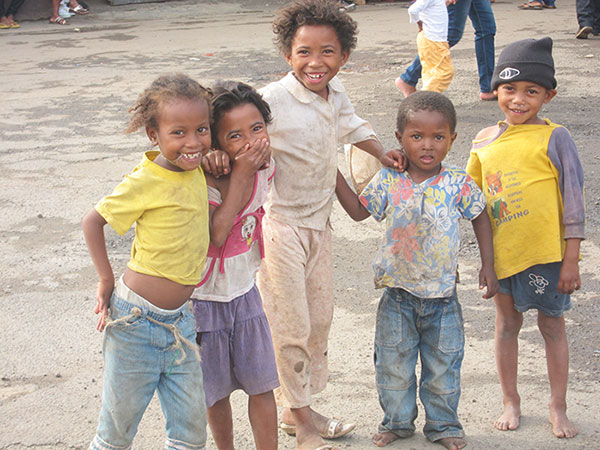 Ninety percent of Madagascar's citizens live on less than $2 USD a day, and half of children under five years old are chronically malnourished, according to UNICEF. (All photos: The Carter Center/ J. Stremlau)
We hope these elections will enable Madagascar to rejoin the community of nations and obtain the support it needs to reduce the prolonged and escalating humanitarian crisis among its 22 million people.
It will be important for the international community to hold all parties accountable to their promises to abide by the results and to reward  any meaningful  post-election process of national inclusion and reconciliation that emerges.
Madagascar's African and international partners should regard electoral success as the start of a long process not only to help relieve the suffering of the Malagasy people, but also to test techniques of collective engagement that might eventually help other troubled states.
Read the Carter Center and EISA full Madagascar elections preliminary statement and recommendations. (PDF) >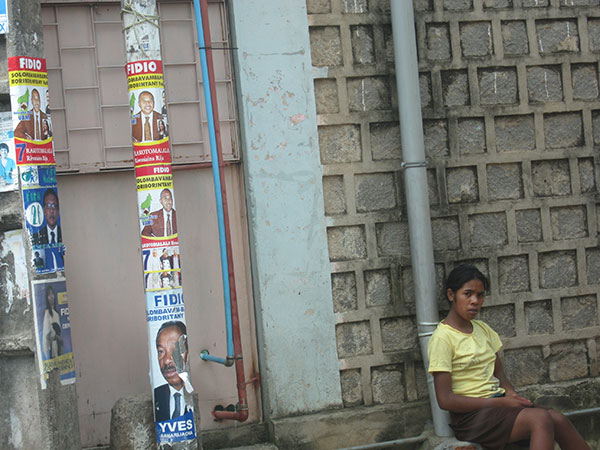 After a peaceful and generally acceptable October first-round presidential election, Malagasy voters had to decide Dec. 20 between two bitter rivals widely viewed as surrogates of the incumbent president of the High Transitional Authority, Andry Rajolina, and the man he deposed, Marc Ravalomanana, who remains exiled in South Africa.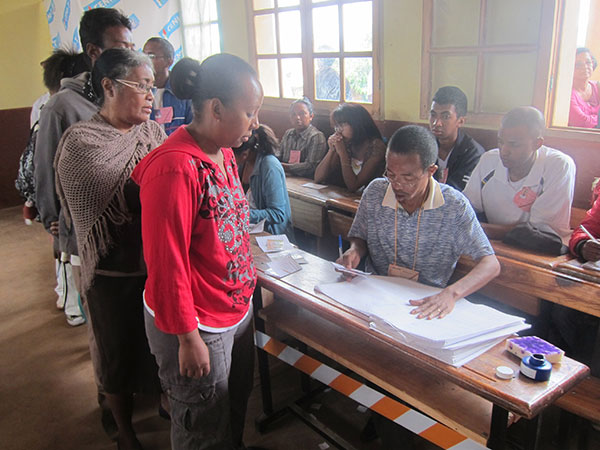 A poll official checks the ID of a citizen preparing to vote on Dec. 20 in Madagascar.  The Carter Center-EISA delegation included 26 observers representing 19 countries who visited 85 polling stations on election day.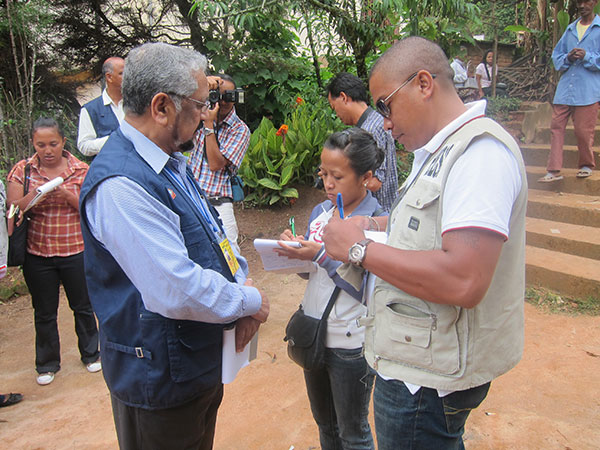 Former Mauritius President Cassam Uteem (left), co-leader of the Carter Center's observation mission, talks with local media in Madagascar on Dec. 20. President Uteem also led the Center's 2011 election observation mission to Tunisia.