Oct. 21, 2014
By Dr. John Stremlau, vice president, peace programs.
Last week, I was in Mozambique to observe the country's fifth national election since the end of a bitter civil war that raged for 15 years following the country's independence from Portugal in 1975.
The election was mostly peaceful and far more competitive, transparent, and inclusive than earlier ones we observed.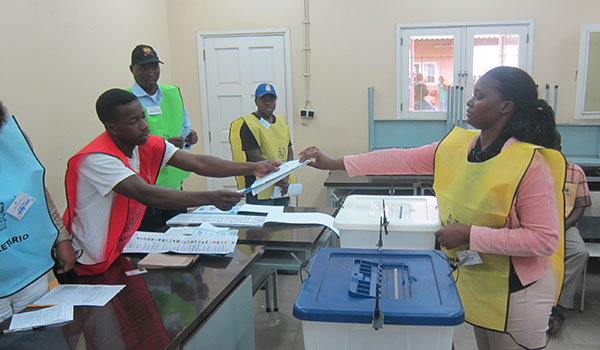 Election workers prepare for the opening of the polls in Maputo, Mozambique, on Wednesday, Oct. 15, 2014. More than 10.7 million people are registered to vote in Mozambique. (All photos: The Carter Center)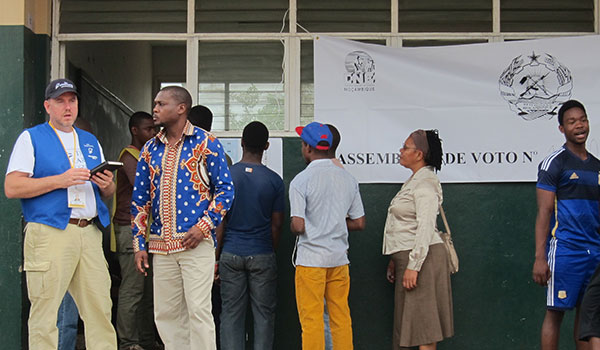 Jason Calder, the Carter Center's political analyst in Mozambique (left), monitors an election site as voters wait to cast their ballots in Maputo on Oct. 15.
The day after the election, at a meeting of the leaders of the seven main international observer groups, our chair, South Africa's Foreign Minister Maite Nkoana-Mashabane, marveled, "Who among us could have imagined in 1994 that in just 20 years Mozambique could conduct such a well-organized, peaceful, and largely trouble-free election?"
The post-independence battles between the ruling Frelimo party and the insurgent Renamo party claimed about a million lives. Violence erupted again last year, and a new peace accord was signed only in September. Tensions persist. But the parties hammered out a complex election reform agreement in an attempt to ensure that the outcome of the elections would reflect the will of the people.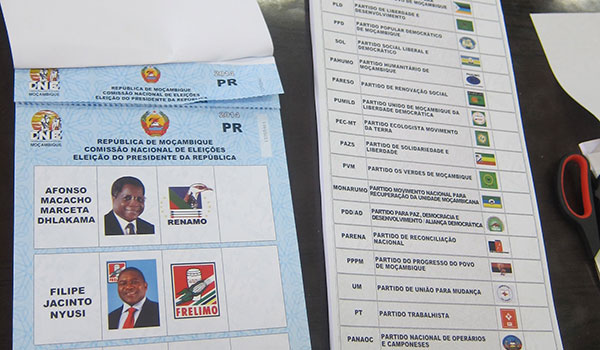 Ballots used in Mozambique's presidential, legislative, and provincial elections on Oct. 15.
In addition to legislative and provincial assembly candidates, both parties fielded presidential candidates, as did the relatively young Democratic Movement of Mozambique (MDM) party. Early, unofficial results show that Frelimo's Philippi Nyusi won about 60 percent of the vote — numbers Renamo is contesting, while still promising to maintain the peace.
The National Elections Commission has until Oct. 30 to certify the final tally, and there is an agreed-upon process for resolving such grievances. As in all elections, it is the complainant's responsibility to prove fraud.
Electoral reforms gave each party the chance to appoint members to a new, independently run elections commission and to observe all phases of the voting process. They also provided for the hiring of proportionally representative party staff to man the country's polling stations and oversee all stages of post-vote process.
We consider this last change bad electoral practice, because it risks impartiality. But given Mozambique's history, it may help lessen suspicions between ex-combatants. Another positive: Hundreds of international election observers and thousands of domestic civilian observers had unimpeded access to the election process. Our own team, working with the Electoral Institute for Sustainable Democracy in Africa, visited 541 polling stations in 82 of Mozambique's 151 districts. Whenever officials attempted to block access, the elections commission acted quickly to remedy the situation.
This is a time of great change for Mozambique. Discoveries of huge gas, oil, and mineral reserves have spurred economic growth. There is the prospect of a major infusion of foreign investment and increased national revenues, which could greatly improve the quality of life for its citizens. This may be contributing to greater pragmatism and consensus, giving warring parties new reasons to bridge their destructive differences. In Mozambique's long and often tragic struggle for self-determination and self-reliance, the 2014 elections may prove to be a hinge point.