By Mulat Zerihun Lemu, regional manager, Carter Center trachoma and malaria control projects in the Amhara region of Ethiopia.
I learned how great a need there was for eye services in my community during the 10 years I spent working for the Ethiopian government as an ophthalmic expert. Ethiopia has one of the highest rates of blindness in the world, and trachoma is a major cause of this disability in my country.
It is hard to ignore the groups of older ladies huddled under trees, nearly blinded by trachoma and in too much pain to contribute to their family life. But we know that we do not have to look at this suffering and avert our eyes. We can do something about it.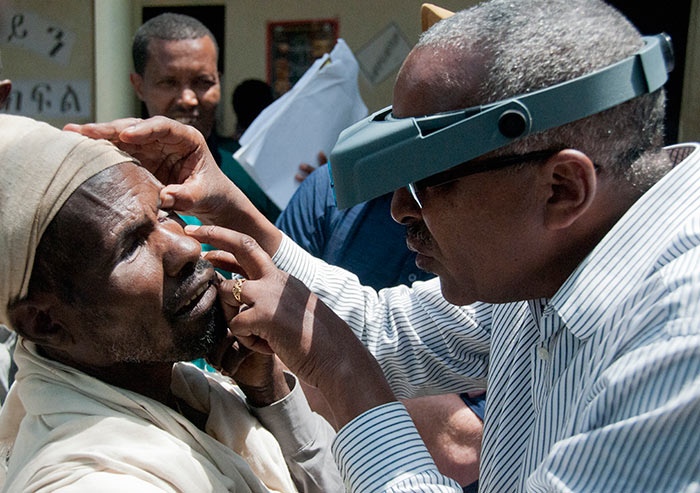 Here Lemu checks a man for signs of trachoma, a bacterial infection that can cause blindness after repeated infections over many years. (All photos: The Carter Center/ P. Rohe)
Trachoma is a bacterial disease that causes blindness after repeated infections over many years. Children are the main carriers of the disease and mostly spread it to their mothers and grandmothers. Often by the time a woman is a grandmother, the disease has scarred her eyelids, causing her eyelashes to turn inward, scraping and damaging the cornea with every blink. In Ethiopia, we estimate nearly 1.2 million people are affected by this advanced form of trachoma called trichiasis, and all of them are in need of immediate surgery to save their vision.
Working for more than a decade with the Ethiopian government, Lions Clubs International, and others, we have reached many great milestones in the effort to halt this disease. To prevent the spread of trachoma, more than 2.2 million latrines have been built since 2002. And more than 500 trained, local surgeons are helping to treat people in the advanced stages of trachoma.
Since my early days in public health, I continue to see how important it is to help people have the chance for better sight so they can work more easily to feed their families and watch their children grow up healthy and strong. Together, with the international community, we have the tools we need to go up to our neighbors, look them in the eye, and assure them that they do not suffer alone. We stand with them, ready to bring a brighter future.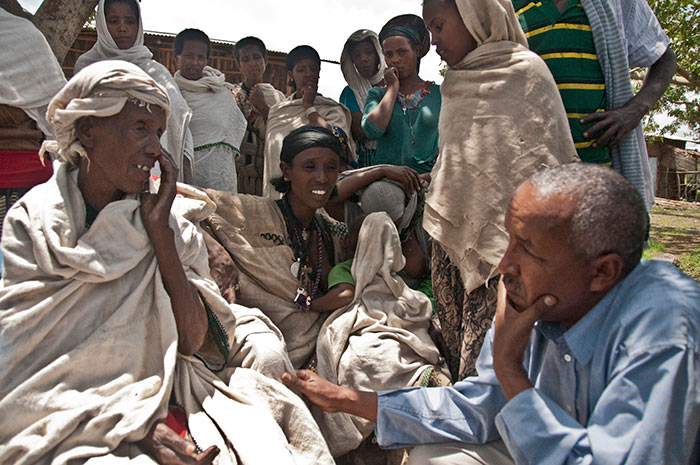 Lemu advises a grandmother with the most advanced form of trachoma to seek free eyelid surgery.