Dec. 23, 2014
Dr. Thomas H. Bornemann, director of the Carter Center's Mental Health Program, answers questions on the importance of the 30th Annual Rosalynn Carter Symposium on Mental Health Policy, progress made over the past three decades, and challenges that lie ahead.
Q: What progress has been made over the last 30 years since we began this symposium?
The last 30 years represent a sea change in the way mental health services are organized and delivered. In the early and middle 1980s, it was very much a psychiatry-driven system, with other services in support of that. Today, we've evolved to a more diverse set of providers, including consumers themselves. It is much more community-based now, meaning those people who have received mental health services now provide them. That will only increase.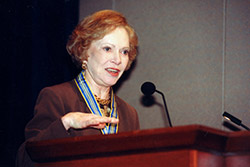 Former First Lady Rosalynn Carter opens the annual Rosalynn Carter Symposium on Mental Health Policy in November 2000, when she was awarded the Surgeon General's Medallion for her leadership in the field of mental health. (Photo: The Carter Center)
Mrs. Carter's Work
Mrs. Carter has worked for more than four decades to improve the quality of life for people with mental illnesses. Co-founder of The Carter Center with former U.S. President Jimmy Carter, Mrs. Carter chairs the Center's Mental Health Task Force, an advisory body of experts, advocates, and consumers of mental health services that promotes positive change in the mental health field.
About the Symposia
Held each November, the symposia have examined such issues as mental illness and the elderly, child and adolescent illness, family coping, financing mental health services and research, treating mental illness in the primary care setting, and stigma. Learn more >
Q: What challenges lie ahead?
One challenge we're tackling right now with a group of colleagues is a workforce shortage. We are a part of a number of groups, such as the Board of Regents, Department of Psychiatry at Emory University, and others who are attempting to address shortage issues. There hasn't been a major investment in clinical training for mental health in over 20 years by the federal government. That has left a gap. We have an aging mental health provider community. Nearly half of the psychiatrists here in Georgia are 55 years old or older. We have a workforce that is inadequate in numbers and aging. This is a very serious issue that needs national attention.
Also, ramping up more community-based services is necessary nationwide. Our challenge today is scaling up what we already know. Housing is key, coupled with supported employment, such as the Dartmouth model which features Individualized Placement and Support, among a number of employment models that have proven effective. Now is the time we must make a concerted effort to scale up what we know works
Q: What trends are you seeing in mental and behavioral health?
The greatest innovation in these last 30 years is the rise of the consumer movement. People living with mental illness became a part of the decision process. That's particularly important in empowering people to take charge in their own lives and they are even becoming serious players at the policy level.
Q: How will the Affordable Care Act affect mental health policy?
It will have a huge effect. Under the Affordable Care Act, there is a requirement that insurers must provide for coverage for up to 10 Essential Health Benefits, including mental health and substance abuse care. This means mental health and substance abuse care must be a part of insurance coverage, and that coverage must be provided at parity with other health conditions.
Former First Lady Rosalynn Carter has been a major force in many debates on parity and was a key witness in the passage of the parity legislation. Her years of commitment to this topic have helped to ensure its passage. Parity aides in preventing discrimination against those who have mental illnesses or a substance abuse issue.
Q: Why is it important to bring this group together annually for the Rosalynn Carter Mental Health Symposium?
We're able to attract the best talent in the country and sometimes globally, who are willing to come here and share their wisdom and knowledge with our attendees. I think it's a combination of the attraction of the theme chosen each year, and the quality of presenters and discussions. As a former attendee of The Carter Center Mental Health Program Symposium, it was a meeting that I would not miss. And the networking opportunity is also very important because much of the national mental health leadership attends or speaks at this meeting.
Q: Are you optimistic about the future of mental or behavioral health?
We have a lot to be optimistic about. The knowledge base has just exploded exponentially. Thirty years ago, our major goal was stabilization, not recovery. The whole concept of recovery is about a decade old. Now we can see, believe, and expect that people with mental illnesses can and will recover in the vast majority of cases. That's a sea change as well. Recovery is really at the core of our efforts. We now have more optimism that even those people living with very serious mental illness can recover with the right amount of services and support.