Jan. 31, 2014
By Dr. John Hardman, chief executive officer.
The Carter Center is pioneering the use of today's newest technologies in our efforts to wage peace, fight disease, and build hope in the most isolated and inaccessible places on earth. As a result, we are helping people improve their lives more efficiently and cost-effectively than ever before.
Our work to eradicate and control diseases is a good example. In Ethiopia, the previously labor-intensive, monthlong process for evaluating progress and planning next steps now can be accomplished in only two days with the use of handheld computer tablets, unique on-screen Amharic-language keyboards, and specialized software. We are combating river blindness in Latin America and Africa with low-cost, in-country laboratories that let us analyze weekly hundreds of skin and blood samples, along with thousands of flies.
These new tools also are proving invaluable to our mental health program in Liberia. An innovative system of hardware, software, and training allows for patient anonymity, improves the knowledge and skills of clinicians, and facilitates communication even to the hardest-to-reach areas.
Additionally, special software developed for The Carter Center is enhancing our election monitoring capability. Now, vital information from even the most distant polling stations — from ballot availability to the presence of intimidation or inappropriate campaigning — is recorded on tablets and transmitted instantly to headquarters for evaluation.
Use of technology in Carter Center projects around the world already is having a powerful impact, and we are only beginning. Every day, new devices and applications are being invented that can extend the Center's reach and success.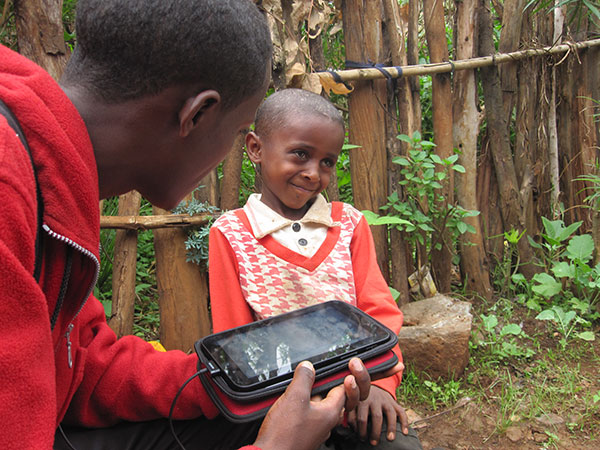 Using a computer tablet to collect data, Zemene Gedafaw interviews a school-age child for a trachoma impact assessment in Ethiopia. (Photo: Carter Center/A. Stewart)