By Stephanie Palmer, assistant director, Trachoma Control Program.
Flies buzzed in our faces as Fatahou Ibrahim, a Nigerien public health student, and I interviewed Assana*, a young woman with the eye disease trichiasis, and her mother, Habiba, sitting on colorful plastic mats beneath a tree. Assana, in her early 20s, said that trichiasis felt as though "someone stuck a needle in my eye, as if someone hit me."
Assana is not alone. In Niger, approximately 30,000 women and men have trichiasis, the end stage of trachoma, when due to years of infection and scarring, a person's eyelashes turn inward and scrape the cornea of the eye, making every blink excruciating. Trichiasis can lead to blindness, and those with the disease also suffer physical disability and stigma. The condition is preventable, however, and The Carter Center, in partnership with Niger's National Blindness Prevention Program, provides treatment and care for this population, including surgery, health education, and other interventions.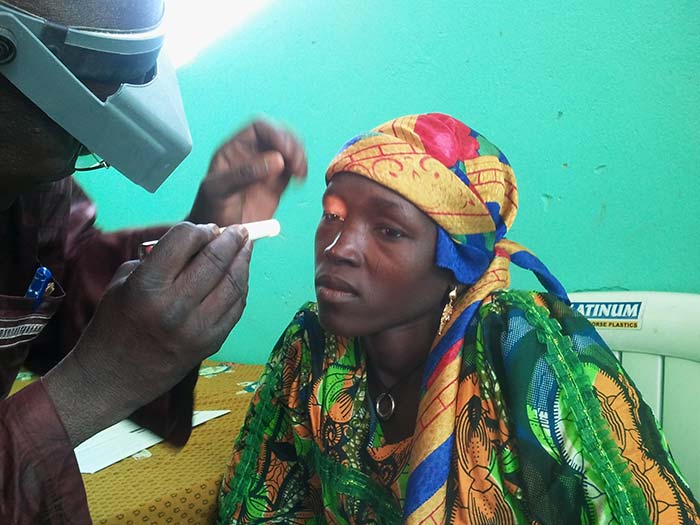 A Nigerian woman is checked for signs of trachoma. (All Photos: The Carter Center)
Habiba told us that Assana had suffered from eye problems since she was small. Habiba did not want her daughter to be teased, so she kept her at home and completed the family's daily chores by herself. When Assana was old enough to marry, a suitor asked her father for her hand in marriage. But when he learned about Assana's eye condition, the suitor never returned.
Assana eventually did marry, but her husband died, and she was left alone with a baby. Due to her eye condition, Assana, once again, was reliant on her mother.
One day, when Assana brought her baby to a health clinic, the nurse looked at Assana's eyes and told her there was a free surgery that would correct the problem.
Assana rose early the next morning and walked alone to the clinic for the surgery, but the nurse was absent. She went to the clinic twice more before she finally reached the nurse and underwent the operation.
"Nothing could have prevented me from getting the surgery, as long as I had blood in my body," Assana said. "My eyes are now without fault."
*A pseudonym is used here to protect the confidentiality of the woman in this story.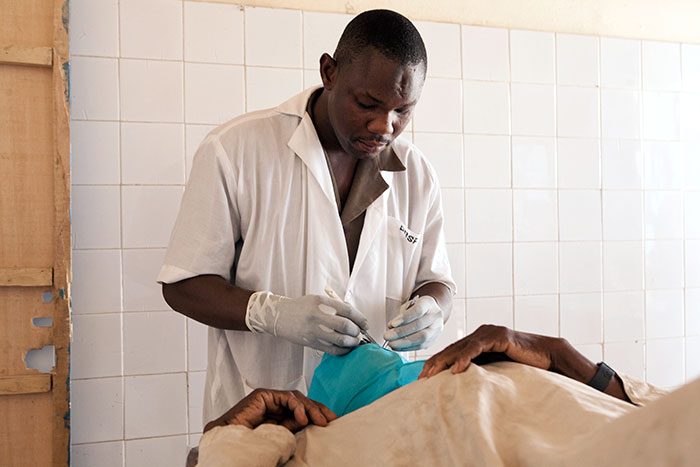 The eyelid surgery that corrects trichiasis and dramatically improves sufferers' lives is quick and easy for trained health officers to perform.
Related Resources