Feb. 5, 2014
By Benedict Dossen, administrator, Liberia Mental Health Program. In this piece, Dossen, a native Liberian, explains what it is like to watch and help his country heal.
Liberia is a West African country nearly the size of Mississippi with a population of 3.8 million. But unlike many other countries, Liberia only has one practicing psychiatrist. The need for mental health services becomes even more pressing in the context of the nation's recovery from a brutal civil war spanning from the early 1990s through 2003.
Like many of my Liberian colleagues, I have devoted my professional career to helping my nation rebuild.
We face many hardships living in a post-war country — from unemployment to mental illness. I often think about the challenges facing other young people today and find myself asking, "Why is the world so tough?"
As an administrator for the Carter Center's Liberia Mental Health Program, I have seen first-hand how diagnoses and treatments can benefit not just the patients, but the country as a whole.
Roughly 300,000 Liberians are thought to suffer from some type of mental illness — with up to 40 percent believed to suffer from posttraumatic stress disorder alone, as a result of our civil war.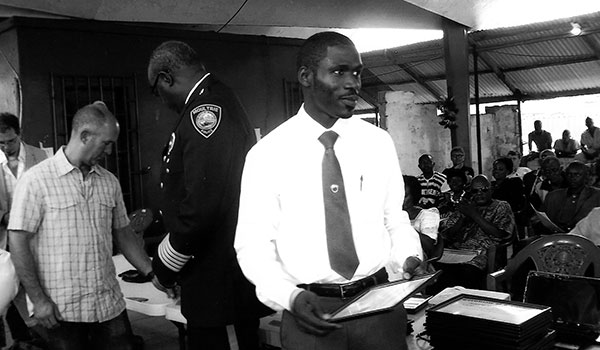 Benedict Dossen, a native Liberian and program administrator for the Carter Center's mental health work in Liberia, helps hand out diplomas during the graduation of the fifth class of Carter Center-trained mental health clinicians in August 2013. (Photo: The Carter Center)
In Monrovia, Liberia's capital city, I collaborate with many partners, including the Liberia Ministry of Health and Social Welfare, to expand access to mental health treatment for all those who need it and to help train a new workforce of mental health clinicians.
To date, each of the 15 counties (similar to states) in Liberia has trained clinicians, and eight counties have five or more clinicians. These locally trained nurses and physicians assistants play an important role in helping to integrate mental health care into primary care systems and communities.
The most rewarding part of my work, however, is seeing the direct impact increased access to mental health care has had on the Liberian people. I once met a mother who brought her daughter to the clinic after trying everything she knew to help her daughter's serious mental illness.
No traditional treatments, no number of prayers, and no amount of help from her neighbors seemed to work on her daughter's condition.
Yet, after seeking mental health treatment at their local clinic, the daughter's health improved drastically, so much so that she was hardly recognizable to those who knew her.
This is what we work for. This is the example people need to see.  If we can help people address the issues that they have and get rehabilitation, then those people can contribute back to their communities.
Despite the significant challenges my nation faces, I believe there is hope for Liberians facing mental illness. Even the staunchest critic would agree that from one psychiatrist in Monrovia to 100 mental health clinicians in all 15 counties with more to come — this is a good bridge. This is increasing access.
Related Resources
Read the editorial: Liberia: We Support the Effort On Mental Health (Published March 3, 2014, by The Inquirer – Monrovia) »
Read the press release: 123 Mental Health Clinicians Promoting Mental Health in Communities Across Liberia »
Learn more about the Carter Center's health work in Liberia »