Oct. 14, 2015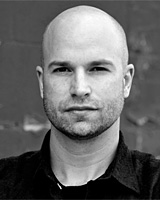 Ben Selkow is a documentary filmmaker and a 2010-11 Rosalynn Carter Mental Health Journalism Fellow.
In summarizing his post-traumatic stress disorder (PTSD) experience, war veteran and former U.S. Army Captain Luis Carlos Montalván says, "A disproportionate amount of time is spent thinking about the past than your average person. That goes along very much with, what if the worst thing that ever happened to you, kept happening to you?"
In "Buried Above Ground," a feature-length documentary supported by my Rosalynn Carter Mental Health Journalism fellowship, we follow three Americans  trying to recover from PTSD — Luis, an Iraq War veteran, along with his service dog Tuesday; Erundina, a survivor of domestic violence; and Ashley, an evacuee from Hurricane Katrina.
Shot over a period of six years, I saw first-hand the devastating impacts of PTSD. Along with wide, persistent swirls of negative emotions, I witnessed each of our three subjects suffer the insidious destruction of trust (on all levels — self, loved ones, institutions), and in turn, create a "crisis of connection." Without the ability to trust, they cannot function — stuck fixated on the past, dreading the future, and out of touch with the present. Their symptoms get in the way of keeping relationships, and this erosion of trust makes the road to recovery so much more difficult. Remarkably, all three subjects start to find unique paths to recovery through the formation of quality human and animal connections.
The personal battles fought by Luis, Erundina, and Ashley illuminate a global health condition that is misunderstood, underreported, and often left untreated. We hope to change this by taking public conversations about PTSD and the "crisis of connection" in important new directions. Screenings of "Buried Above Ground" will be treated as special events where patients, stakeholders, caregivers, advocates, and others can connect, talk, engage, and break the isolation that all too often comes with the experience of a mental health condition.
If we can talk about these mental health issues sooner and provide access to a dialogue for patients and their immediate community, we hope to raise awareness and compassion, empower audiences, fight stigma, help intervene before crisis points arise, and mitigate the high suicide numbers associated with PTSD.
Related Resources
Learn more about "Buried Above Ground" »
Learn more about the Rosalynn Carter Fellowships for Mental Health Journalism » 
Resource Guide | The Carter Center Journalism Resource Guide on Behavioral Health (PDF) »