Nov. 6, 2015
By Dr. Gregory Noland, epidemiologist. In this piece, Noland explains how fighting the disease in Hispaniola differs from strategies employed in Africa.
The island of Hispaniola, shared by Haiti and the Dominican Republic, is the only island in the Caribbean that has not yet eliminated malaria. The Carter Center's Hispaniola Initiative works with ministries of health in Haiti and the Dominican Republic to accelerate the elimination of malaria and lymphatic filariasis (LF) from Hispaniola by 2020.
While The Carter Center also works with ministries of health in Africa to combat malaria and LF, the biology and epidemiology of the diseases in Hispaniola differ in important ways. The following points contrast key facets of malaria and the elimination strategies employed in Hispaniola with those that have been used by the Center for malaria control in Africa and describe why Hispaniola requires a context-specific approach.
WHO IS AT RISK?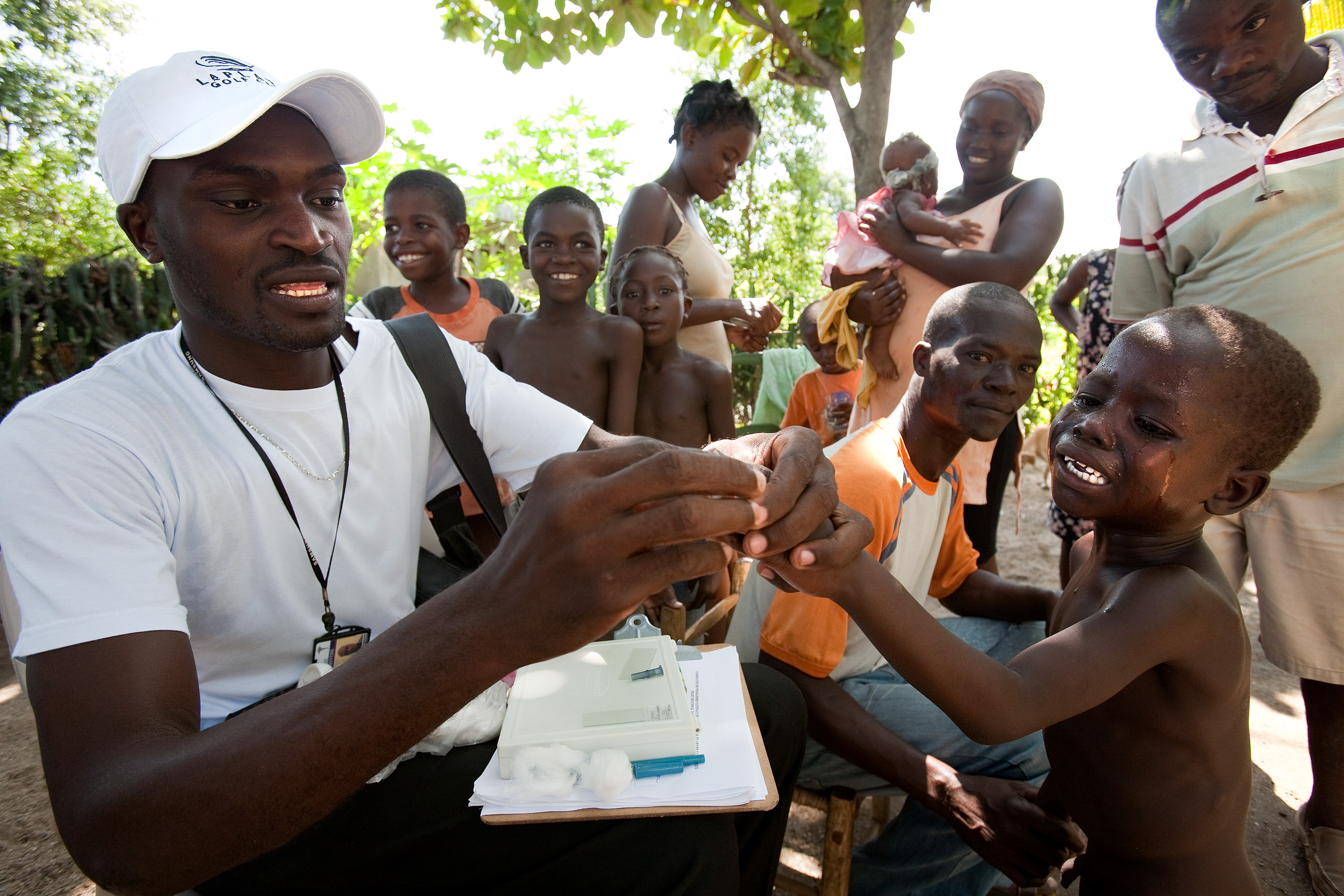 Haitian health worker Jonel Mompremier pricks the finger of a young child to test his blood for malaria parasites in Ouanaminthe, Haiti. (Photo: The Carter Center/P. DiCampo)
In Africa: Children are generally at greatest risk of malaria infection and severe disease.
In Hispaniola: All age groups are at risk.
Why: In high malaria transmission areas of Africa, individuals exposed to repeated infectious mosquito bites acquire partial protective immunity, which means that young children with little to no immunity are at the greatest risk of infection.
In low transmission areas like Haiti and the Dominican Republic, individuals are not exposed to infectious mosquito bites at high rates. Therefore, they do not develop the same levels of protective immunity, meaning that both adults and children are at risk of infection and severe disease in Hispaniola.
Implication: Educational messages about malaria in Hispaniola need to be directed toward all community members, rather than focus exclusively on young children as the "vulnerable population." For example, all individuals are encouraged to seek care for malaria-like illnesses at local health facilities.
WHAT STRATEGIES ARE NEEDED?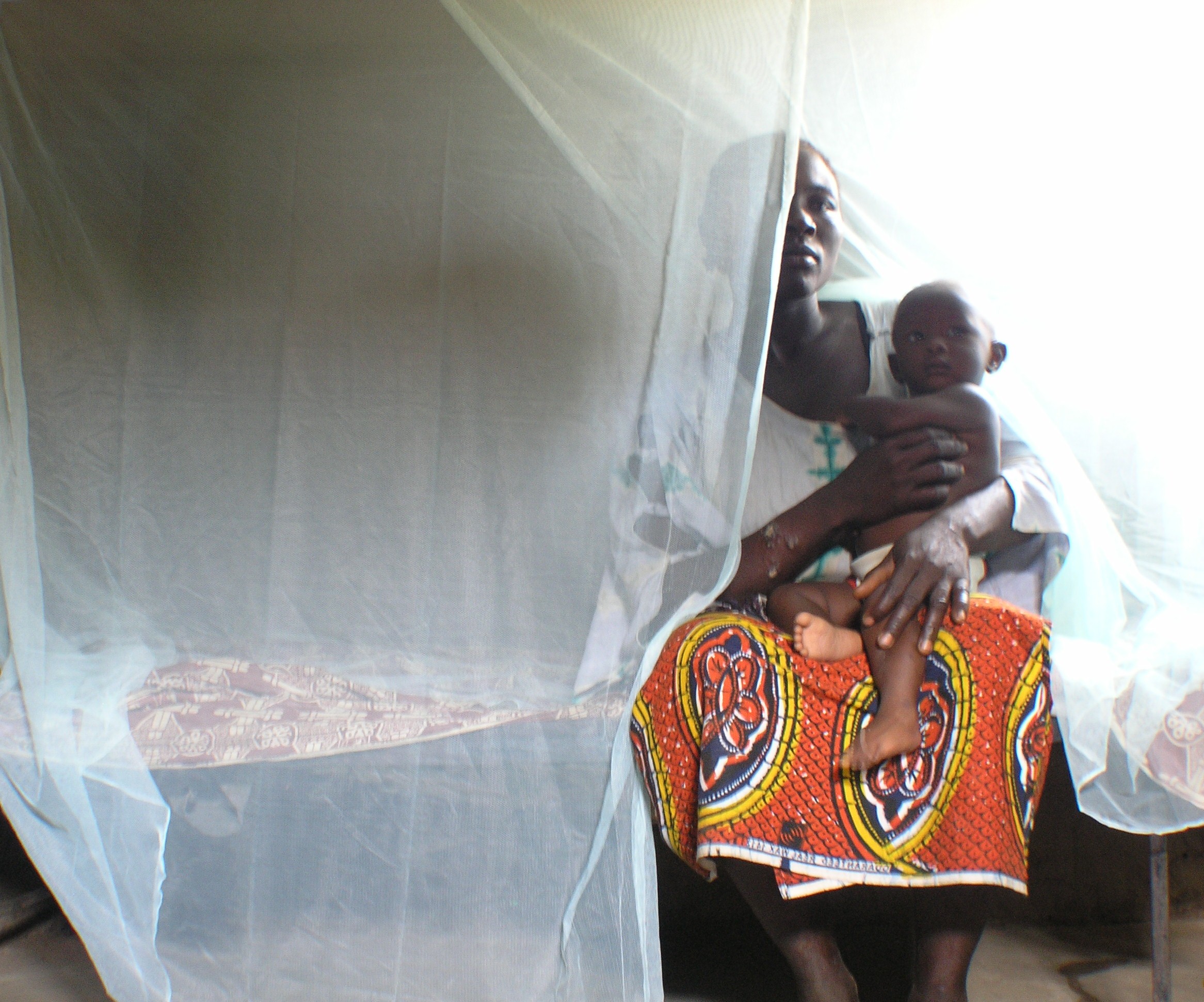 Ta,azia James and her son Bejimwa sit under a new mosquito bed net in Somji, Nigeria. (Photo: The Carter Center/ E. Staub)
In Africa: Insecticide-treated nets (ITNs) have been a key intervention in the Carter Center's anti-malaria efforts in Ethiopia and Nigeria, where the Center has assisted with the distribution of 17.5 million nets since 2004.
In Hispaniola: Additional strategies besides insecticide-treated nets are needed to eliminate malaria in Hispaniola.
Why: ITNs provide protection by forming a physical barrier between infectious mosquitoes and individuals sleeping under nets and by contact-killing mosquitoes that land on a net. This works well for indoor-biting and indoor-resting mosquitoes found throughout sub-Saharan Africa. However the primary mosquito vector for malaria in Hispaniola, Anopheles albimanus, generally prefers outdoor, rather than indoor, habitats.
Implications: Elimination efforts require strategies that break the cycle of transmission for each and every malaria infection. In Hispaniola, this will likely include various combinations of improved surveillance, active case detection, focal mass drug administration, and targeted mosquito control measures. The Carter Center and its partners are working with the ministries of health in Haiti and the Dominican Republic to develop protocols and the capacity to deploy such interventions.
WHAT ARE THE CHALLENGES?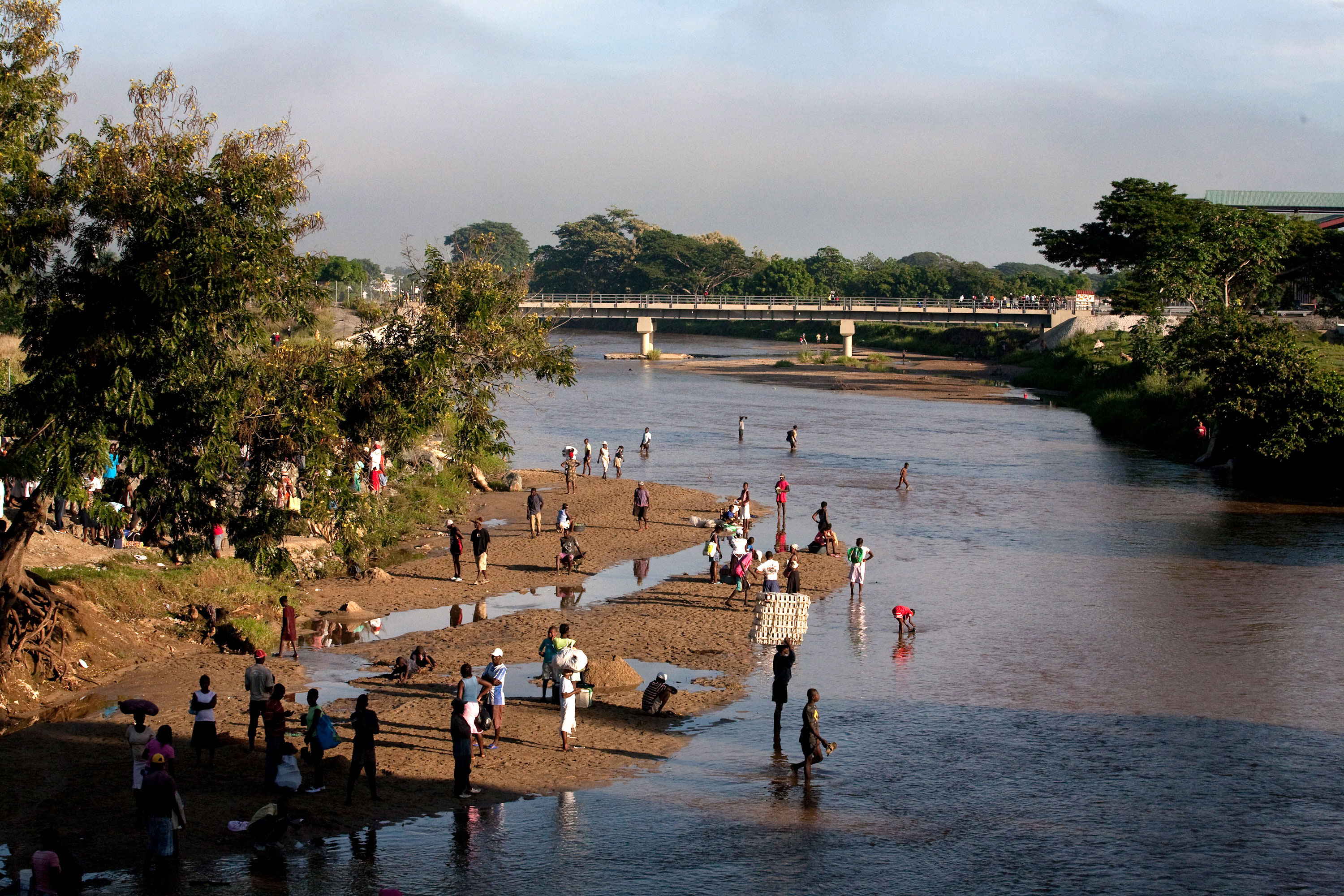 Haitians heading to Dajabon, Dominican Republic, for the weekly market cross the Massacre River that separates the two countries. The porous border means that cooperation between Haiti and the Dominican Republic is key to disease elimination. (Photo: The Carter Center/ P. DiCampo)
In Africa: Human population movements — with the potential to transport malaria parasites — occur on a number of different scales and for many different reasons in Africa, from large-scale international migration, to regional and domestic movements, down to local daily movements between areas of differing malaria endemicity.
In Hispaniola: Cross-border movements between Haiti and the Dominican Republic pose one of the greatest challenges for island-wide malaria elimination efforts.
Why: The burden of malaria is substantially greater in Haiti compared to its neighbor. However, the Dominican Republic reported around 500 cases in both 2013 and 2014, with a significant proportion of these identified among Haitian immigrants. Geographically, cases are associated with areas along the border with Haiti as well as with agricultural areas throughout the country that rely on a large immigrant labor force.
Implication: Understanding the malaria risk in migrant populations is key to eliminating malaria in the Dominican Republic in the near term and, ultimately, achieving island-wide elimination. In keeping with Carter Center's long-standing support for bi-national cooperation in Hispaniola, we will be working with the Ministry of Health in the Dominican Republic to conduct surveys of migrant farm workers across the country early next year.
Related Resources
Learn more about the Center's Hispaniola Initiative »