Today, Dr. Stephen Blount, director of Special Health Programs at The Carter Center, oversees the Center's Hispaniola Initiative. Under his leadership, the project is enhancing the Center's efforts to eliminate these diseases on the island by 2020.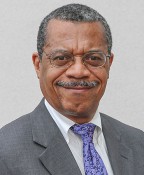 The Carter Center began its work in Haiti and the Dominican Republic after a 2006 recommendation by the Center-sponsored International Task Force for Disease Eradication declared it is "technically feasible, medically desirable, and economically beneficial" to eliminate both malaria and lymphatic filariasis from the shared island of Hispaniola. Dr. Blount sat down to talk more about The Carter Center's efforts.
Q: How is the elimination of malaria and lymphatic filariasis in Hispaniola important for global health?
There is no reason for anybody to contract these two devastating, mosquito-borne diseases. People still die from malaria, and lymphatic filariasis is a terribly disfiguring and stigmatizing disease that, among other things, prevents people from working. In addition to reducing the suffering in Hispaniola, elimination of these diseases has practical benefits for everyone in the region, including the United States. When people from Hispaniola travel, there's a risk of these diseases spreading to other nations, for which there is a very real economic impact. For example, malaria outbreaks have cost millions of dollars in lost tourism revenue for places like the Bahamas and Jamaica.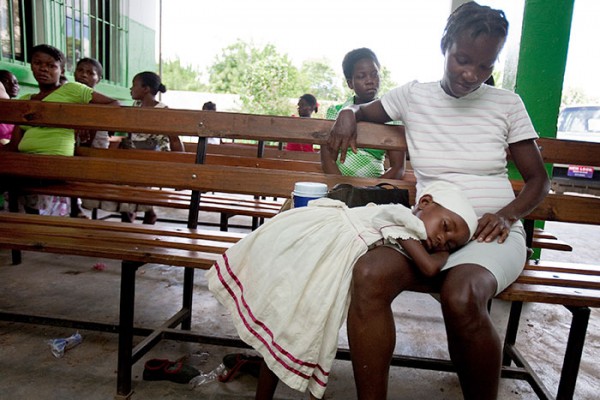 A young girl with a fever is comforted by her mother while she waits to be tested for malaria at Centre Medico-Socialde in Ouanaminthe, Haiti. The island of Hispaniola is the only island in the Caribbean that still has malaria. Hispaniola is also home to more than 90 percent of all lymphatic filariasis cases in the Americas. (Photo: The Carter Center/ P. DiCampo)
Q: What are other less-obvious benefits of eliminating these diseases from the island?
Haiti is one of the poorest countries in the Western Hemisphere. It has the lowest level of economic consumption and development, but this can be overcome. Look at the neighboring islands that don't have malaria or lymphatic filariasis — they did it, and Haiti and the Dominican Republic can do it, too. As a result, people's lives will be significantly better. Free from these illnesses, they will have greater opportunity to work, stay in school, and improve their lives.
Q: What are some challenges specific to Hispaniola?
There is a lot of human traffic across the border between Haiti and the Dominican Republic, and certainly the insects that spread these diseases can't be prevented from traveling back and forth either. Therefore, the countries have to work together to eliminate these diseases.  A porous border and economic connectedness between the two countries means that binational coordination is key.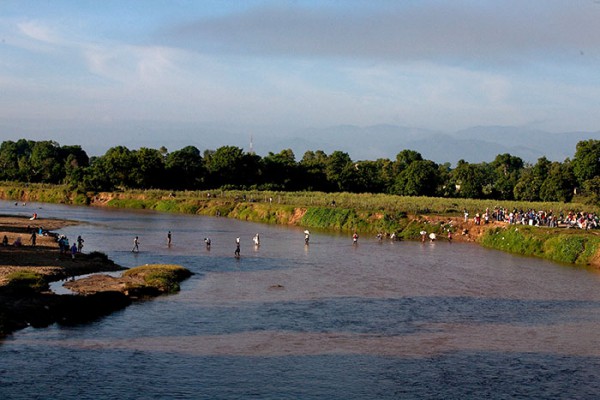 Haitians heading to Dajabon, Dominican Republic, for the weekly market cross the Massacre River that separates the two countries. The area has been the site of numerous conflicts between the two countries in years gone by, but now the people of the surrounding towns benefit from a healthy trade relationship. (Photo: The Carter Center/ P. DiCampo)
These two countries also have different health infrastructures, another unique challenge that comes with battling diseases on an island shared by two independent countries. But the only way that the Dominican Republic can eliminate these diseases is by working with Haiti to get rid of all their infections. They can do this by continuing binational planning.
Q: What is the Haiti Malaria Elimination Consortium?
The Carter Center is part of a collaborative initiative funded by the Bill & Melinda Gates Foundation that focuses on ending indigenous cases of malaria in Haiti. This initiative will help accelerate efforts to eliminate indigenous cases of malaria in Hispaniola by 2020. We are excited to work with such a strong group of partners to address malaria in Hispaniola and are heartened by the commitment of both governments to continue working together toward this shared goal.
Q: Why Now?
This is a winnable battle. Malaria was nearly eliminated from the island in the late 1960s, but failure to finish the job led to rampant resurgence. Fortunately, there are a number of factors still favoring malaria elimination in Hispaniola, including effective, safe, and inexpensive drugs; overall low intensity of transmission; and an inefficient mosquito vector. With the benefit of historical hindsight, we now know that there must be 100 percent commitment to elimination to ensure that these diseases are wiped out from Hispaniola once and for all.
Related Resources
Learn more about the Carter Center's Hispaniola Initiative
Press Release | Consortium Aims to Eliminate Malaria on Hispaniola by 2020 Starting With $29.9 Million Grant to CDC Foundation