Nov. 21, 2016
Thirteen-year-old Jude Musa looked serious, even stoic, as a volunteer from his village gauged his height with a measuring stick. Community drug distributor Yusuf Maikeffi determined the proper dose of praziquantel and handed the tablets to the boy, who popped them into his mouth and chased them with fresh water from a plastic pouch.
With that small exchange in Gidan Gimba, a village in Nasarawa State, Nigeria, The Carter Center marked 500 million doses of medication distributed since 1996 to fight neglected tropical diseases.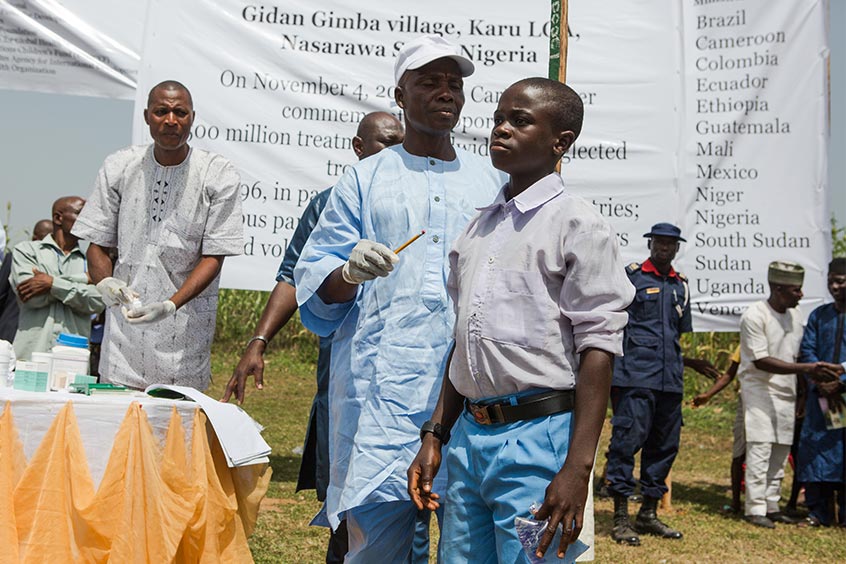 Carter Center volunteer community drug distributor Yusuf Maikeffi measures his young neighbor Jude Musa to determine the proper dosage of medication during a ceremony Nov. 4 in a small village in Nigeria. (Photos: The Carter Center/R. McDowall)
Clear skies and bright sunshine provided an ideal setting as more than 1,000 people attended the celebration on Nov. 4. Amid the music, speeches, salutes to chiefs and other dignitaries, a drama presentation, and traditional dance performances, a sense of accomplishment and determination prevailed.
"This is an achievement of partners," said Ambassador (ret.) Mary Ann Peters, Carter Center CEO, citing the collaboration of government health ministries, pharmaceutical companies, sponsoring institutions, the World Health Organization, Carter Center staff, and community volunteers.
The donated medications have gone to help control or eliminate river blindness (Mectizan, donated by Merck), trachoma (azithromycin, donated by Pfizer), schistosomiasis, and lymphatic filariasis in 14 countries in Africa and Latin America; 42 percent of the treatments have been administered in Nigeria, where all of the Carter Center's NTD  programs have operated.
Jude, who previously had showed signs of schistosomiasis, encouraged his family and neighbors to take the medicine Maikeffi offers.
"If you take this medicine, it will help you," the youth said. "I used to urinate with blood, but after taking the tablet, I bleed no more."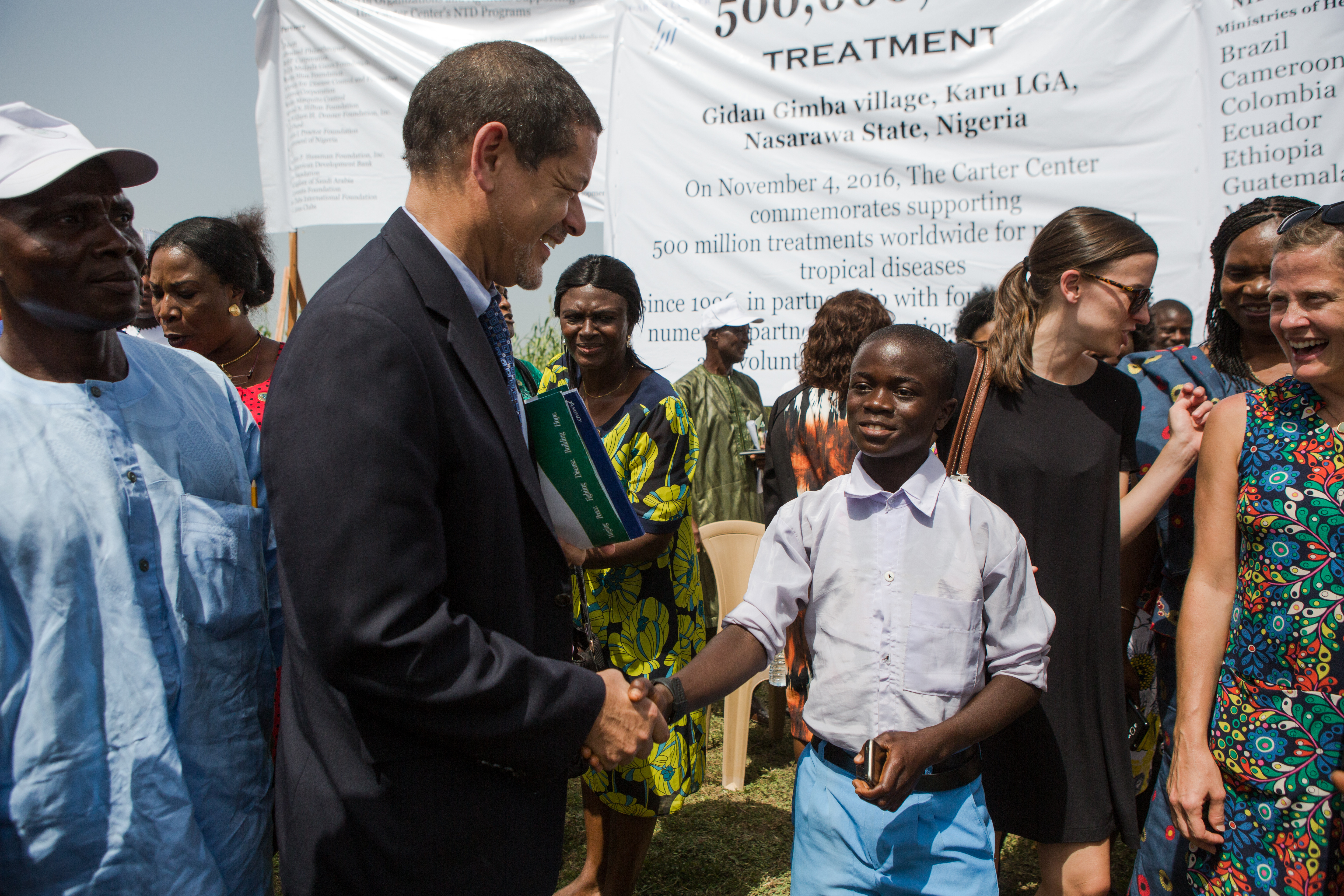 The Carter Center's Dr. Frank Richards greets Jude Musa, 13, in Gidan Gimba village at the conclusion of a celebration in Nigeria to mark the Center's role in delivering 500 million treatments for neglected tropical diseases.
Dr. Frank Richards heads up the Center's programs to combat river blindness, schistosomiasis, and lymphatic filariasis, as well as a project to treat for intestinal worms.
"Half a billion is an amazing milestone, and it's well worth celebrating," Richards said. "Even more worth celebrating is the impact that we are having from those treatments. You can't calculate the good that's been done."
Related Resources
Press Release | Carter Center Celebrates Assisting 500 Million Doses against Diseases in 14 Countries »
Feature | Carter Center Celebrates 500 Millionth Dose of Hope »
Blog | From the CEO: Center Hits 500 Million Milestone »
Graphic | Cumulative NTD Treatment Doses Assisted by The Carter Center »
Lymphatic Filariasis Elimination Program »
River Blindness Elimination Program »
Schistosomiasis (Bilharziasis) Control Program »