Nov. 2, 2016
Hunter Keys is a University of Amsterdam doctoral student in anthropology with a background in nursing and public health. He is a consultant with the Carter Center's Hispaniola Initiative.
Parasites keep strange schedules. Those that cause lymphatic filariasis, for example, are mostly active at night. To detect parasites in the blood, health workers will take a nocturnal sample, sometimes as late as 2 a.m.
This explains why a colleague and I were knocking at nearly midnight on the battered door of Esther's cinderblock home in a small batey in the Dominican Republic.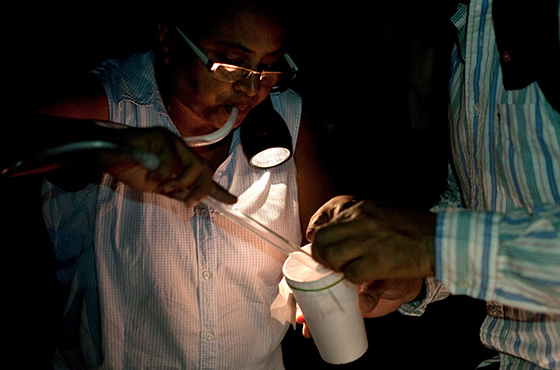 A leading cause of permanent and long-term disability worldwide, lymphatic filariasis is caused by thin worms transmitted to humans by the bites of mosquitoes in tropical and subtropical regions.
A week earlier, Esther, a Haitian immigrant, had participated in a survey project supported by the Carter Center's Hispaniola Initiative. The initiative works with the ministries of health in Haiti and the Dominican Republic to eliminate lymphatic filariasis and malaria, both mosquito-borne diseases, from the countries' shared island.
This survey focuses on bateyes, migrant shantytowns associated with large sugar cane plantations. Enrollees consent to have their blood tested for LF and malaria.
Esther's blood had come back positive, so I returned with Yamely (not her real name), a Dominican laboratory technician, to get a nighttime sample. Yamely, in her white lab coat, called out, "Saludos!"
A light came on. Locks unlatched. The door cracked open. A man peered out, a machete in hand. Given the country's violent history of anti-Haitian stigma, his fear was understandable. "Somos salud publica (We are from public health)," Yamely said, and some words in Haitian Kreyòl defused tensions. We were invited inside, where a bed and a footstool were the only furniture.
As Yamely drew Esther's blood, two infants slept on the bed under a net. Esther slapped at her legs. "Anpil moustik! – So many mosquitoes," she exclaimed in Kreyol. We discussed when we might return with medication.
These epidemiological surveys can tell us a lot. The health workers, some from the bateyes themselves, ask whether anyone in the home has had a recent fever, take blood samples, inquire about risks, and sometimes spray for insects.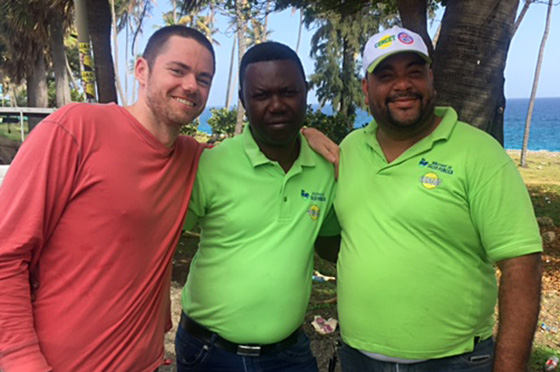 Carter Center technical consultant Hunter Keys (left), with Dominican colleagues Jhonny Luis Gustabo and Henri Olivero Ferreras.
The Hispaniola Initiative's hard work is paying off: Just a handful of LF cases remain in both countries, and malaria programs now seek to eliminate rather than merely control the disease.
We'll keep staying up late until there's nothing left to count.
Related Resources