Feb. 22, 2016
Nandi Vanka is a program assistant with the Carter Center's Democracy Program.
Impartial election observers help build confidence in the integrity of the voting process, and their assessments and recommendations help protect voters' rights.
In many parts of the world, election observation is common — The Carter Center alone has conducted observation missions in 39 countries — but what about in the United States? What's possible when it comes to observing elections here? How could observation by nonpartisan groups foster improvements that strengthen American democratic processes?
The Center, in collaboration with the National Conference of State Legislatures, has launched a project to find out.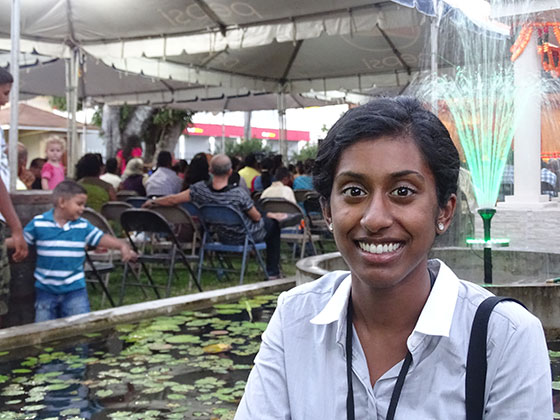 Nandi Vanka attends a public event the week before Guyana's 2015 election, which was the 100th observed by The Carter Center. Nandi is now an assistant in the Democracy Program researching laws that govern the observation of U.S. elections. (Photo: The Carter Center/S. Ellison)
The United States signed an agreement in 1990 to allow observers with the Organization for Security and Cooperation in Europe to monitor its elections. But the situation here is complicated by the fact that the U.S. electoral system is decentralized, with elections administered at the state, county, and municipal levels. That means election administration laws — including regulations for election observers — vary widely across the 50 states.
Our project will look at all the laws that govern observers. We're trying to determine which regulations apply to election observation across all states. We want to better understand the degree to which independent observers have access to the electoral process and to explore how impartial observation might help improve U.S. elections.
No election is perfect, and we believe election observers can provide data-driven analysis to help identify useful improvements.
The Carter Center has extensive experience with nonpartisan election observation and building consensus on election standards. In 2005, we helped draft the Declaration of Principles for International Observation (PDF), which establishes professional guidelines for credible, nonpartisan observation. Though we don't observe U.S. elections — choosing instead to focus our efforts on emerging democracies and post-conflict countries — we believe nonpartisan groups have a role to play here in the United States.
Our project hopes to answer these key questions:
How do existing laws and regulations about election observers vary by state?
Who can be an election observer? In addition to political parties or candidate representatives, can citizen groups, academics, and international groups observe elections?
What is the process for accrediting election observers, and who is responsible for it?
Do election observers have access to the entire election process — from pre-election tests to Election Day polling, to post-election tabulating and canvass procedures?
How have states used observer reports and analysis from academic or nonpartisan groups to improve election processes in the past?
When we have some answers — including what laws are currently on the books — we'll report out. In the meantime, if you have a story to tell that relates to being a poll watcher or a poll worker, we want to hear it!
Related Resources