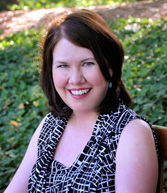 Rebecca Palpant Shimkets, associate director in the Carter Center's Mental Health Program, develops and oversees the Rosalynn Carter Fellowships for Mental Health Journalism.
Seeing South Africa's mental health journalism program blossom fills me, along with Rosalynn Carter and everyone here at the Carter Center's Mental Health Program, with the kind of pride one feels when a family member receives a university degree. We are thrilled to have helped the program take its first steps.
In South Africa, like many other countries, mental health is shrouded in ignorance and stigma. Many people associate mental illness with a moral failure or witchcraft, but we know it is a health condition that can be treated.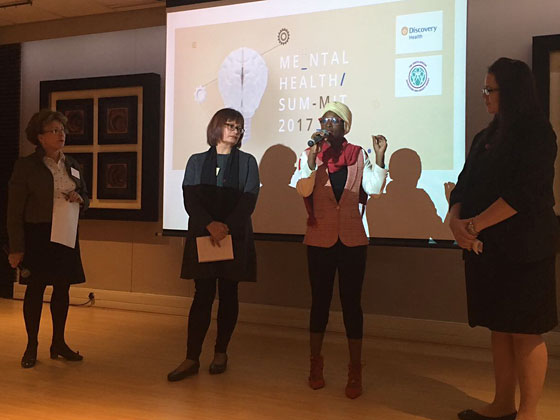 Marion Scher (journalist/media consultant and trainer), Mia Malan (health editor of Mail and Guardian), Hlubi Mboya (television personality), and Cassey Chambers (operations director, South African Depression and Anxiety Group) speak about mental health journalism at the 2017 Mental Health Summit in South Africa.

Journalists have a powerful role to play in better informing the public, dispelling myths and misconceptions, and showing the real faces of mental illness — our neighbors, friends, colleagues, even ourselves. The media also can help shape public policy by shining a light on systemic failures and gaps in services, as well as providing a platform to discuss solutions.
In 2004, South Africa began developing ways for the media to better address mental health issues. The Rosalynn Carter Fellowships for Mental Health Journalism South Africa were created and awarded annually until 2011. A total of 14 fellowships were awarded before the South African Depression and Anxiety Group took over administration of the program with a vision for sustaining it without the Carter Center's help.
That vision has never faltered. Zane Wilson and Marion Scher have found ways to train journalists, provide technical support to media outlets, and carry the torch The Carter Center ignited.
Just one example of a journalism fellow who has made a difference is Tamar Kahn of Business Day in Cape Town. Kahn was a 2006-07 fellow who has written extensively about the mental health issues faced by South African police officers and their families. Kahn uncovered a "tough man" mentality, a common cultural trait in South African men that was exacerbated by working in law enforcement. As a result, many officers lack the skills or inclination to seek the help they need. The publication of Kahn's work was accompanied by a surge in coverage of mental health issues by South African newspapers and radio shows.
"It's a way of taking our readers, I hope, to places that they would never go," Kahn said. "And by showing them these places, perhaps they will be better informed about the challenges facing our police force and in turn pressure our policymakers to improve the mental health services for police men and women."
The mental health journalism landscape has changed dramatically in the past dozen years as more and more journalists have addressed the topic. It's exciting to see Discovery Health declare that these issues are so important that the company will support a journalist to cover them using the standards and criteria established by The Carter Center.
Mrs. Carter and The Carter Center are enormously proud of all the fellows, of Zane and Marion for their determination to sustain the vision, and of Discovery Health for believing in the value of this work.
Related Resources
Learn more about the Rosalynn Carter Fellowships for Mental Health Journalism »
Video | Rosalynn Carter Fellows Build Hope in South Africa »