Dec. 13, 2017
Adamu Sallau is director of Carter Center health programs in Nigeria's Imo and Abia states.
Scientific or logistical challenges aren't the only issues Carter Center personnel have to deal with while tracking down, treating, and preventing neglected tropical diseases in remote places. Cultural issues often play a role as well, and we have to handle them respectfully and sensitively.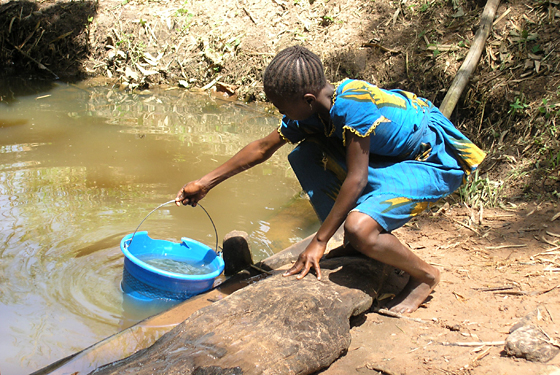 A girl collects water near her village in southeastern Nigeria. The country was officially certified by the World Health Organization as free of Guinea worm disease in 2013. (Photo: The Carter Center)
For example, in many places, ponds and rivers are considered to be sacred dwelling places of deities and the spirits of revered ancestors. The people who live around these bodies of water are understandably protective of them and wary of outsiders who want to tamper somehow with the water and its ecosystem.
Several years ago in Nigeria, where I work, we were helping a rural village rid itself of Guinea worm disease. The pond the people used for all their cooking, bathing, and washing was infested with Guinea worm larvae and needed to be treated.
My colleagues and I reasoned with the village chief, trying to persuade him to allow us to put Abate® larvicide (donated by BASF and harmless to the environment) into the water to kill the larvae. Even Gen. Yakubu Gowon, the highly respected former head of state of Nigeria, advocated for our work.
The chief resisted, unwilling to risk disturbing — perhaps even harming — the resident spirits. We respected his wishes but continued to press for permission, emphasizing how much the current and future generations would benefit.
The chief confided that he was worried about his people, because their tradition held that if any harm should come to the pond, someone would have to die as atonement.
I saw my opening and took it: "Let me be the one to die then," I told him.
He looked surprised and regarded me carefully. I held his gaze resolutely while he thought about it.
At last he responded: "Good."
We hurried to treat the pond before the chief had a chance to change his mind. As we were about to begin, the villagers gathered at a safe distance, peeping through the trees to see how the spirit would attack us. At the same time, we heard strange voices coming toward us from inside the forest, but no one (and no thing) emerged.
We finished applying the larvicide. It worked as expected, Guinea worm disease was eliminated from that village and ultimately from all of Nigeria, and I lived to tell the story.
Good indeed.