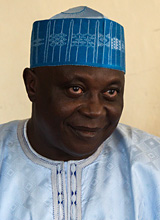 Dr. Emmanuel Miri is the country representative in Nigeria for The Carter Center.
Gabriel Ani is a farmer and schoolteacher in the Ndiulo Enugu-Nato village in Enugu State, Nigeria, who loves his community and is loved back. Gabriel is a community volunteer drug distributor — the hands, feet, and heart of our River Blindness Elimination Program. For nine years, he has served more than 1,000 people in 129 households, carefully measuring each person to determine the proper dosage of medicine and recording it in a ledger.
In 2016, the Enugu State Ministry of Health named Gabriel the best distributor in the state, citing "his dedication, his accuracy of recordkeeping, his excellent teaching ability, his personal interest in his clients, and his general regard for humanity."
When some Carter Center staffers visited Gabriel's village last fall, the people broke out in song to celebrate his peerless service to the community. He has become the village's go-to guy for solving all kinds of problems, and the people adore him. This is typical, as distributors in other villages also have been rewarded with such tokens as songs and meals.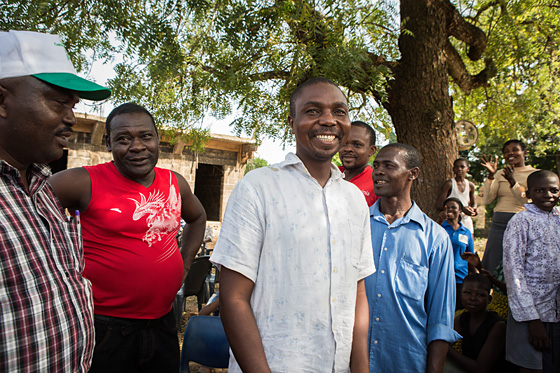 Gabriel Ani's village chose him to be its community drug distributor in 2009. After receiving training from The Carter Center, the father of four provides health education and distributes medication in his community in southeastern Nigeria. (All photos: The Carter Center/R. McDowall)

Gabriel trains other distributors, spreading his excellence and experience beyond his own village. Among his protégés is a 20-year-old woman, Blessing Confidence Ude. "He inspires me," she tells people. Gabriel's 14-year-old son, Elijah, says he wants to be just like his father and help people when he grows up.
Communities in the nine states in Nigeria where The Carter Center is working to eliminate river blindness want to end the unnecessary suffering of their people, and heartily praise volunteers like Gabriel and Blessing.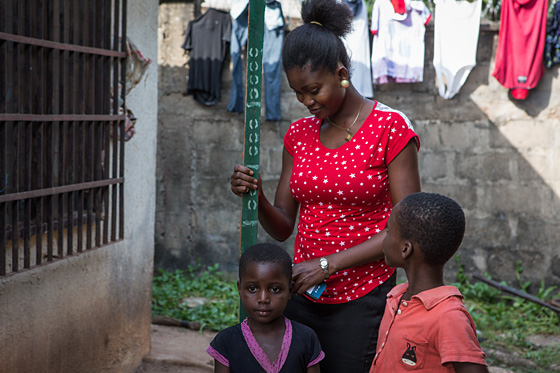 Blessing Confidence Ude, 20, said watching Ani care for their village inspired her to become a community drug distributor, too. Now she serves as his assistant.

With support from 100&Change, we expect tens of thousands of proud and eager Nigerians like Gabriel and Blessing to take up the fight to eliminate river blindness nationwide.
Related Resources
Learn more about the Center's 100&Change Proposal to eliminate river blindness in Nigeria »