Jan. 24, 2017
Dean G. Sienko, M.D., M.S., is vice president of health programs at The Carter Center. He formerly was commanding general of the U.S. Army Public Health Command and associate dean for prevention and public health at the Michigan State University College of Human Medicine.
I'm the new guy around here.
Although I've visited and worked in many places during my medical career – including multiple overseas deployments with the U.S. Army – my first trip abroad with The Carter Center was a new highlight.
I had the privilege of joining a delegation that visited Nigeria in the fall of 2016, five months after I became the Center's vice president of health programs. We were there to celebrate a milestone in the Carter Center's public-health work: the distribution of 500 million doses of medication to control or eliminate neglected tropical diseases in 14 countries.
While in Nigeria, we were able to accompany some of our community-based volunteers as they carried out the kind of person-to-person work that led to that achievement. I watched as respected residents talked with their neighbors about diseases, explained how the medications would help, measured children and adults for proper dosing, and handed out the tablets. They were even gracious enough to let me step in and try my hand at using the simple yet ingenious device they use to determine the proper dose of each medication.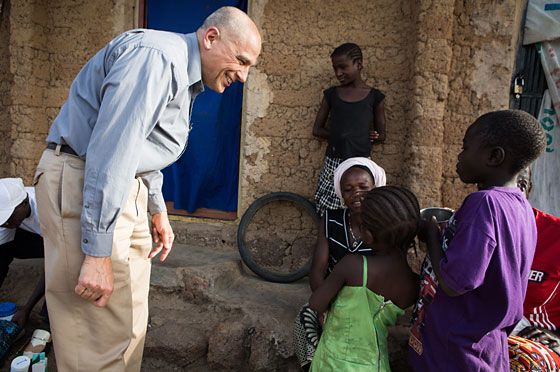 Dr. Dean Sienko, the Carter Center's vice president for health programs, chats with children during a November 2016 visit to Dogon Daji village, Bassa local government area, Plateau state, Nigeria. (Photo: The Carter Center/R. McDowall)
It was a beautiful thing to see and to be a part of.
This intimate view clearly showed not only how we do what we do, but also – and more importantly – why. We're taking one tiny step at a time, but they're giant steps in the lives of these people and these children. We're delivering what is often lifesaving medication to multiple generations, making entire communities healthier and maybe making their futures happier and more successful.
That's a good place to be.