Jordan Ryan is vice president, peace programs, at The Carter Center.
The Carter Center's motto is "Waging Peace, Fighting Disease, Building Hope." In today's world, the task for peacemakers is urgent.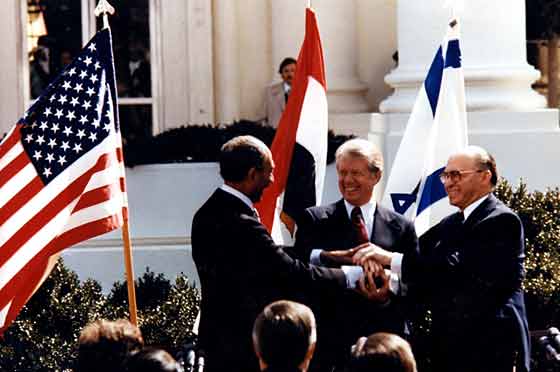 President Carter refused to give up on hammering out a peace treaty in 1978 between Egypt's President Anwar Sadat and Israeli Prime Minister Menachem Begin. (Photo: The Carter Center)
In a series of posts on this blog, I share some of the approaches to waging peace that that The Carter Center and its founder, former President Jimmy Carter, have developed or learned over many years.
—
Principle No. 3: Patience and persistence pay off.
Negotiations take as long as they take and cannot be rushed.
President Carter dedicated considerable resources and time to the Middle East peace process, spending 13 days with the Israeli and Egyptian leaders at Camp David in 1978 until an agreement that had seemed unachievable was reached. Presidents don't normally invest so much time in a single focus, but President Carter knew a historic breakthrough was near and he refused to let it slip away.
On an even longer scale, the American Embassy hostages in Iran were released after 14 months of quiet, patient, frustrating talks between President Carter's representative and the Iranian authorities. These adversaries could hardly have been more antagonistic, but they were able to resolve the matter without violent confrontation.
Check back next month for the next principle: Be both pragmatic and principled.
Other principles: 
Pathways to Peace | Principle No. 2: One Size Does Not Fit All »