Last year, a Liberian woman named Beatrix decided she wanted to run for a seat in Liberia's House of Representatives. But when she told her husband of her plan, he told her that she couldn't, because she was a woman.
Liberia's laws allow women to hold public office, but he didn't want the mother of his 11 children to become a politician.
Beatrix was furious, but she bowed to his wishes.
When someone asked her what he would have done if she'd said she was going to run anyway, she held up two fists to show he might have beaten her.
How many other women around the world have had experiences like Beatrix's – kept from running for office or from voting for their chosen candidate by violence or threats? How many women who are serving in office face violence, be it physical or psychological?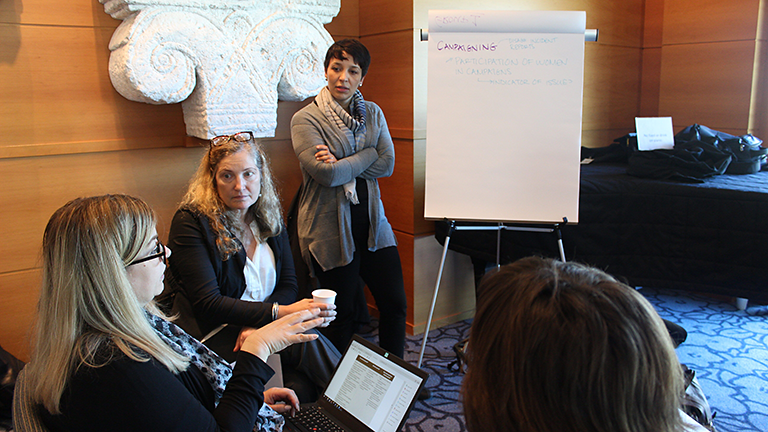 These were questions on the minds of participants in the Carter Center's Measuring Violence against Women in Elections Workshop, held in partnership with Emory University's Institute of Developing Nations.
The answer is that no one really knows.
"People have looked at violence in elections, but rarely have they looked specifically at violence against women in elections," said Mona Lena Krook, a political science professor at Rutgers University who gave a presentation at the workshop. "This is an emerging field of study."
And that's why The Carter Center wanted to host the workshop, said Avery Davis-Roberts, an associate director in the Democracy Program.
"We're trying to do a better job of making sure we're thinking about women and all aspects of women's experiences in the entire electoral process," said Davis-Roberts.
Most of the studies that have been done have focused on female politicians or candidates for office. One such study, conducted by the Inter-Parliamentary Union in 2016, found that more than 25 percent of female parliamentarians had experienced physical violence and an astounding 82 percent had experienced psychological violence.
"A lot of this takes place online on social media in the public sphere," said Elin Bjarnegard, a Swedish political scientist who has studied the issue.
Male candidates receive online threats too, of course, said Davis-Roberts, but studies indicate that the volume and intensity of threats against women is much higher. Perhaps a politician can shrug off one rape threat, she said, but what about 500?
Researchers would like to better understand the effect of this and other forms of violence: How many women drop out of races, decide not to seek re-election, or never run to begin with because of these issues?
And how many women around the world are forced to vote the way their husbands or fathers want them to, or not at all?
These are hard questions to answer.
Some women won't talk about these things because of fear or shame, because they think they won't be believed, or because they think that threats and violence are simply part of being a politician.
Davis-Roberts says that moving forward, the Carter Center's election observation teams will re-examine existing data they've collected to better understand differences between men and women. They'll also take a fresh look at the questions they're asking – and who they're asking them of – to help get to the heart of this issue.
"Women's participation is part of electoral integrity," she said, "and that lies at the core of everything we do."
Watch the panel discussion below.
Members of this expert panel are participating in the workshop "Measuring Violence Against Women in Elections," which was jointing sponsored by Emory's Institute for Developing Nations and The Carter Center's Democracy Program.
Panelists
Elin Bjarnegård, Dept. of Politics, University of Uppsala
Mona Lena Krook, Dept. of Politics, Rutgers University
Gabrielle Bardall, Sr. Gender Specialist, International Foundation for Electoral Systems (IFES)

Moderator
David Carroll, Democracy Program, The Carter Center
Related Resources