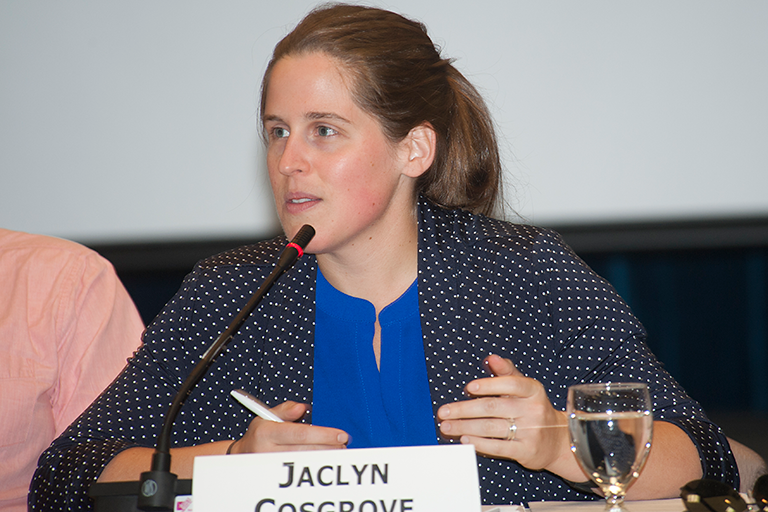 To extend the reach of their stories and maintain relevance in a world of spinning news cycles, journalists today often have mandates to create social media accounts and share a weekly quota of posts on them.
But for Jaclyn Cosgrove, a 2015-16 recipient of the Rosalynn Carter Fellowship for Mental Health Journalism, social media means more than just posting her story. It is a tool to help fight the stigma against talking about mental illnesses. "When I started writing about mental illness, I wanted to use social media to start an ongoing conversation and build a community around that conversation," she says.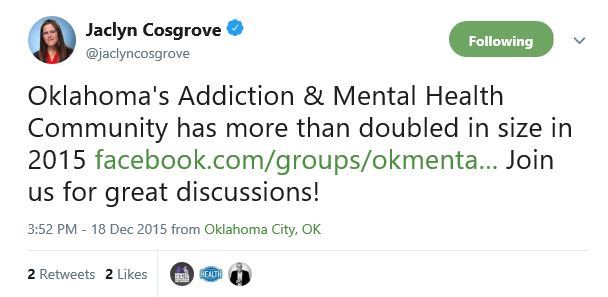 Cosgrove, now a reporter for the Los Angeles Times newspaper, wrote provocative in-depth and investigative pieces on mental health for the Oklahoman newspaper during her yearlong fellowship project with The Carter Center. But she found her social media followers also were interested in behind-the-scenes posts about how she found and reported stories, including spending weeks driving hundreds of miles and making countless phone calls.
In response to reader interest, Cosgrove also created a Facebook page for Oklahomans to share mental health experiences and resources with each other. "Making the group public was an intentional attempt to fight stigma. And it was incredible to see how the Facebook group evolved over time into a community of people, ready and willing to help each other in crisis," she says. "While I was moderator of the group, I saw strangers help each other find housing, mental health treatment, and support groups."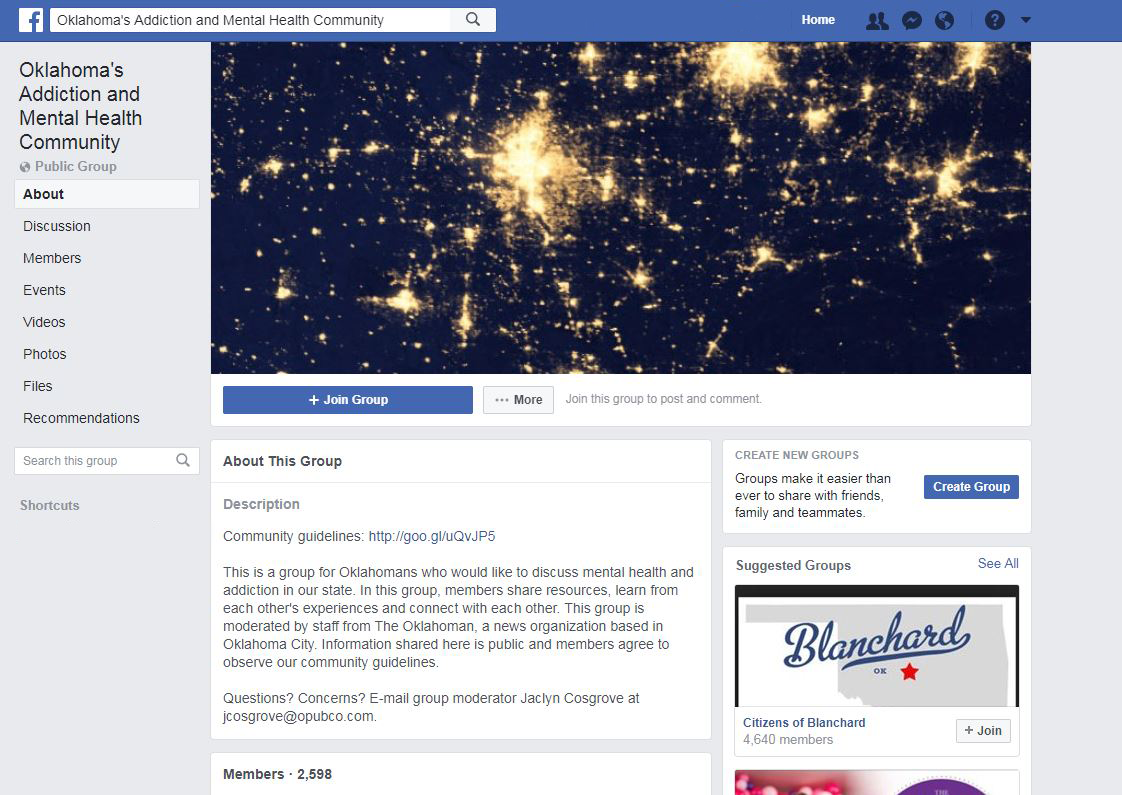 Cosgrove shared her Facebook community experience with Carrie Seidman, a 2016-17 fellowship recipient. Each fall, outgoing Carter fellows share best practices and lessons learned with the incoming class. Seidman, a writer for the Sarasota Herald-Tribune, found Cosgrove's strategy and tips about creating Facebook communities useful and created one for her unique fellowship project.
Seidman lives in Sarasota, Florida, a town with an avid arts community. For her fellowship project, she invited anyone with a mental health condition to create a "self-portrait" in any visual arts medium, to depict how they feel about their challenges or how they believe they are perceived by others. Those who were willing were interviewed for stories that ran in the Herald-Tribune. At the end of months of interviews, she hosted an exhibit in Sarasota's largest library for the entire community as an education and awareness activity and an opportunity for people to connect with each other.
"Every story I wrote was shared on Twitter and Facebook, and I created a Facebook group for the project. It was originally a closed group, but I soon made it an open group, which now has about 170 people in it," Seidman says. The online group has expanded beyond Sarasota, and a documentary film about the successful project will debut in April 2018.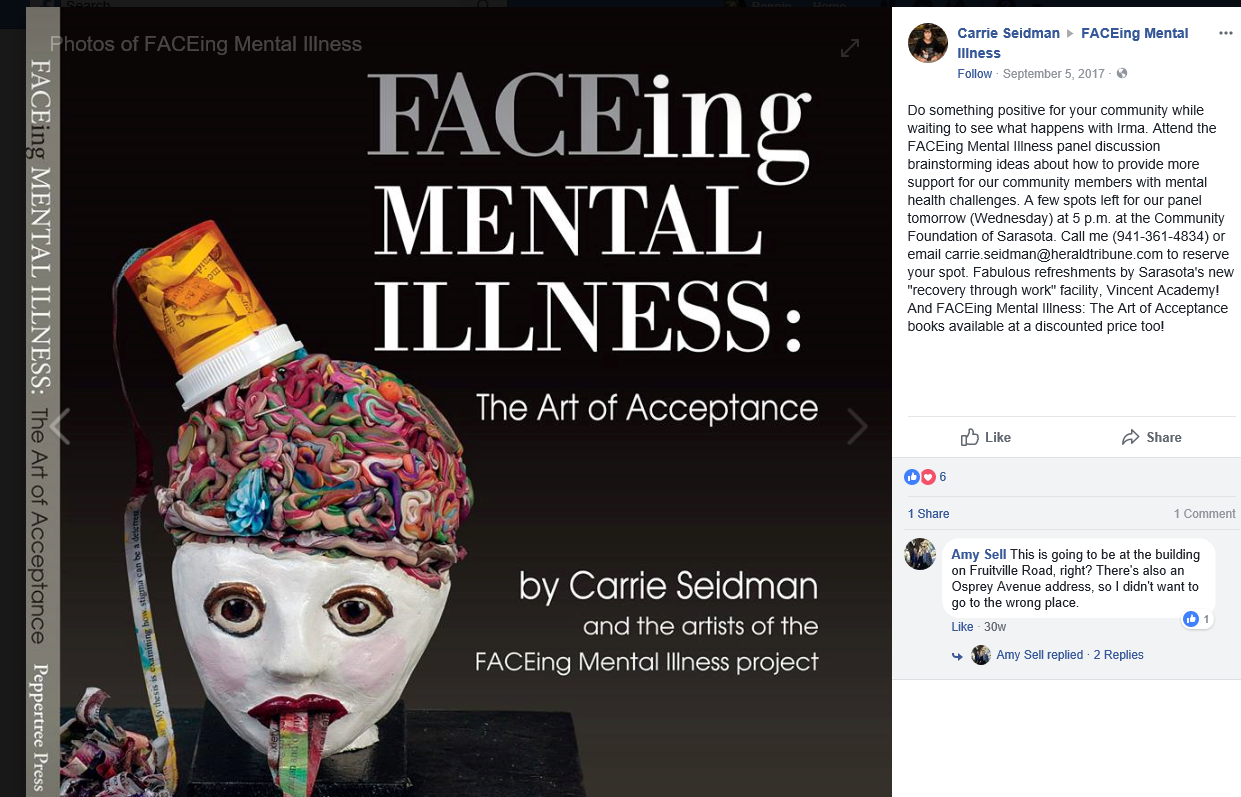 When former First Lady Rosalynn Carter established the journalism fellowship program more than 20 years ago, she wanted to combat stigma associated with mental health disorders and increase the accuracy and breadth of reporting about them. Social media is not a substitute for quality journalism, but both Cosgrove and Seidman believe that it can make people feel less alone and destigmatize mental health issues.
"It's important for journalists to engage with the public about their reporting, and I think social media is an important tool to do that," Cosgrove said. "Sometimes, journalists lose sight of the fact that it's 'social' media, and not just a place to tweet out your stories."
Seidman adds, "Social media is a way of life in the newspaper world right now. If you're going to be a reporter these days, it's required. Because it's becoming easier to write and talk about mental health, this is another way of getting the word out about mental health issues and resources."
Related Resources
Learn more about the Rosalynn Carter Fellowships for Mental Health Journalism »