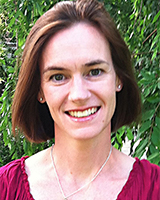 Courtenay Harris Bond is a 2017–18 Rosalynn Carter Mental Health Journalism Fellowship recipient. She is a freelance journalist and currently a Scattergood Foundation Journalist-in-Residence.
Q: What was your project as a Rosalynn Carter Mental Health Journalism Fellow?
I examined the efficacy of medication-assisted treatment (MAT) for opioid use disorder in the real world. I spent the year following individuals through their treatment and relapses in Kensington, the epicenter of the opioid crisis in Philadelphia. I spent time with homeless drug users, ultimately writing a long-form article for Undark.org about three individuals' experience with MAT throughout the year. I also co-produced with photographer Jeffrey Stockbridge a series of documentary shorts about the opioid crisis in Kensington.
Q: Tell us about your reporting and what you learned about the issues people face.
I spent a lot of time under bridges in homeless drug-user encampments talking to people about their lives. I also frequented Prevention Point Philadelphia, one of the largest syringe exchanges in the country, which also has a Suboxone treatment program and offers HIV testing and other services. It was hard to watch people injecting drugs and feeling ill and dope sick, but I was able to see the users as human beings, sometimes not so different from myself. I struggle with mental illness and could empathize with those who were suffering and felt the need to self-medicate. I also became very close to the three individuals I ended up following through the year and still keep in touch with them.
Q: What was the most challenging aspect of this project?
The most challenging aspect was worrying about encountering drug dealers and my safety. Dealers hate reporters because we disrupt business. I tried always to go to the encampments with the photographer I collaborated with. The other challenge was just dealing with my own anxiety doing this type of reporting, but I nearly always became engrossed in what I was doing and forgot about my worries.
Q: During your fellowship, a giant oak tree crashed into your home in Philadelphia. How did this affect your life and your project?
That incident initially was a huge disruption to my reporting and my life. But my husband and I quickly got our three children and dog resettled into an apartment, and I carried on. Having the work kept my mind off my personal issues at times, buoyed my spirits, and gave me a sense of purpose. My work on the Carter Fellowship ultimately became a salvation of sorts.
Q: You've written about your own experience with finding treatment. What kind of feedback did you receive?
I have both treatment-resistant depression and anxiety, at times very severe. I have written about my experience with it for The Philadelphia Inquirer with the hope that what I have learned might help others. I received an outpouring of support from my immediate community after writing these stories. I have had people I know, and strangers, turn to me for advice or share their own experiences. Part of my goal in writing about my own journey is to help break down stigma around behavioral health issues and to help normalize discussing it.
Q: What would you like journalists who are considering applying for this fellowship to know?
It has been one of the most challenging and enriching periods of my life. The people at The Carter Center are so supportive, and so many resources and individuals with vast knowledge about nearly every subject area related to mental health are involved in assisting fellows. I would also advise future fellows to make sure to take care of themselves: Take breaks and talk to people about how you are feeling — especially to other fellows. I have made some very dear friends through this experience.
Learn more about the Rosalynn Carter Fellowships for Mental Health Journalism »