Dec. 17, 2019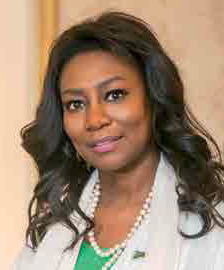 Abeer Al Fouti is Executive Director of Global Initiatives, Alwaleed Philanthropies.
You almost certainly have never heard of Guinea worm disease. It doesn't generate news headlines, is not often top of mind for global health experts, and does not attract large-scale funding for eradication efforts. Yet we are close to eliminating this devastating disease, with just a final effort required to make it gone for good.
This is a disease that leaves people unable to go to work, children unable to play, and communities unable to function. In 1986, it affected an estimated 3.5 million people across Africa and Asia, but by 2018, its impact had been reduced to just 28 cases.
Over the course of our 16-year partnership, Alwaleed Philanthropies has collaborated with The Carter Center to drive forward several initiatives, including the elimination of river blindness and treating and preventing advanced-stage trachoma, both leading causes of blindness worldwide. Together we are taking the final steps to make Guinea worm disease the second human disease to be completely removed from the world.
We believe in leading by example, which is why we recently invested the first $1 million to accelerate the Carter Center's new Challenge Fund for Guinea Worm Eradication. In aiming to secure $40 million, the fund will match, dollar for dollar, donations to the Guinea Worm Eradication Program, up to $10 million per year in 2019 and 2020, for a total of $20 million.
The top priority for this effort will be behavioral change. We do not need complex solutions; just simple shifts in daily life will make a difference.
As Alwaleed Philanthropies' executive director of global initiatives, I've seen firsthand the importance of changing mindsets in simple, high-impact ways. Whether it's working with the Gavi Alliance to correct misinformation spread by the anti-vaccine movement or equipping Saudi women for the world of work through basic skills training, we look to make a difference in real-world ways.
The same applies to the latest chapter of our partnership with The Carter Center, which will empower like-minded organizations and use community-based interventions to educate people and change behavior. For eradicating Guinea worm disease, this means continuing to teach people to filter their drinking water and preventing transmission by ensuring that people with an emerging worm do not enter water sources.
While we should celebrate the great progress that has been made over the last few decades, we must avoid becoming complacent. Together, we need to keep working hard to build communities that are more resilient until they are completely free from preventable disease.
Related Resources
Press Release | Carter Center Challenges Donors to Help Eradicate Guinea Worm Disease »
Press Release | Alwaleed Philanthropies Joins Global Carter Center Campaign to End the Spread of Guinea Worm Disease »
Learn more about the Carter Center's Guinea Worm Eradication Program »