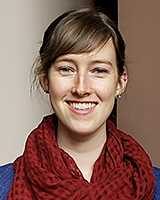 The Carter Center's Syria Conflict Mapping Project, which has been documenting what's happening on the ground in Syria since 2012, recently completed an analysis of ISIS's actions in Syria between October 2016 and January 2019.
The project's manager, Kate Keator, explains what the team found and why it matters.
Just a few years ago, ISIS controlled giant swaths of Syria – its combined lands totaled more than 34,000 square miles, just a little less than you'll find in the state of Indiana.
Today, it has lost all that territory.
But that doesn't mean it is no longer a threat to the people of Syria. Individuals and groups with ties to ISIS continue to carry out attacks, even as the nature and number of those attacks change.
Q: To start, what are the positive takeaways from this report?
When many people think of ISIS, they picture a large, powerful group that operates as a cohesive organization. That version of ISIS no longer exists in Syria. (Though I'd argue that it was never as organized or singularly focused as many people believe.) ISIS no longer controls territory. Most foreign fighters who came to the country to fight for ISIS have been killed, taken into custody, or left on their own. The group is no longer able to govern areas or collect taxes from residents.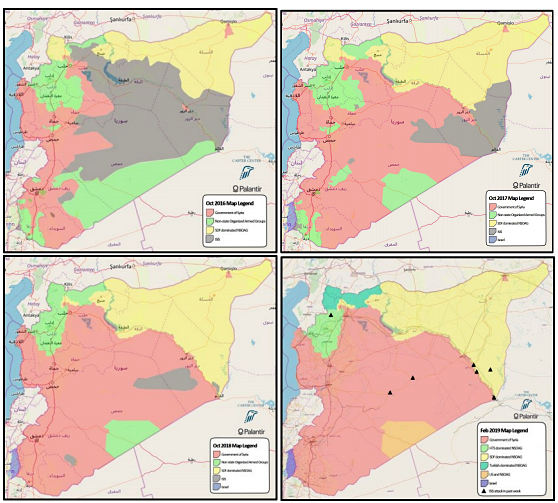 ISIS Areas of Control and Influence (shown in grey): October 2016 (top left), October 2017 (top right), October 2018 (bottom left) and February 2019 (bottom right). The most recent map reflects updated designations of armed actors by The Carter Center.
Q: But ISIS hasn't completely gone away?
Unfortunately, no. People with ties to ISIS continue to carry out suicide and IED attacks on opposition and government forces, as well as civilians. Though the numbers have dropped – from an average of 208 ISIS-linked conflict events recorded each month in 2016 to just 121 in January 2019 – we continue to see attacks throughout the country, particularly in the center, west, and south of the country.
Q: Speaking of numbers, where does the information in this report came from?
It's all open-source, which means it's taken from information that's publicly available. That includes social media posts – mainly tweets; credible online news sources inside and outside Syria; and information from the Syria Observatory for Human Rights. Since 2012, we've documented more than 124,000 conflict events. We know we're not capturing everything that happens, but we have enough to paint a fairly accurate picture.
In 2018, we partnered with ACLED, the Armed Conflict & Event Data Project, and it now handles the gathering of data, giving us more time to really dive into it – to try to figure out what's missing and what it all means. It's a complex situation, and people who want to know more than I can explain in a few hundred words can read the full report.

Overall ISIS-linked activity in Syria from January 2016 to January 2019. Data from The Carter Center and ACLED.
Q: Why is it important to do this?
ISIS hasn't just disappeared. It continues to be a presence in Syria because of its close ties to local fighters and groups. That has serious implications for refugees thinking about returning home. Is it safe for them to return? If there are ISIS-affiliated fighters or ongoing instability in an area, will the government be willing to provide money to help with reconstruction? Most of the underlying issues that sparked the original conflict still exist, which means some areas may be likely to see increased levels of violence. As governments and international organizations formulate Syria-related policies, we want to make sure they have a sense of what's happening on the ground and shape policies and plans to meet that reality.
Kate Keator has been manager of the Carter Center's Syria Conflict Mapping Project since fall 2018.
Related Resources
Learn more about the Center's Syria Mapping Project »
Learn more about the Center's Conflict Resolution Program »