Jan. 27, 2020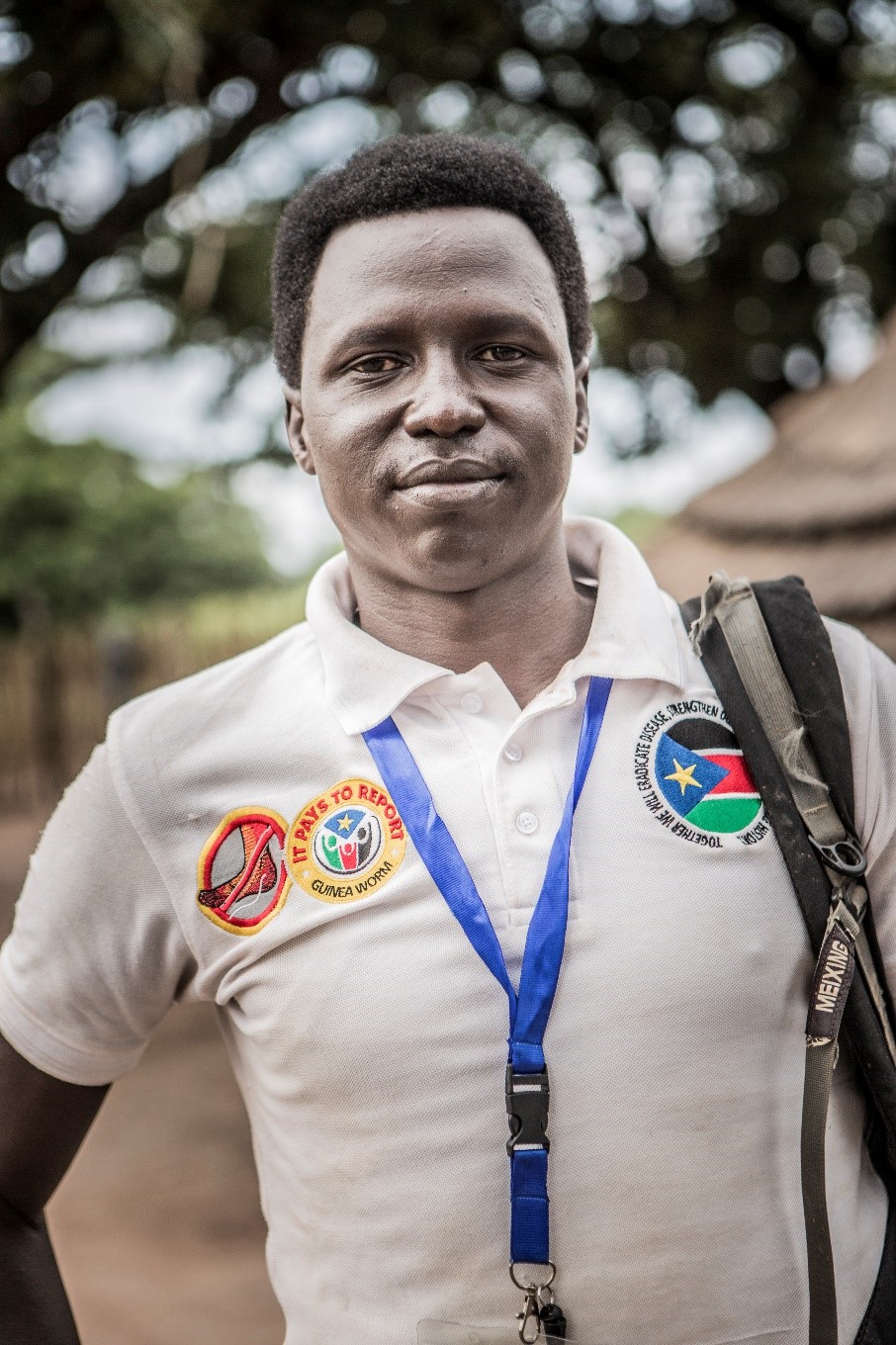 Daniel Deng Madit Kuchlong, aka Daniel Deng, is a health agent with South Sudan's Guinea Worm Eradication Program. Here is his firsthand account, lightly edited, of how Guinea worm has affected his life.
When I was a young boy, I had two uncles. Both were heavily infected with Guinea worms, and back then, no one here knew how Guinea worm was transmitted. People would become infected, and we just kept wondering why.
During those years, we had some communal fighting – fighting between communities – amid South Sudan's struggle for independence. One day, fighting erupted in the evening, so everyone in my village ran away. But my uncles could not run. So they crawled to the garden to hide, because no one could carry them. My mom could not carry them, and I had lost my dad during the struggle. So we had to leave them. There weren't any options; we just cried. So warfare comes, and fighters raid our cows and kill some people and then go back where they came from.
After that, when the people came back, we found that my uncles were gone. They had been killed.  If it were not for Guinea worm, they would have just joined us and trekked away from the danger. So I say that it was Guinea worm that killed them indirectly. When I was young, I could not understand how the Guinea worm killed my uncles. But as time goes on, I have come to know this is our story.
Later, we were living at a refugee camp, and we were given pipe filters from The Carter Center. I didn't know why people were given pipe filters, so I refused to use mine. My mom is educated, and she told me these were for Guinea worm. And now she began to tell me this story, and I finally could see the connection between the Guinea worm and the loss of my uncles. I said, "OK, there are people that are working for this," and that was when I committed to working for Guinea worm eradication, because Guinea worm had done something bad to me.
And even if it had not been me, what of the rest of the community? That's what inspired me to work for the eradication of Guinea worm. So I went away to school, and when I came back I looked for this work. When I found the man who would be my director (Makoy Samuel Yibi), I told him, "I will never let you and my country down. I just need to relate to my community and see how this Guinea worm is cruel to my community. I want my community to be free."
And that's why, you see, I am doing this work. It is very difficult. If you want to work for Guinea worm, you need to leave the good things in your life behind and become part of the community. That way you come to understand the dynamic of how to help the community to eliminate the Guinea worm. And that's been very effective. I've been there, and I've worked, and I've seen how the Guinea worm can go to nothing. And I have hope that one day we will be free and be able to say that Guinea worm is gone. It will be a very great achievement. I thank The Carter Center for helping us achieve it.
Related Resources
Learn more about the Center's Guinea Worm Eradication Program »