Expert Q&A with Alhaji Abubakar Tambuwal, provost of the College of Nursing Science in Sokoto state, Nigeria
The Nigeria Public Health Training Initiative recently transitioned from a Carter Center-assisted project to state-level ownership in each of the six implementing states, including Akwa Ibom, Gombe, Imo, Ogun, Plateau, and Sokoto. Alhaji Abubakar Tambuwal, provost of the College of Nursing Science, Sokoto shares some insights about the innovative project and its impact on Nigeria's capacity to train healthcare workers.
Q. Please explain what the Nigeria Public Health Training Initiative is and your role with it.
Nigeria has a great need to train and keep healthcare professionals in the country. The Carter Center worked with us to help strengthen this training to provide essential life-saving care, such as safe pregnancy and delivery services for mothers and child immunizations. I serve as a member of the Sokoto Planning and Implementation Committee, which is responsible for ensuring that the project is implemented smoothly and has the most impact. With tools, training, and resources from The Carter Center, the project advanced to the point where it could be fully absorbed by Sokoto State. The Center has done its job here, and so have we!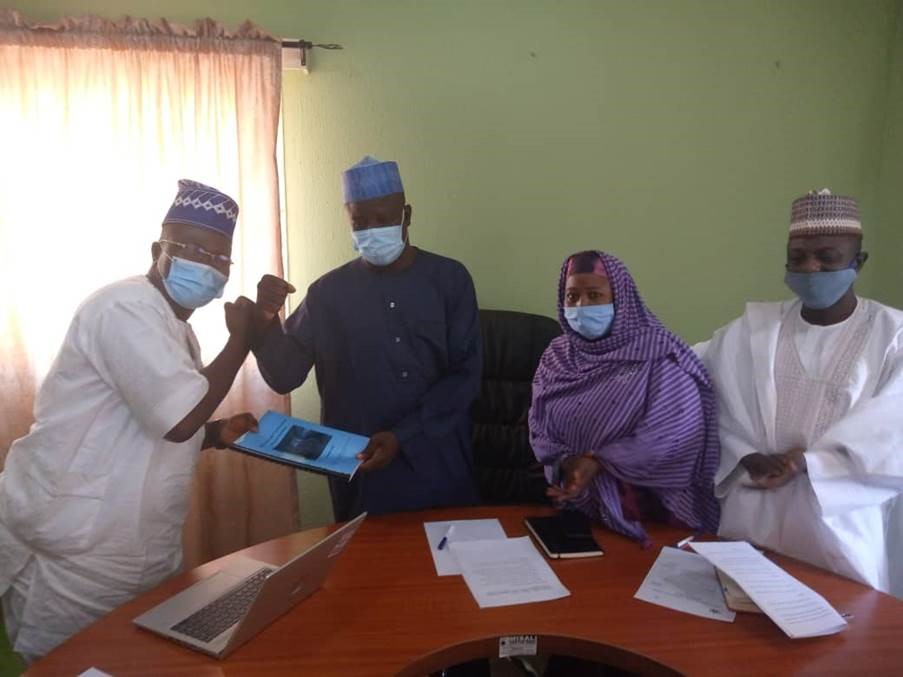 From left to right: Mr. S.A. Kadiri (NPHTI National Project Coordinator, Federal Ministry of Health), Dr. Muhammed Inname (Hon. Commissioner for Health, Sokoto State), Hajia Imamatu Wali (Director of Nursing Services, State Project Implementation Committee Chairperson for Sokoto State), and Mr. Abubakar Alhaji Tambuwal (Provost College of Nursing Sciences Sokoto). (Photo: The Carter Center)
Q. How exactly has The Carter Center helped?
The Carter Center has contributed immensely by providing classroom furniture, desktop computers, office furniture, laboratory equipment, textbooks, teaching and learning aids, computer training, internet service, and equipment demonstrations.
Q. How do you know there has been an impact?
First, we obtained full accreditation from the Nursing and Midwifery Council of Nigeria and were able to increase from one to two the admission periods for courses. The public health training initiative laid a lot of groundwork for that. For example, it strengthened the skills of college tutors to use information and communication technology to enhance their teaching skills; increased monitoring and evaluation skills of the state human resources for health desk officer; provided  teaching and learning materials, such as desktop computers, in classrooms, laboratories, and demonstration rooms; and produced student handbooks and curricula.
These steps, and others, had a great impact on academic performance, as evidenced by the results of the Nursing and Midwifery Council of Nigeria exam. The pass rate at the school for the nursing exam increased from 65% in May 2016 to 100% in May 2019, and for the midwifery exam, it increased from 65% in September 2016 to 100% in September 2019
Q. What are your expectations for the future of this public health training initiative?
The state government constructed a new college library, two science laboratories, six classrooms, and an auditorium, and it agreed to provide regular funding so we can permanently better meet our health workforce needs. With the transition to a state-owned project, we are now proud to be named the Sokoto State Public Health Training Initiative.
Related Resources
Blog | Partner Countries Take Ownership of Their Success »