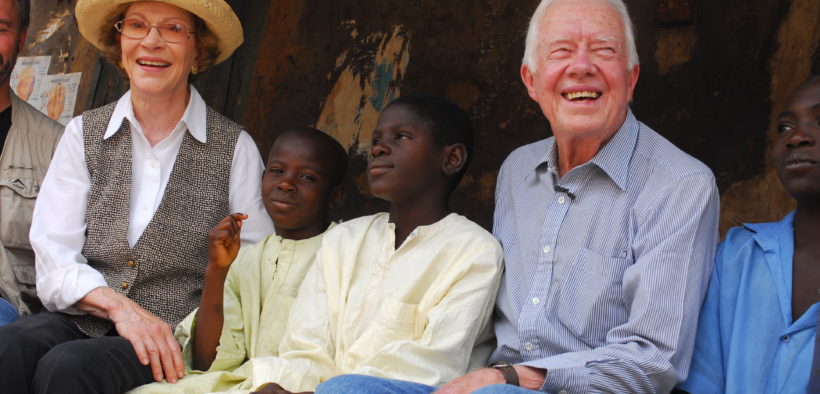 Former U.S. President Jimmy Carter and First Lady Rosalynn Carter visit Nigeria's Nasarawa state in 2007 to celebrate progress against the neglected tropical disease schistosomiasis. Photo: The Carter Center/E. Staub)
The Carter Center is honored to join The Saporta Report's Global Health Thought Leaders rotation. For readers who may not be familiar with our work, allow us to introduce ourselves.
The Carter Center was founded in 1982 by former President Jimmy Carter and former First Lady Rosalynn Carter, in partnership with Emory University. The Carters originally envisioned the Center as a trusted, neutral place where international leaders could turn to resolve disputes.
The mission soon expanded to include impartial international election observation, support for human rights defenders, and many other programs and initiatives that continue to grow.
The Carter Center is a pioneer in eliminating and eradicating neglected tropical diseases, most prominently as the lead organization in the global effort to eradicate Guinea worm disease. When the Center took leadership of the campaign in 1986, an estimated 3.5 million people per year were infected with this painful disease in 21 countries in Africa and Asia. In 2020, just 27 human cases were reported in isolated areas in six countries. We're aiming for zero, and we expect to get there.
Besides Guinea worm, the Center has robust programs to control the infectious eye disease trachoma and the damaging parasitic disease schistosomiasis and to eliminate the parasitic diseases river blindness (onchocerciasis) and lymphatic filariasis (aka LF or elephantiasis) in targeted locales. Through our Hispaniola Initiative, we are working with the governments of the Dominican Republic and Haiti to eliminate LF and malaria from their shared home island. In addition, The Center houses a public health training initiative as well as the one-of-a-kind International Task Force for Disease Eradication.
As you may know, Mrs. Carter long has been a recognized leader in promoting mental health in Georgia, the United States, and abroad. For many years she has provided vision for the Center's Mental Health Program, and the Rosalynn Carter Fellowships for Mental Health Journalism have trained and equipped hundreds of journalists to improve understanding and pave the way for solutions.
All of these efforts are carried out in cooperation with partner countries' ministries of health and communities at the village level, along with members of the global health community, some of the most important of which are our neighbors here in the Atlanta area. We're looking forward to sharing more about the progress, impact, and innovation our programs and initiatives are contributing to reduce disease and improve lives, as well as addressing other issues, in this space in the months ahead.
Related Resources
Learn more about the Center's Health Programs »
Learn more about the Center's Mental Health Program »
This article was originally published in the Saporta Report.