Aug. 15, 2022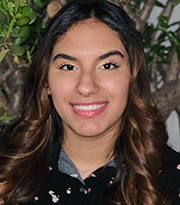 Adalis Rojas is a youth advocate and former Carter Center Mental Health Program intern.
With 2022 being the "Year of Mental Health," and the country experiencing a youth mental health crisis, many practitioners and advocates have turned to the surgeon general's report Protecting Youth Mental Health in an effort to seek solutions to improve child and adolescent mental health.

One report recommendation calls for increased data collection and research to better understand and respond to youth mental health needs. As a recent college graduate, I support improved research and advise older generations to consistently include the youth voice for a more effective and collaborative approach.

Working as an intern for the Carter Center's Mental Health Program educated me about mental health advocacy. Being a leader and an advocate is about more than speaking up for others, it is about listening and posing difficult questions, such as who the health system serves.
Hopeful Futures Campaign Promotes Youth Mental Health in K-12 Students
The Hopeful Futures Campaign released a report examining state policies on school mental health and graded each policy individually. The campaign found that Georgia has an average of one school psychologist per 6,390 K-12 students, despite experts' recommending one school psychologist per 500 students. High rates of depression and suicide persist among children who live in poverty-level households, are Black, are girls, and/or identify as LGBTQIA+.

SAMHSA, a government agency focused on national substance abuse and mental health disorders, reports that the number of students receiving mental health care dropped by 14% in 2020. It is crucial to consider the outcomes of inadequate student mental health care resources and including students in finding solutions.
Youth Listening Sessions Uncover Pandemic & Food Insecurities Impact Academic Performance
In a youth listening session that I moderated with The Carter Center, at-risk youth emphasized the need for someone to listen to them and shared how stressors such as COVID-19 and food insecurity impacted their ability to perform in school. The participants also proposed ideas for after-school programs and peer support groups that could offer students safe spaces to engage with others.

Younger generations have been called upon to lead the charge to "fix" the world and destigmatize mental illness. But I believe the fixing starts with older generations (myself included) offering younger advocates a seat at the table and empowering them to share both perspectives and proposed solutions.

Readers of the surgeon general's report and all mental health advocates must acknowledge that mental health looks different for youth from different cultural backgrounds and identities.
According to SAMHSA, Black female students have high rates of attempted suicide and are more likely to internalize their mental stressors. In addition, 42% of LGBTQIA+ youth seriously considered suicide within the past year. Yet, anti-gay and racism bills, including Florida's so-called "Don't Say Gay" bill, signal to these youth that their voices do not matter, which can worsen their well-being.
What Can You Do to Help Advocate for Youth Mental Health?
It is natural to feel overwhelmed by discouraging statistics and slow change. So, what can individuals do?

Change can start at home. Speaking with children and being honest about mental health, what mental illness looks like, and being a support system can show youth that it is OK to have conversations on topics like depression.

For me, growing up in a struggling Hispanic household meant there was no room to talk about anxiety and traumas. Now, I make a point to vocalize to my 12-year-old sister what a bad mental health day looks like, and what I do to cope. Now, I'm unafraid to check in on her emotions.

Transformation can happen if youth and older generations communicate with each other, establish meaningful dialogue, and create a safe environment that fosters progress.
Related Resources
Carter Center Mental Health Program
Georgia School-Based Behavioral Health
26th Annual Rosalynn Carter Georgia Mental Health Forum
Georgia School-Based Mental Health Virtual Town Hall