Nov. 16, 2022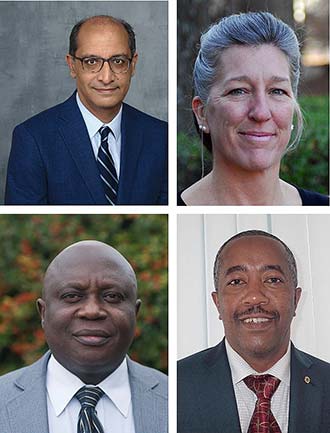 Dr. Kashef Ijaz, Vice President, Health Programs, The Carter Center
Kelly Callahan, M.P.H., Director, Trachoma Control Program, The Carter Center
Dr. Emmanuel Miri, Nigeria Country Representative, The Carter Center
Dr. Zerihun Tadesse, Ethiopia Country Representative, The Carter Center

From the vantage point of a richly resourced and powerful country or society, it's easy to believe that colonialism is a thing of the past. Unfortunately, that is not the case. The sad fact is that the effects of a colonial mind-set are alive and well in some corners of the global health community. 
Colonialism manifests itself when low- and middle-income countries are looked upon as feckless victims who are incapable of solving their own problems. It's compounded by a failure to recognize how foreign exploitation created many of those problems in the first place. It emerges when well-intentioned but oblivious medical students from higher-income countries drop in to hone their skills on people in developing countries without considering the long-term needs of their patients. It appears when established medical professionals from low- and middle-income countries are closely questioned or even turned away by immigration officials when they travel to attend global health conferences in more affluent countries. And it is exacerbated when nongovernmental organizations and their donors fail to ensure that they are helping to establish a sustainable, locally owned health care infrastructure that will continue to function after the foreign visitors have gone. 
It doesn't have to be that way. 
Former U.S. President Jimmy Carter understood the need to intentionally steer clear of a colonial attitude when he established The Carter Center. As he told the Global Health Council in 2006: "What I have found in every case, every village, is that the poverty-stricken and neglected and suffering and abandoned and forgotten and ignored people … if given a chance, will almost immediately prove that they are just as smart and just as hardworking and just as ambitious, and their family values are just as great as mine."
Mitigation of lingering colonialism begins with a conscious decision to respect the dignity and the capability of other individuals and other cultures and to check the impulse to condescend. We at The Carter Center don't claim to be perfect in this regard, but we do strive to adhere to a set of principles that President and Mrs. Carter established in an effort to avoid outdated and unhelpful attitudes and practices. 
Healthy humility helps. Our role is to provide assistance and support. When The Carter Center agrees to work on a health problem in another country, we go as invited guests; the partner government — usually the ministry of health — remains the owner of the program and takes the lead. We establish an in-country office staffed by local people with authority to make decisions that make sense in the local context. And we seek to help create or strengthen sustainable systems that will continue to provide benefits in perpetuity. 
Colonial attitudes and practices won't go away by themselves. We all can do better. First, we must recognize the issues, and then we must address them.
This article was originally published in the Saporta Report.