Sept. 20, 2022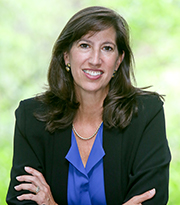 Paige Alexander is chief executive officer of The Carter Center.
On Sept. 18, The Carter Center was honored to host one of Atlanta's Equitable Dinners, a public event designed to inspire anti-racist action through art and courageous conversations. Events across the city brought together 5,000 guests of all backgrounds to sit at 500 tables to discuss racial equity.
The evening began with a reflection on the 1906 Atlanta Race Massacre, a little-known Atlanta tragedy in which black communities were terrorized over the course of three days, and at least two dozen of Atlanta's Black residents were killed and hundreds more injured at the hands of a white mob numbering nearly 10,000. The names of fourteen known victims were read aloud in a room so silent you could hear a pin drop.
This grounding in Atlanta history was followed by a short, powerful play by Atlanta actor Rob Cleveland, who personified the life of a Black child born in 1955 and the cruel realities of growing up in the racially charged south. It included details of the character's personal and painful experiences, such as pre-emptively making jokes about being black to "beat others to the punch" and the emotional toll he experienced resulting from years of microaggressions.
After the performance, each table connected by sharing a meal, personal stories, laughs, and emotional moments when answering questions posed by trained facilitators. Guests of all backgrounds discussed their journeys on the road to racial justice. At Cleveland's table, he described how his family used the "Green Book," an annual road-trip guide published by New York City mailman Victor Hugo Green from 1936 to 1966. The book helped identify "safe" restaurants, hotels, and gas stations for Black families traveling across the country. On a trip to Texas as a boy, Cleveland's father relied on the Green Book, putting the family on the road at 3 a.m. to time breaks where they would be welcomed, not harassed.
At my table, I was struck by comments made by Killer Mike, an Atlanta-born musician, and activist. He talked about why Atlanta should not be seen as a melting pot, as that would overlook the true importance of what makes our city so unique in terms of multi-dimensional population, we are so fortunate to live with daily. This echoes President Carter's 1976 statement that "we become not a melting pot but a beautiful mosaic. Different people, different beliefs, different yearnings, different hopes, different dreams. But all put together to make a beautiful picture of a common people." 
I'm grateful for what I learned during this vital community conversation about race and for the chance to participate in a small shift to dismantle racism and change the consciousness of society. These conversations are crucial to the Center's mission to advance human rights for all people.
Equitable Dinners Atlanta is a collaboration between Out of Hand Theater, the National Center for Civil and Human Rights, the Fulton County Remembrance Coalition, and many local partners.