July 28, 2022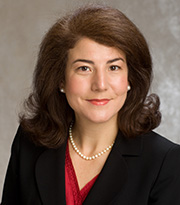 Nicole Kruse is interim vice president of development at The Carter Center.

A family reunion of sorts took place last month in Williamsburg, Virginia. It was the annual Carter Center Weekend, when a limited number of friends and supporters gather to catch up with each other, hear from Center leadership and staff, and take part in various fun activities, including silent and live auctions.
It's always good to see our longtime friends and meet new ones, especially after the COVID-19 pandemic forced the event to go virtual the past two years. Special thanks go to our hometown partner Delta Air Lines, which generously provided a charter flight from Atlanta to Virginia, gave a cash donation, and donated flights as part of auction prize packages.   
This year's weekend kicked off, as always, with a town hall meeting summarizing the Center's recent and current programmatic initiatives. Carter Center Board Chair Jason Carter, CEO Paige Alexander, Peace Programs Vice President Barbara Smith, and Health Programs Vice President Dr. Kashef Ijaz delivered a comprehensive roundup to a packed house.
The audience was treated to a screening of the powerful new video "It's Just 15." Many were moved to tears by the images and verse telling the story of the Guinea Worm Eradication Program.
Later, Overseas Operations Vice President Craig Withers and Associate Director Jayanthi Narain gave gripping accounts of how the Center provides safety and security for personnel working in dangerous places and situations around the world. Communications Associate Director Emily Staub told tales of gathering human interest stories from far-flung places, and a team of panelists discussed the Center's work on preventing election violence in the United States.
The highlight of the weekend was the live auction, featuring many items associated with President and Mrs. Carter, including an original oil painting by President Carter, which fetched a winning bid of $2.1 million.
Yes, the Carter Center Weekend is a fundraising event. In fact, it's our only fundraising event of the year. But it's more than that. It's a time for some of our most loyal individual partners to get together under one roof and share in our excitement about the Center's mission to wage peace, fight disease, and build hope. Our vision of a world where people work together to reduce suffering and increase the enjoyment of basic human rights would not be possible without the investment of our partners.
Partnerships — with countries, with companies, with foundations, and with individual donors — are what make the vision a reality. We value these generous partners. We value you. Thank you for your support.