July 26, 2023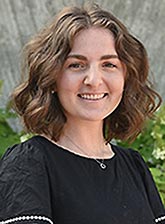 By Olivia Starks, 2023 Carter Center communications intern
During each internship session at The Carter Center, the interns take a day trip to former President Jimmy Carter's hometown of Plains, Georgia. This is a staple of the internship program, as the visit is discussed on the first day of orientation. We are told stories about the delicious peanut butter ice cream and the fun downtown shops that await us.
After a nearly three-hour bus ride from Atlanta, we toured President Carter's boyhood home and farm, downtown Plains, and his high school, which is now the Jimmy Carter National Historical Park visitors center.
The boyhood farm is preserved as it appeared when President Carter was growing up there. At the high school, we watched a video of significant events during his presidency and interviews with President and Mrs. Carter. In downtown Plains, we explored the train depot that served as President Carter's campaign headquarters and is now a small museum.
We knew of his legacy but were amazed to learn more during this trip. Seeing Plains and meeting people who have known him for decades helped us understand who he is as a neighbor and not simply as a former president.
Development intern Arleen Rodriguez-Portal said Plains showed her the connections Jimmy Carter has with everyone in his hometown.
"Everyone we interacted with from Plains truly admires him," she said. "He's a hometown hero."
Although President Carter is not as visible there anymore, residents still tell fervent stories about him and feel that connection to him, Rodriguez-Portal noted.
Olivia Leu, a Digital Threats to Democracy intern, said the Plains trip opened her eyes to the magnitude of President Carter's legacy. She was amazed at how integral President Carter was to the history of the town, to all the places in Plains he frequented and gave back to.
Leu and Rodriguez-Portal both pointed to the importance that President Carter found in Plains and that Plains found in him. He wanted to change the world, but he always wanted to return home to the people who cared about him and knew him from the early days. His neighbors admire him as someone who remembers where he came from and eagerly contributed to the community before, during, and after his presidency. We interns have been honored to learn more about and to carry out his important work through our jobs this summer and through this trip to Plains.
When she's not interning at The Carter Center, Olivia Starks is pursuing a Master of Divinity at Emory University.