When Melissa Montgomery, my assistant, and I arrive at the Mövenpick Hotel in Gammarth, Tunisia, a short distance outside of Tunis, late in the afternoon of Oct. 19, 2011, I am agog! This site could be on the French Riviera. It is beautiful, looking out over the Gulf of Tunis to the Mediterranean Sea - not what I had expected at all.

I have come to Tunisia to help monitor the first free election in Tunisia's history. It has been nine months since Ben Ali, the dictator, fled, and this election is designed to elect members of a constituent assembly that will prepare a new constitution and form a parliament. The Carter Center staff has been here since July with 10 long-term observers (LTO) and technical advisors, and we will have about 40 short-term observers (STO), many of whom arrived yesterday. As one of the STOs, I will be joined tomorrow by John Hardman, the CEO and president of the Carter Center, and former President Cassam Uteem of Mauritius, who will be leaders of the delegation.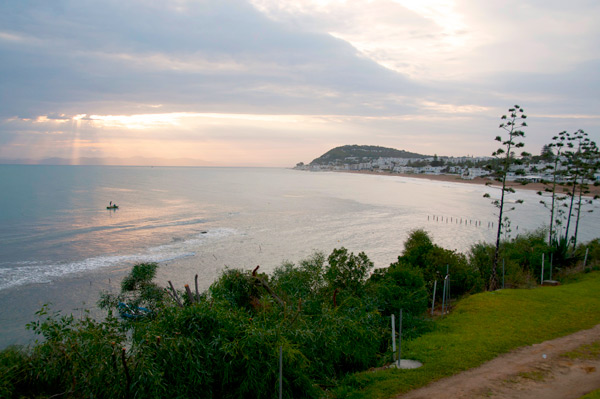 All photos: Carter Center/D. Hakes
Beautiful view from Gammarth, Tunisia.
Upon arrival, I was met at the airport by the American ambassador, Gordon Gray, a career diplomat, who gave me a briefing on the ride in to the hotel:

Tunisia is the northernmost country in Africa. Bordered by Algeria to the west, Libya to the southeast, and the Mediterranean Sea to the north and west, it has an estimated population of just over 10.4 million. It is more European than any other country in Africa, and large crowds of Europeans come here as tourists.

The Tunisian people are tolerant, 98-99 percent Sunni Muslim, and moderate with a strong secular tradition.

Polygamy is forbidden, and women's rights are the law. The ambassador said I would not see many women in Tunis or in other cities with traditional dress or head scarves. In the countryside it would be a little different.

People don't walk around with a chip on their shoulder; they are not warriors.

The society is educated. There is a little oil and a little gas, but not enough to live on. The country doesn't have a lot of resources, so they had to educate their people.

There are definite fault lines in society. Along the coast, there is fertile land and a fairly well-to-do middle class, but unemployment is an issue even there. In the center and the south, inequality is a major issue.

This election is the result of an incident that occurred when a young man, Mohamed Bouazizi, a street vendor who sold produce to feed his family, set himself on fire to protest the confiscation of his wares and the harassment and humiliation that was inflicted on him by a municipal official and her aides. He had been continuously harassed, according to various accounts, because he didn't have the funds to bribe police officials to allow his street vending to continue. A photo of him on fire in the middle of the street went around the world on Facebook. This led to protest, in the beginning by young people using Facebook, but spread rapidly due to the unrest of people over rampant unemployment, government corruption, and poverty. They felt they needed a change.

The revolt led to the ouster of President Zine El Abidine Ben Ali 28 days later in January 2011, when he officially resigned, ending 23 years in power. The second interim prime minister, Beji Caid Essebsi, came in, cleaned out the cabinet, and replaced it with respected people who have no political ambitions. This was the first of the Arab Spring revolts that eventually led to the ouster of the leaders of Egypt and Libya.

There were several crunch points along the way as the new cabinet tried to decide how to go forward. First, they had to decide what kind of election to have, how to form an independent election committee, and then name members. Though these decisions could have caused upheavals, all were worked out harmoniously.

They decided on electing a constituent assembly to debate and draft a new constitution, because many thought that if presidential elections were held, the old guard would return. They created a consensus around a commission named the "High Commission for the Fulfillment of Revolutionary Goals, Political Reform and Democratic Transition," which was led by Yadh Ben Achour and responsible for drafting political reform and electoral legislation. The associated political committee expanded to 150 people, including representatives of political parties and civil society. This committee also established an independent election commission to implement the elections. It had a slow start, but everyone feels the members are trying very hard to do a good job.

It appears that everybody wants a good election - the politicians, the military (who are not political), the powerful trade unions, the police, the people - and everything is being done with compromise to make this happen.

There have been a few bumps along the way:

Only 7 percent of young people registered to vote. The ambassador thinks the reason is that they began a revolution, won, and nothing happened to make life better for them. Many young people with college degrees are unemployed. There is still poverty everywhere. Young people feel a loss of dignity; there is no dialog; they feel left out. There have been some demonstrations in Sidi Bou Zid, home of Mohamed Bouazizi.

The Islamic party, Ennahda, which had been forbidden by Ben Ali, has grown rapidly since the revolution, and some people are concerned about its rise. They are afraid if it wins, there will be no gender parity.

Some in cities don't trust them. They say the right things about women, but women's rights people don't believe them. For instance, there was recently a movie in which a girl imagines a conversation with God. A lot of Tunisians were offended. A very small, conservative sect, Salafist Islamists, were outraged, protested at the TV station, and 20–30 of them attacked the house of the director of the station. The Ennahda party denounced the violence, but at the same time, some say, "talks with a grain of salt." The ambassador thinks they will take about 25–30 percent of the vote.

There are 100-plus political parties participating in the election. The political system was upended when Ben Ali was deposed, so many people just wanted to be involved in this new political process. Some parties now are developing coalitions.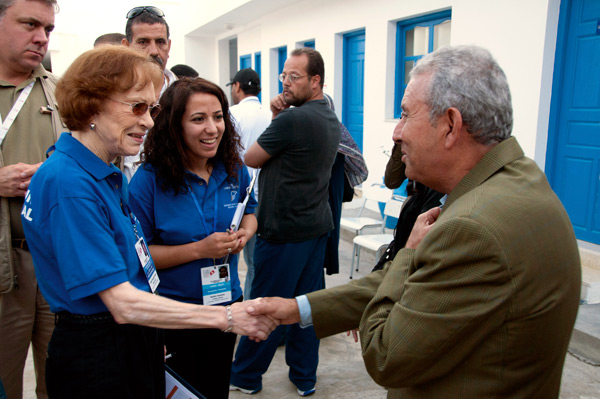 Mrs. Carter greets voters on election day. Many waited in line for hours before casting their ballots in the historic election.
The voting process is complicated. People will vote for candidate lists allied with parties or independent blocs, not a specific candidate. The number of votes a list gets will determine the number of people each party or independent bloc will have in the assembly.

The ambassador said, "All building blocks are here for a successful election. If it fails here, it will probably fail everywhere."

The ambassador's concern, and that of others we talked with later, is that after a good election, which everyone now believes will happen, people who worked in the protests will wake up the next morning and say, "My candidate won, now where is my job?" And the jobs still won't be there.
*****
The first morning, I met with all the observers, LTOs and technical advisors, who were there to brief the newly arrived STOs. It was an incredible mix of people: professors who were experts in Tunisia and the Maghreb region and technical experts and election commissioners from around the world as well as civil society activists from the Middle East and North Africa region. The observer delegation represented over 25 different nationalities, with several fluent Arabic and French speakers.

In the afternoon, I had one meeting canceled and another postponed until the next day, so I had a couple of hours to do some touring. We drove along the coast through the area of Carthage and Sidi Bou Said, viewing Roman ruins along the way. This is a wealthy area; the houses and all other buildings are painted white with blue shutters and doors, and beautiful flowers and flowering trees abound. We drove up a small mountain as far as the car could go then walked to the top for what has to be the most beautiful view of Tunis and the gulf. We sat for a while taking in the view and drinking a cup of hot mint tea with an inch of pine nuts on the top.

This revolution has been named the "jasmine" revolution, so I bought some jasmine soap from an artisan in one of the little shops along the way to bring home for gifts. And at the top of the mountain, when people learned who we were, they gave us jasmine flowers to wear in our hair.

Over the next couple of days, I and the leaders of our delegation met with government officials, members of the electoral commission who explained the election procedures, party leaders plying their party, trade union officials, technical advisors helping with management of the elections and communications, and members of the other observer teams in the country – the European Union (EU), National Democratic Institute (NDI), the International Republican Institute (IRI), the International Organization of La Francophonie (OIF) and also Tunisian observer organizations. Most all of them told us the same things I had heard from the ambassador, and everyone, even one party official who complained a lot about the campaign, in the end, grinned and said, "….but this is going to be a great election."

We found Prime Minister Essebsi to be delightful. He had been part of the ruling party (RCD) at one time, had resigned in 1978, and he became a member of a liberal opposition party. He said that Tunisia had quickly moved from a nondemocratic state with no freedom of expression to a state where everybody can voice his/her opinion and where the media are totally free, even too much! He said the campaign on a whole had been calm and peaceful and that he thought the public would turn out "massively" for the election.
As we were leaving, I gave him a copy of Jimmy's White House Diary, and he thanked me profusely. He said, "I try to read everything Jimmy Carter writes."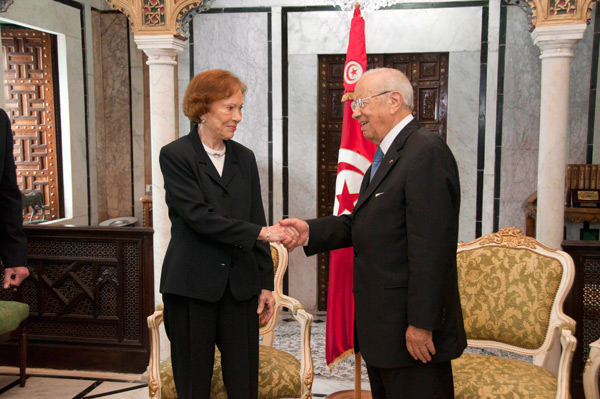 Mrs. Carter meets Tunisia's interim Prime Minister Beji Caid Essebsi at the prime minister's office in Tunis. Also with her at the meeting were delegation co-leaders Dr. John Hardman and former Mauritius President Cassam Uteem.
Two major party leaders that we met with were Ahmed Najib Chebbi of the Progressive Democratic Party (PDP), and Rachid Ghannouchi of the Islamic party, Ennahda:

Chebbi told us that his party was the leading democratic party in the country and that according to surveys it would come in second in the election after Ennahda. (It was recognized by most as Ennahda's main rival). He said that before the revolution, his party had about 2,000 members now tens of thousands. "…And we have you here to monitor us. Everything will happen in serenity. There will be no incidents." He did say that there were some disadvantages in the election for instance, with so many parties and each party and independent bloc having a list on the ballot, the voting process was going to be difficult.

Rachid Ghannouchi, known by followers as the Sheikh, had been in exile for 22 years and had returned following the revolution. He said he had lots of people working hard for election day, and they would be victorious. He had no doubt about it. He was concerned, though, because some of his followers were gone on a pilgrimage, and many in the rural areas were illiterate. (We had been told that women over the age of 45 in the rural areas were probably not literate. Also, the illiterate were not, by election rules, allowed to have assistance in casting their ballots at the polls.)

Ghannouchi said all the right things about what he was going to do: keep the laws about women's rights, include all the major parties in a coalition to form the assembly and the government, etc. Time will tell.

Election day arrived, and I went to 28 polling stations, filling out a long form in each about conditions in the station - whether there were private voting booths, whether polling officials were doing a good job, whether the finger tip of the voters was being inked so they couldn't vote again, in other words, whether the voting process was transparent and credible. Lines were long, some extending for blocks. I was surprised at how many women were voting. At some stations, they were the majority of the voters. And there were women working as members of the polling station team at every station we visited except one.

Everything was peaceful all day. Our interpreter was a local woman who was shocked at people standing in line. She said Tunisians just don't do that. And they stood, many for hours, without an incident! It was amazing. One of the wives of a local worker at the embassy stood in line for seven hours!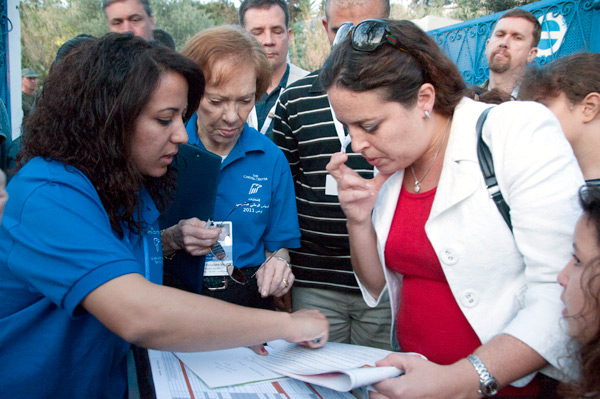 Mrs. Carter observed in the afternoon in Sidi Bou Said. Even at this time, there were long lines, but people remained enthusiastic to vote despite the wait.
I talked with some of the people in line, and they all were excited about having a chance to participate. One young woman told me she had been there for three hours. I asked, "Aren't you exhausted?" Her answer was, "It's worth it." Another, a young man waiting for three hours, when asked if he wasn't tired said, "I have been waiting for this for 23 years and three hours."

Several told me that they were unemployed. One young man had graduated from a university, with a major in English and had been unemployed for seven years. A man who had worked in agricultural research at a university said he had been unemployed for four years. I talked with him about peanuts and cotton seed; he talked with me about nuts.

After the polls closed on Sunday, counting the votes continued through that night and Monday. No results had been released before I had to leave Tuesday morning. Later I learned that Rachid Ghannouchi and his Islamist Ennahda party won 41percent of the vote. Women scored over a quarter of the available seats, and of those, 71 percent are Ennahda representatives.

The PDP, surprisingly, did not place in the top four. From reading press clips since I have been home, I learned the consensus was that in the last days of the campaign, the PDP became very negative toward Ennahda while the other parties did not, and it backfired on them.

It has been a few days after the election now, and Ghannouchi is still saying the right things. He plans to gather with the other party leaders to discuss the formation of the next government. I was told that about 50 people rallied outside the election commission offices in Tunis, seeking an investigation into irregularities committed by Ennahda, but election officials said any problems were minor. Several legal challenges are making their way through the courts. Our field staff continues to monitor these cases and the final announcement of results that is anticipated next week.

This was as peaceful and calm an election as I have ever observed. Tunisia has set an outstanding example for other Arab Spring countries to follow. It was an exciting time to be in this country and witness "the exhilaration" of the people.