Posted by the U.S. State Department to Moscow during the Mikhail Gorbachev era, Mary Ann Peters had an up-close view of the Soviet system. "The isolation and repression of the people were palpable," said Peters, a former U.S. ambassador and now chief executive officer of The Carter Center. "We in the embassy knew that talking to people on the streets would get them in real trouble, so we refrained for their sakes."
A few years later, she was assigned to another Eastern Bloc country: Bulgaria. It turned out to be one of her favorite posts in her 31-year diplomatic career. The Berlin Wall had just come down and the communist regime was no longer in power. Peters found that although the people suffered an enormous decline in their economic standard of living, they were relieved and hopeful.
"Having worked on Cold War problems on and off for much of my career, it was a real privilege to help Bulgaria rejoin the community of European nations," Peters said.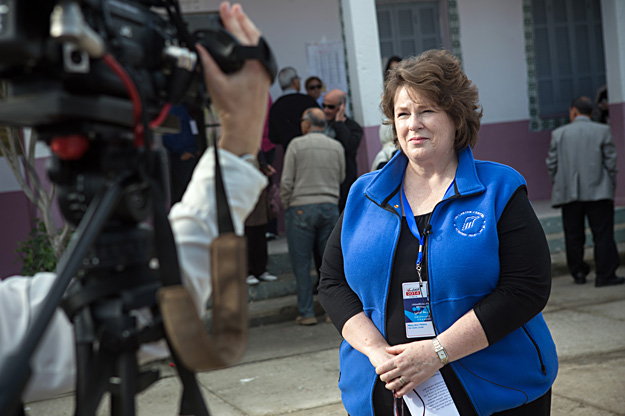 During Tunisia's presidential election in November 2014, Ambassador (ret.) Mary Ann Peters, Carter Center CEO, prepares to brief Tunisian and international media about the Center's role in monitoring polling. Ambassador Peters co-led the Carter Center delegation of some 85 observers. (Photo: The Carter Center/ G. Dubourthoumieu)
Now The Carter Center is benefiting from her skills as a leader and global citizen.
Peters' taste for international work and the nomadic lifestyle it requires began long before she took the entrance exam to the U.S. Foreign Service. Her father was a corporate executive who was reassigned every three to five years. She and her six siblings got used to moving around. She recalls significant stints in the town of Setauket on the north shore of Long Island and in Grand Rapids, Michigan, but also lived in California and Pennsylvania, among other places.
In college, she spent a year abroad in Paris, and in graduate school, she studied for a year in Bologna, Italy. Thanks to these experiences and her frequent childhood moves, she had no fear of relocating, a boon for any future diplomat. Those years abroad provided the foundation for learning six languages during her diplomatic career.
On Sept. 11, 2001, Peters was serving as U.S. ambassador in Dhaka, Bangladesh, and had to navigate uncertain waters in a densely populated Muslim country during the aftermath of the terrorist attacks. She recalls an outpouring of sympathy from the Bangladeshi people. She still keeps a piece of art by a child in Dhaka that depicts the attacks. "It's a reminder that the initial international response to 9/11 was one of immense support," she said.
Before joining The Carter Center in September 2014, Peters was provost at the Naval War College, essentially the chief operating officer of an accredited professional graduate school that grants a master's degree in national security and strategic studies. "I used to tell incoming students: You are all great at driving a ship or flying a plane, but now you need to think about why you do it," she said.
International matters are par for the course at The Carter Center, which has worked in more than 80 countries over the years. Peters believes that the Carter Center's mission statement provides a clear template for the organization's activities. "Thanks to President and Mrs. Carter, the Center has a uniquely defined role that makes it easy to understand why we do what we do where we do it," she said.
She believes wholeheartedly in the work of the Center and wants the organization to continuously search for opportunities to make an impact. "We should not be shy about the fact that we are very good at what we do," she said.
As Peters embarks on her second year at The Carter Center, she is focused on showing the value of the organization's work. "We need to continuously assess to ensure we're having the impact that we seek," she said. The Center's programs are based on respect for the people we seek to assist, said Peters. "We don't work for them, we work with them, an attitude that comes directly from President and Mrs. Carter."